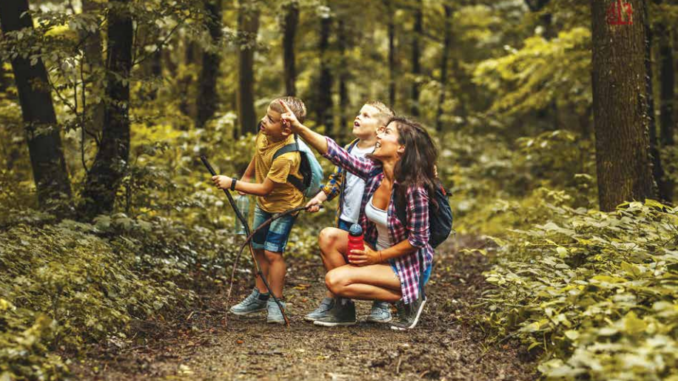 With social distancing measures in place, it's important to still find time for exercise. One safe way to do that is by taking a hike.
Hiking is great exercise. A person weighing about 175 pounds can burn roughly 450 calories per hour hiking on flat terrain. You can tailor your hike to your family's fitness and abilities, all while staying in compliance with recommendations for staying safe during the COVID-19 pandemic. 

EXPLORE LOCAL TRAILS 

Check with your local forest preserves, parks department or state and national parks about which trails are open. Avoid trails that might get busy. Check trail maps for ratings of trail difficulty and be sure to choose trails that are within your ability. (This is no time to get in over your head and get lost or injured, requiring valuable emergency services to come to your rescue.) A hike doesn't have to mean a day-long jaunt up a steep mountain trail. You can benefit from hitting the paved trails in your neighborhood or small local parks. Find a new favorite place to burn off a few calories after dinner and establish a new, healthy family habit. 

TAKE THE RIGHT GEAR 

If you plan to make a day of your hiking trip, you'll need backpacks, water, mosquito repellent, sunscreen, hats, proper shoes for everyone, and you'll want to pack a lunch and snacks. Be sure to take along a charged cellphone (a power bank is a good idea), as well as downloading online maps for the areas you'll be visiting, in case you lose cellular signal and are unable to access that info from the trail. Don't forget a first aid kit with bandages, antibiotic cream, bug bite cream, ibuprofen, antihistamine pills and any other supplies you think you might need. 

MAKE IT A LEARNING EXPERIENCE 

Make up a list of items you are likely to see on your hike, and have children go on a scavenger hunt to find plants, animals and other objects while you hike. You also could make up a list of flora and fauna in the area, with short descriptions of each, for your kids to read about before you hike. Use websites, books or YouTube videos to do research together with your children. Take a camera along to document what you find.