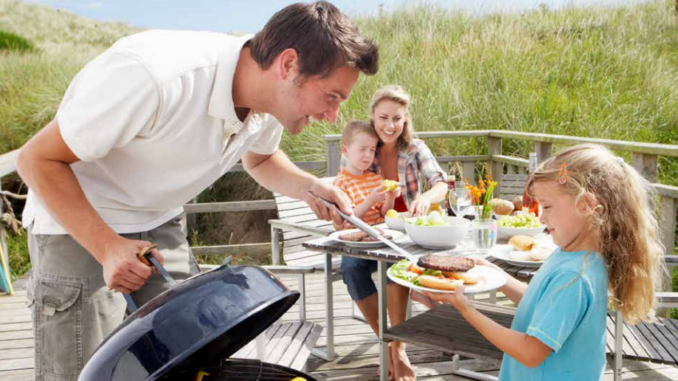 A fun twist on the regular backyard barbecue is a buffet of sliders. Get a selection of meats from your local grocer, a variety of buns and a smorgasbord of cheeses, and have a slider party.

CHICKEN SLIDERS 
Ground chicken is a great, low-fat substitute for ground beef on your grill. Ground chicken can be seasoned much the same way as ground beef and is perfect with a great barbecue sauce. 

TURKEY SLIDERS 
Turkey is another great substitute for beef and plays well with fiery seasonings like jalapeno, chili powder and sriracha. GROUND BEEF The old classic. Pick a meat with a high fat content to get a burger with a juicy bite; you want around 20%. 

CHEESES AND BREADS
Put out a variety of thinsliced, good-quality cheeses. Swiss, pepper Jack, sharp cheddar, provolone and mozzarella are all excellent choices. You can also look to blue cheese, feta and other nontraditional burger choices. You also want to pick a variety of buns and rolls. Potato rolls are great, as are Hawaiian bread, wheat rolls for the health-conscious, sesame buns and more. Pretzel buns are tasty, but can also be a little chewy for a slider. 

TOP IT OFF 
Fresh, crisp lettuce and juicy tomatoes are perfect accessories, as are fresh red onions. You can also offer caramelized onions, grilled mushrooms and jalapenos, either candied, pickled or fresh. Creamy avocados are also great. You can coat them with a little lemon juice to keep them from turning brown. Don't forget a variety of pickles and crisp bacon, too. 

EXPERIMENT WITH CONDIMENTS 
Find different kinds of mayonnaise and mustard to accent your sliders, along with different kinds of ketchup and sauces like sriracha and sandwich toppings. 

BARBECUED CHICKEN SLIDERS 
1 tablespoon butter
1/2 red onion, finely chopped
2 cloves garlic, finely chopped
2 tablespoons tomato paste
1 teaspoons sugar
1 tablespoons Worcestershire sauce
1 tablespoon hot sauce
1 1/2 pounds ground chicken
1 tablespoon grill seasoning
Melt butter in a skillet and add chopped onions, garlic and tomato paste. Sweat for 5 minutes to soften. Sprinkle in sugar and remove from heat. Cool for 5 minutes, then add Worcestershire and hot sauce and combine. Add the chicken and grill seasoning and combine the burgers well. Form 4 patties. Grill 5-6 minutes per side or until it reaches 165 degrees.