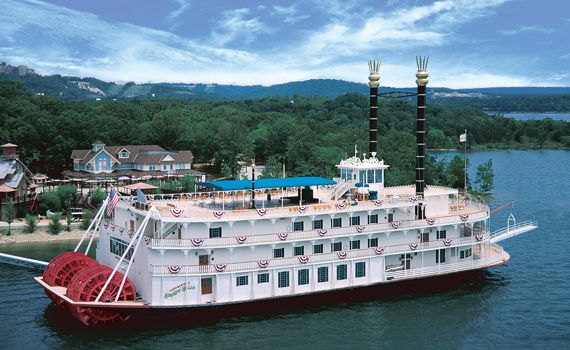 When trying to decide on things to see or do in Missouri, try taking the road less traveled and discover some unique places that you may not see anywhere else. Whether it be historical, exciting, or extremely weird, here are a few attractions that are must-sees to check off your summer bucket list!
1. The City Museum
The City Museum located in St. Louis is an incredible building that is difficult to describe if you haven't been to experience it yourself. Contradictory to the name, it is not much like a museum at all but more like a 600,000 square foot fun-house attraction. Built in a former International Shoe Company, The City Museum is a giant children's playground, funhouse, and architectural masterpiece all-in-one. Whether you're five or thirty-two, I guarantee there's something here for everyone to enjoy.
2. Anheuser-Busch Brewery
This Anheuser-Busch Brewery is the largest and oldest brewery site located in St. Louis alongside the Mississippi River. While taking the complementary tour, you get to observe the seven-step brewery process and visit the world-famous Budweiser Clydesdales located in the historical stables. The complementary tour is offered year-round and is a refreshing way to escape the summer heat while also learning about the rich brewing heritage.
3. Crown Center
For those who enjoy a day full of shopping, dining, and entertainment, Crown Center is the place for you. The three-leveled Crown Center shops feature more than 50 shops and restaurants. Theatergoers can enjoy a community oriented show at the Coterie or a musical at the Musical Theater Heritage. Alongside the many shops and restaurants, the center also hosts many children's exhibits, puppet shows, and multiple other free activities year-round.
4. Silver Dollar City
This 1880's theme park located in Branson is a thrilling mixture between history and adventure. Home to the world's most daring wooden roller coaster, this theme park encompasses around 2 acres of family rides for all ages to enjoy. Ride their new roller coaster, Time Traveler and enjoy riding the Mystic River you will get wet on this fun water ride. The World's Fastest, Steepest & Tallest Spinning Roller Coaster. Alongside the rides and attractions, Silver Dollar City also provides culinary classes, craftsmen demonstrations, dining options, and multiple shows that change throughout the year. With many different entertainment choices, this park is full of fun for the whole family. Get your tickets here. 
5. Gateway Arch
One can't talk about exciting attractions located in Missouri without bringing up the world-famous Gateway Arch. This 630-foot monument in St. Louis is made from stainless steel and is the tallest man-made monument in the Western Hemisphere. Near the top of the arch, passengers load onto a tram and ride up to the observation area. The observation area is over 65 feet long and can hold up to around 160 people at a time. The breathtaking view and the enticing ride to the top makes this attraction a definite must do this summer.
6. Lemp Mansion
This historical house in St. Louis was plagued by a series of suicides committed by family members involved in a successful brewing company back in the late 1800's. The only remaining child of the family, Edwin Lemp, never moved back into the mansion after the series of events which allowed the Lemp Mansion to be made into a restaurant and inn by the Pointer family. The mansion now offers tours, both historical and haunted, murder mystery dinner theatre shows, and yearly Halloween parties.
7. Branson Live Music and Nightlife
Branson, Missouri is commonly known for their huge music scene, but not all of it revolves around Broadway-style stage productions. Once the sun goes down, several of Branson's nightclubs offer great music and ways to unwind with your favorite drinks or cocktails. Whether you're looking to unwind after a long day in the sun, or dance until dawn, Branson has a wide variety of pubs, nightclubs, and comedy bars to cater to a wide variety of people.
8. Mark Twain Boyhood Home and Museum
The home of Samuel Langhorne Clemens, better known as Mark Twain, is located on 206-208 Hill Street in Hannibal, Missouri and is the inspiration for many of his stories, including the renowned white picket fence. While wandering through some of his famous novels, children of all ages can ride a raft with Huck and Jim or explore a cave with Tom and Becky. Many of Twain's memorabilia and personal artifacts are also displayed on site. Enjoy a Mark Twain performance or Music Under the Stars every Thursday night throughout the Summer.
9. Taum Sauk Mountain State Park
This breathtaking state park is in the Saint Francois area in the Ozarks and encompasses Taum Sauk Mountain, the highest point in all of Missouri. This park provides a beautiful, wooded area for hikers and a series of trails that lead through the Ozarks and up the mountain. The park also has a 12-site campground and multiple picnic areas to relax in and enjoy the scenery surrounding the area. While visiting the top of the mountain, make sure to visit the Mina Sauk Falls, the highest waterfall in Missouri descending Taum Sauk Mountain.
10. Wax Museum of St. Louis
Laclede's Landing Wax Museum is an oddities sight that you won't want to miss out on this summer. This wax museum fills three floors, a basement, and a sub-basement of a building that is hundreds of years old. This building involves winding hallways, multiple staircases, and is more like a fun house than an actual museum. The museum's three floors are devoted to celebrities and historical figures, while the basement and sub-basement is reserved for the Chamber of Horrors. This under-ground collection is gruesome without actors coming in and trying to grab you. If you're looking for a unique oddity that can't be found everywhere you go, then definitely check out this roadside collection.
11. Big Surf Waterpark
The Biggest, Fastest, Funnest, Safest, Cleanest, Number One-en-est Family Fun at the Lake of the Ozarks, MO! Voted Missouri's Best waterpark four years in a row. Catch a wave in their wave pool, go down several fun slides or take a plunge in the Space Bowl. The Space Bowl drops you from a swift slide into a 30-ft wide bowl that spins you 'round and 'round until you drop into an 8 foot deep catch pool. It's a whirling, twirling, thrilling ride. Big Surf Waterpark is fun place to enjoy the water, sun and make memories with your family. Get your season passes or tickets. here. 
12. Ozarks Amphitheater
Ozarks Amphitheater, named the "Best Live Music Venue in Missouri", is located  in the heart of the beautiful Lake of the Ozarks.  The amphitheater has recently hosted such well-known headline acts as Alabama, Dwight Yoakam and Jamey Johnson, Lee Brice with more great coming attractions. A concert under the stars at Ozarks Amphitheater is  a great addition to a long summer weekend at the lake. They have the BEST Summer concerts lined up this year. For more information and tickets visit their website here. 
13. Aquarium at the Boardwalk
Aquarium at the Boardwalk is one of the newest things to do in Branson, Missouri, and is unlike any other aquarium you've visited. First hint – the massive octopus sculpture that greets guests at the front door. It's modeled after Aquarius, a Giant Pacific Octopus and one of the Aquarium's exclusive characters. Inside, stroll down the boardwalk and explore ten zones of fish & fun. Get your tickets here. 
14. Branson's Promised Land ZOO
Branson's Top Rated Animal Attraction is home to some of the coolest animals around! Family owned and operated park. Branson's Promised Land Zoo gets you CLOSER than ever before with over 75 acres to see sloths, lemurs, and other creatures! For more information and to get tickets visit their website here. 
15. Showboat Branson Belle
Showboat Branson Belle is a showboat dinner cruise—on Table Rock Lake in Branson, Missouri. Cruise the pristine waters of Table Rock Lake, dine on a scrumptious 3-course meal and be entertained by a lively show! For more information and to grab your tickets visit their website here.