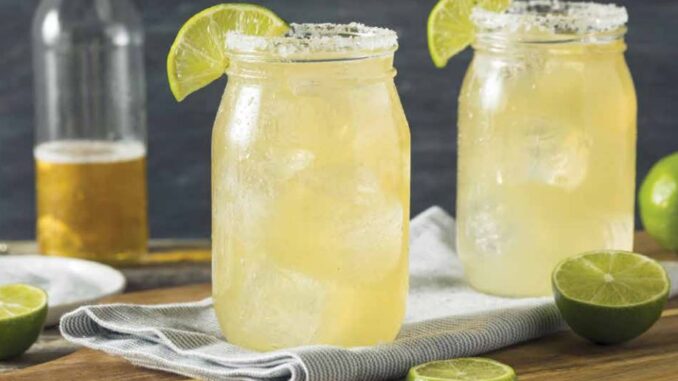 Every big game shindig needs some fun cocktails (or mocktails if you're abstaining from alcohol). Fortunately, the internet is ripe with mixing ideas to impress your friends and family — no matter how small your gathering this year.
The key to mixing a great cocktail is to be creative and use fresh ingredients. Check out these fun Super Bowl cocktail ideas and don't forget to visit your local liquor establishment for all of your mixing ingredients.
BEER MARGARITAS
If you like beer and margaritas, why not combine them into a refreshing mixed drink? Take your favorite beer to the next level by combining it with the punchy satisfaction of a tangy margarita. Follow this recipe from Food Network for the perfect Beer Margarita.
Ingredients:
1 lime
1/4 cup of coarse salt
2 bottles of your favorite beer
1/2 cup frozen concentrate limeade
1/2 cup chilled tequila ice cubes
Directions:
Rub lime wedges around rims of 4 margarita glasses. Dip rims into salt to coat lightly. In a medium pitcher, combine beer, limeade, and tequila. Fill prepared glasses with ice, then with margarita mixture. Garnish with remaining lime wedges. Serve immediately.
FUN PUNCH
No matter how small your gathering for the game this year, a tasty punch may be a touchdown for your Super Bowl weekend. Check out this punch idea from the food website Delish. Ingredients 1 liter of lemon lime soda 4 cups of seltzer 1 bottle Prosecco 1 cup vodka 1/4 cup blue Curacao 1 lemon 3 cups ice Directions Combine all ingredients in a punch bowl. Stir to combine and serve in glasses.
BE A GOOD HOST
Let your guests know you plan to serve alcohol and be sure to find out what they prefer to drink ahead of time. Don't forget to advocate for responsible celebration, ensuring that your guests partake within reason and have designated drivers. Plan ahead for a socially distanced event and make sure your guests are not gathering in close proximity to each other, like in a typical bar environment. Make sure your guests are not sharing drinks and refer to the gathering recommendations put out by the Centers for Disease Control and Prevention before planning your Super Bowl gathering.