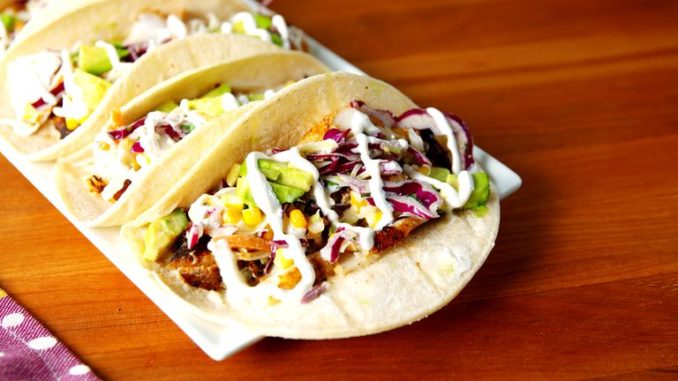 Garlicky Shrimp Zucchini Pasta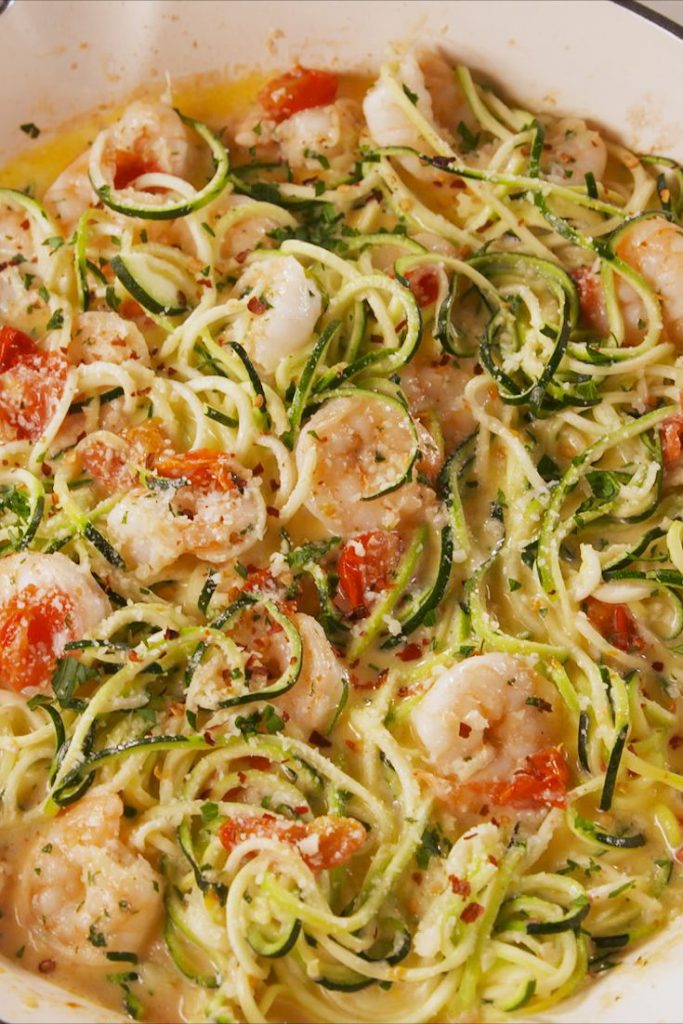 INGREDIENTS
3 tbsp. butter, divided 1 lb. medium or large shrimp, peeled and deveined Kosher salt Freshly ground black pepper 3 cloves garlic, minced 3/4 c. heavy cream 1/2 c. grated Parmesan 1 c. halved cherry tomatoes 3 tbsp. freshly chopped parsley 3 tbsp. large zucchini, spiralized (or about 4 cups zoodles)
DIRECTIONS In a large skillet over medium heat, melt 1 tablespoon butter. Add shrimp and season with salt and pepper. Cook until shrimp is pink and opaque, about 2 minutes per side. Transfer shrimp to a plate. (Keep juices in skillet.) Melt remaining butter in skillet then stir in garlic. Cook until fragrant, about 1 minute, then whisk in heavy cream. Bring to simmer, then stir in Parmesan, tomatoes, and parsley. Simmer until tomatoes have softened and mixture has thickened slightly, about 3 minutes. Return shrimp to skillet and add zucchini noodles. Toss to combine and serve immediately.
Chocolate Mousse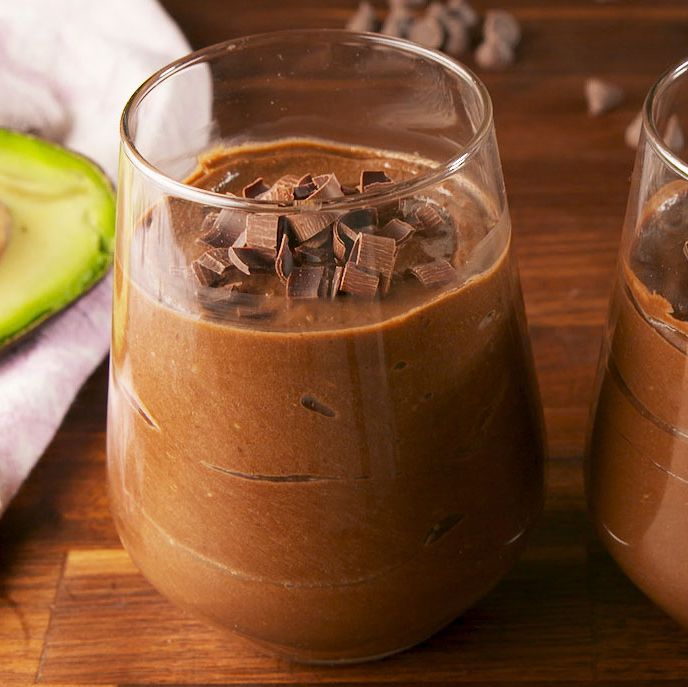 INGREDIENTS 2 ripe avocados 3/4 c. heavy cream 1/2 c. keto-approved chocolate chips (we love Lily's) 1/4 c. honey or your favorite keto sweetener 3 tbsp. unsweetened cocoa powder 1 tsp. vanilla 1/2 tsp. kosher salt
DIRECTIONS In a food processor or blender, blend all ingredients except chocolate curls until smooth. Transfer to serving glasses and refrigerate 30 minutes and up to 1 hour.
Perfect Fish Tacos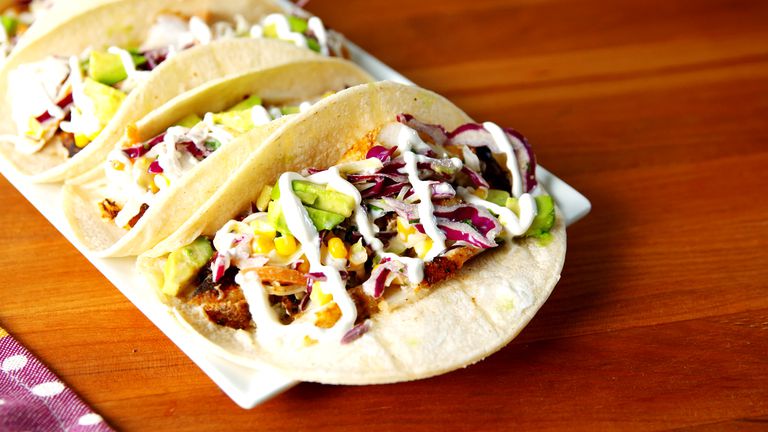 INGREDIENTS
3 tbsp. extra-virgin olive oil Juice of 1 lime 2 tsp. chili powder 1/2 tsp. ground cumin 1/2 tsp. cayenne pepper 1 1/2 lb. cod (or other flaky white fish) 1/2 tbsp. vegetable oil Kosher salt Freshly ground black pepper 8 corn tortillas 1 avocado, diced Lime wedges, for serving Sour cream, for serving
FOR THE CORN SLAW 1/4 c. mayonnaise Juice of 1 lime 2 tbsp. freshly chopped cilantro 1 tbsp. honey 2 c. shredded purple cabbage 1 c. corn kernels 1 jalapeño, minced
DIRECTIONS In a medium shallow bowl, whisk together olive oil, lime juice, chili powder, cumin, and cayenne. Add cod, tossing until evenly coated. Let marinate 15 minutes. Meanwhile, make slaw: In a large bowl, whisk together mayonnaise, lime juice, cilantro, and honey. Stir in cabbage, corn, and jalapeño. Season with salt and pepper. In a large nonstick skillet over medium-high heat, heat vegetable oil. Remove cod from marinade and season both sides of each filet with salt and pepper. Add fish flesh side-down. Cook until opaque and cooked through, 3 to 5 minutes per side. Let rest 5 minutes before flaking with a fork. Assemble tacos: Serve fish over grilled tortillas with corn slaw and avocado. Squeeze lime juice on top and garnish with sour cream.
Triple Berry Smoothie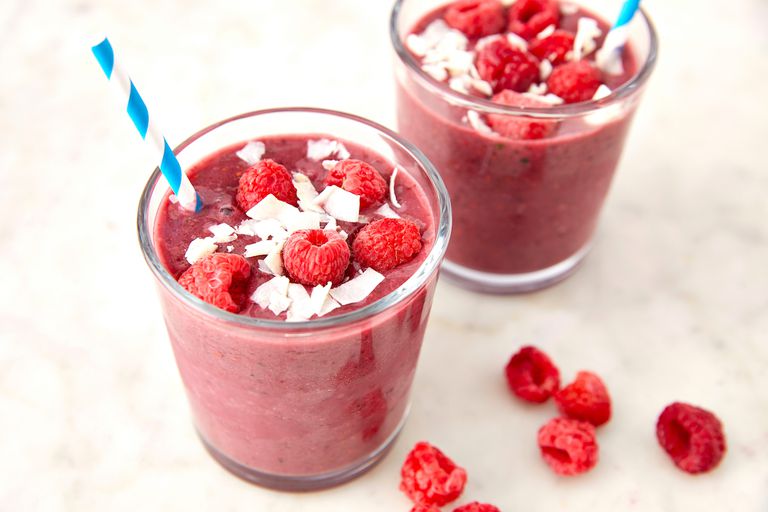 INGREDIENTS 2 c. frozen strawberries 2 c. frozen raspberries, plus more for garnish (optional) 2 c. frozen blackberries 2 c. coconut milk 1 c. baby spinach 1/2 freshly squeezed orange juice Unsweetened shaved coconut, for garnish (optional)
DIRECTIONS In a blender, combine all ingredients (except for coconut). Blend until smooth. Divide between cups and top with raspberries and coconut, if using.
Chicken Taco Avocados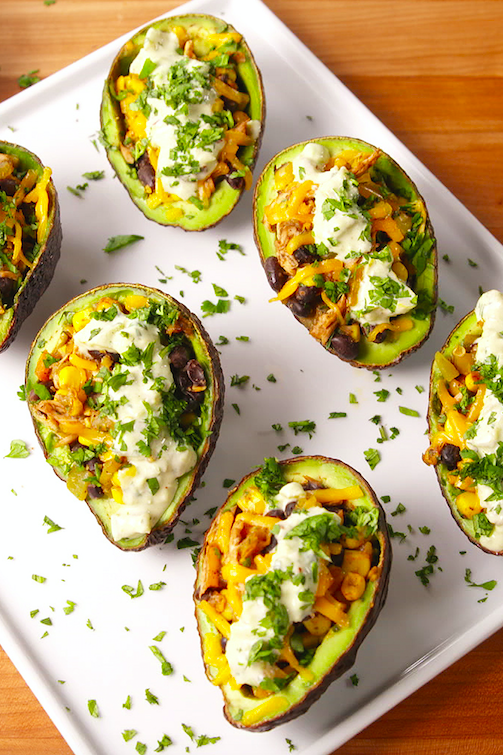 INGREDIENTS
FOR THE FILLING 1 c. black beans, cooked 1 c. canned corn 1 4-oz. can green chiles, divided 1 c. shredded rotisserie chicken 1 c. shredded cheddar, plus more for topping 1 package Taco Seasoning 2 tbsp. fresh cilantro, plus more for topping 3 ripe avocados
FOR THE DRESSING 1 c. ranch dressing 1/4 c. lime juice 1 tbsp. fresh cilantro 1 tsp. kosher salt 1 tsp. fresh ground black pepper
DIRECTIONS
Heat broiler. In a large bowl, combine black beans, corn, 1/2 can green chiles, Tyson Grilled & Ready Pulled Chicken Breasts, cheddar, taco seasoning, and fresh cilantro. Stir until combined. Halve and separate three avocados, removing pit and hollowing out insides. Mash insides in a small bowl and set aside. Place avocado boats face up and fill each with 1/3 cup of filling. Sprinkle with more cheddar and more fresh cilantro, then broil until cheese is melty, about 2 minutes. Make the dressing: In a medium bowl, combine ranch, lime juice, remaining green chiles, cilantro, salt, and pepper and stir to combine. Fold in mashed avocados and mix until smooth. Remove avocado boats from oven and transfer to serving dish. Drizzle with dressing and garnish with more cilantro, if desired. Serve immediately.