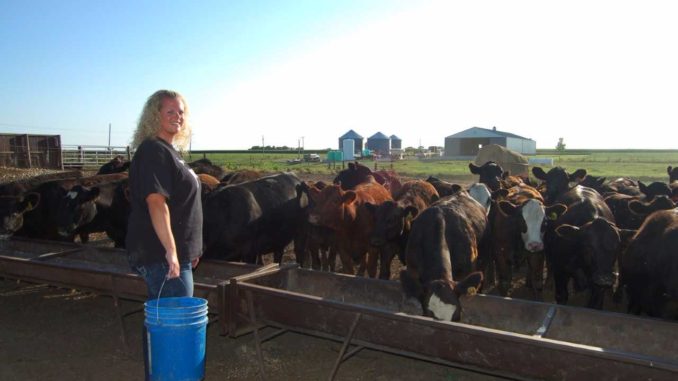 By Kelsie Ferguson
"Executive by day, farmer by night." That's kind of my slogan. It's funny but it
works!"
Missouri Farm Wife Micah Landes knows the importance of stimulating
local economy, community support, hard work and family. Landes has found a way
to balance her values and passions and has built a life that allows her to do both in
North Missouri.
Tucked into the countryside of Jamesport, Missouri, a predominately Amish
community, is Landes Farms. Aaron, Micah and their seven year-old son Blaine
operate Landes Farms where they grow and produce: soybeans, corn, cover crop,
hay, cattle and 4-H show animals for Blaine. I pulled in to the drive and I
immediately fell in love with: the white two-story farmhouse, the neatly manicured
yard, signage by the road, cute little barns, animal pins, white painted gates, grain
bins and well-organized machine shed. A true showplace! Micah finished helping her
husband clean off the planter and then invited me on to her back porch to visit over
some sweet tea.
Landes began her career in farming as a full-time farmhand when she and her
husband were just starting out over eleven years ago. "Everyday is something
different, but I am responsible for: feeding, checking animals, delivering parts and
equipment, vaccinations, drive the dump truck, auger wagon, fix fence, hay crew, put
contracts together, taxes, income reports…and probably a little bit of everything in
between. I also had a USDA commercial licensed dog kennel and sold dogs all over
the nation."
Landes now makes a forty-five minute drive into town where she is the Executive
Director of Main Street Chillicothe in Chillicothe, Missouri. Landes Farms has grown
since the early days of the husband and wife team, so Landes decided to take her
hardworking skills and passion for serving her community and apply them to a
career off of the farm as well. "I decided to go to work when Blaine was about four. I
like what I do on the farm and I wanted to carry that over into a career that let me
help others and my community."
Adding a full-time town job does not allow Landes to remove any farm chores from
her daily schedule. "Since taking my job in town, Aaron has had to hire two guys but
I still take care of all of my chores." When asked how she juggled it all, "I enjoy it!"
She said with a positive smile. "The best part about farm life is really feeling like
you've done something meaningful and that is also how I feel at my executive job.
When I get home from work, I get started on my chores and then when I am done, I
start helping where I can. And also my dog helps me a lot. I couldn't do it without
her!"
Fall Harvest Planning
"Right now we are really starting to focus on Harvest. There's a lot of planning and
preparation that goes in to it so that it makes it easier on everyone. Making sure all
of the trucks and equipment are ready to go, preparing food – sometimes we don't
eat until 11:00pm and then I will go back out and run the auger wagon for Aaron. I
love being a part of this time of year. It's kind of slow [for farm life] but it's exciting
because everything is about to pick back up again with Harvest and Fall calving. It's
where you really get to see where your hard work pays off."
Why does Landes love being a Missouri Farm Wife?
"I really can't imagine life any other way. Raising a child on the farm has to be the
best thing we've ever done. Everything is so new and exciting to him that it really
makes even the littlest things so special. Hands on, Blaine gets to experience the
circle of life everyday and he really is learning the importance of hard work and
being resourceful. Sure, there are downfalls like anytime you lose a baby calf or if
the rain doesn't come, it's hard on your operation but everything else is worth it."
What does the future hold for Landes Farms?
"In thirty years will you still be a Missouri Farm Wife?" I asked Landes. "Oh
definitely. Blaine will be the fourth generation farmer, so as a family, we are building
this up so that we can give him the opportunity to transition over, if he chooses. I
could never fully quit the farm life. I always want to have a career that allows me to
serve my farm and my community."
I was happy to help Landes finish her evening chores and get a crash course on
driving a Peterbilt semi. I am truly proud to know a woman working to feed
America, raising an ag family and promoting our great state!
If you know of anyone that deserves recognition as a #MissouriFarmWife email: [email protected]
To learn more, visit missourimagazines.com