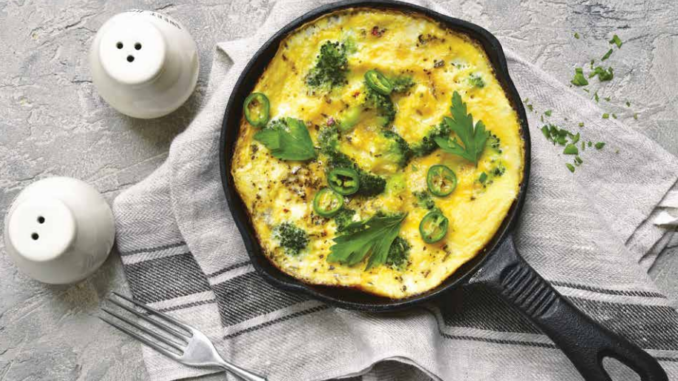 Eggs are packed with protein, vitamins, minerals and healthy fats. They're also versatile. They can be boiled, baked, fried, scrambled, poached and even microwaved. Here are some quick recipes to enjoy. 

DEVILED EGGS WITH A FLAIR
12 large hard-boiled eggs, peeled 4 ounces soft goat cheese, room temperature 1/3 cup mayonnaise 3 tablespoons minced gherkins or cornichons 1 tablespoon Sriracha sauce 2 teaspoons Dijon mustard 1/2 teaspoon garlic salt 1/4 teaspoon onion powder 2 ounces prosciutto, chopped into small pieces 2 teaspoons chopped fresh chives 1. Slice eggs lengthwise in half. Remove the yolks into a bowl. 2. Add the goat cheese, mayonnaise, pickles, Sriracha, mustard, garlic salt and onion powder. Mash until well blended. 3. Add filling back into egg whites and sprinkle the top with prosciutto and chives. 

BREAKFAST EGG SPREAD
2 hard-boiled eggs, peeled
1/4 cup refrigerated Ranch dip
2 tablespoons minced green onion
1/4 teaspoon salt
1/4 teaspoon pepper
2 tablespoons chopped, fully-cooked bacon
Whole grain baguette slices or bagels, toasted 1. Place eggs, ranch dip, green onion, salt and pepper in a food processor. Pulse until finely chopped and spoon into serving bowl. Top with bacon. 2. Serve with baguette slices or toasted bagels. 

BAKED EGG CIABATTA BOATS
5 large eggs
4 rectangular ciabatta buns
1 tablespoons olive oil
1/4 cup finely grated Parmesan cheese
3 tablespoons milk
2 tablespoons finely chopped fresh parsley
1 tablespoon finely chopped fresh chives
1/4 teaspoon each salt, pepper, dried thyme and garlic powder 1. Preheat oven to 350 degrees. Cut out a long rectangle from top of each bun. Remove some of the bread to create a boat. Place on a parchment-paper lined baking sheet. Brush each with olive oil. 2. Whisk together eggs, Parmesan cheese, milk, parsley, chives, salt, pepper, dried thyme and garlic powder. 3. Pour the mixture evenly into each boat. Bake for about 20 minutes or until golden brown, puffed and set in the center. 

BROCCOLI CHEESE FRITTATA
8 eggs 3 cups chopped broccoli
1/4 cup water
1/4 cup milk
2 teaspoons Dijon mustard
1 teaspoon salt
1/8 teaspoon pepper
3/4 cup shredded cheddar
1 tablespoon chopped green onion 1. Preheat oven to 350 degrees. Combine broccoli and water in a 10-inch, oven-proof nonstick skillet. Cook over medium heat until tender, stirring occasionally, about 5 minutes. Drain well. 2. Beat eggs, milk, mustard, salt and pepper in large bowl until blended. Add broccoli mixture, cheese and green onion. Mix well. 3. Coat the same skillet with cooking spray and heat over medium heat until hot. Pour egg mixture into skillet and cook over low to medium heat until the edges are set, about 5 minutes. 4. Remove from the burner and transfer to oven. Bake until eggs are completely set and no visible egg liquid remains, about 10 minutes. Remove from the oven and let sit for 5 minutes. Cut into wedges and serve.