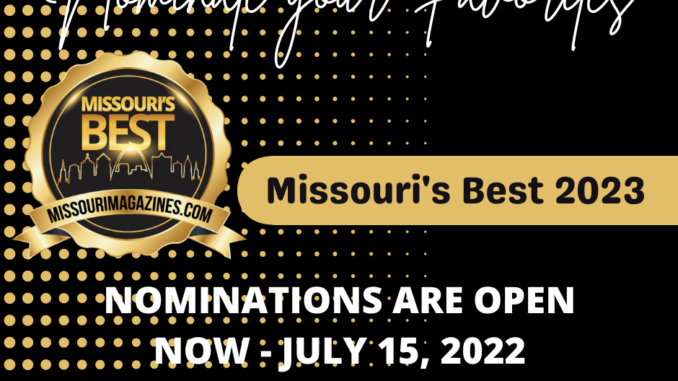 Welcome to Missouri's Best 2023! This is our seventh year for Missouri's Best, it's expected to be bigger than last year with a 100% increase in votes during 2022 Missouri's Best. NOMINATIONS will begin July 1st and end on July 15th, 2022. Anyone can nominate their favorite place, business, event or person for a chance to win Missouri's Best 2023 here.
To nominate go to our Missouri's Best website and click on nominate. Fill out the form and you're done. *You only need to nominate one time per person. Encourage your customers, family and friends to nominate you as well. Only one nomination per person, per email. However, you do have to submit one form per entry for example Best Zoo: Zoo name, then you want to nominate the Best Singer…you will have to submit another form for each business, place, person, event, etc.
VOTE DAILY starting August 1st – August 15th in more than 400 categories.
Winners will be notified between September – December and recognized at Missouri's Best Red Carpet Event and in Missouri's Best magazine. Missouri's Best Red Carpet and After Party tickets are on sale now and end at midnight on January 31st, 2023. We love ya! However, we will have a limited number of tickets. Once we sell out we will not be able to accommodate you. All tickets must be purchased by January 31st, 2023.
Check out Missouri's Best 2022 winners here and our video from Missouri's Best 2022 Red-Carpet Event here. Video produced by Lake TV.
For more information on marketing opportunities being a sponsor or any other questions, contact us at: [email protected] or call 573-284-5406.