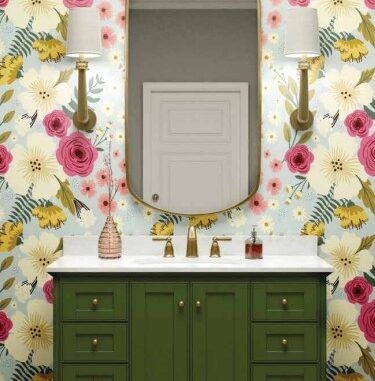 Wallpaper, that design look from the 1990s that never really went away, is having another moment. Powder rooms, bathrooms and bedrooms are all getting rolls of patterned paper where statement walls once reigned supreme. Here are some wallpaper trends to get stuck on this year.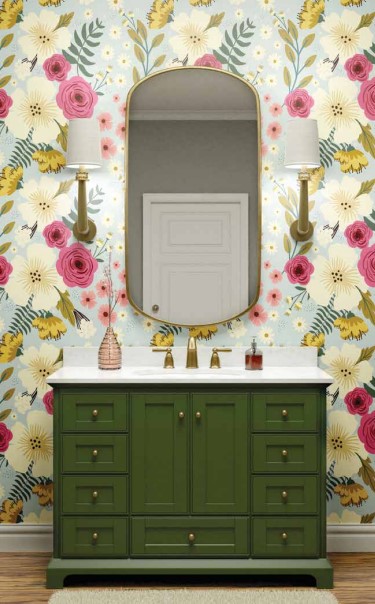 TEXTURE
Today's wallpapers aren't your mother's country geese. Many of today's designs feature luxe textures that can give a room a plush feel. And it goes beyond seagrass and fabric-like textures, too. Arte International's Metal X line looks likes oxidized metal sheeting. Wallpapers also mimic the look of brick, concrete and even rustic woods. Feature these textures on a statement wall in a bedroom for an earthy, relaxing space.
FLORALS
Floral patterns never go out of style, but in today's biophilic design world, look for patterns that soften the atmosphere. And don't be afraid to play with bold patterns in small spaces. "As a result of spending more time at home, our clients are more on board with adventurous pat – terns, texture and bold color, or play with scale and form," Rosie Ward of Ward & Co. told House Beautiful. Heather Hacket of Christy sug – gests going big with patterns but keeping the tone classic to allow for longevity in your design.
PEEL AND STICK
No longer do you need a professional to hang paper, and you don't have to live with your bold design choice forever. Peel-and-stick wall – paper is getting better every year, and the number of on-trend pat – terns to choose from can be over – whelming. These wallpapers can even work in rentals to help make a first apartment a first home. Start out by choosing just one wall, particularly if you've chosen a bold color, texture or pattern (and especially if you've chosen all three at once). Look for a heavier paper to get the best quality and measure your room carefully to make sure you get enough paper to cover your space. Take into account doors and windows and always order more than you think you'll need. You may need a couple of extra tools to make the job easier. Always defer to manufacturer instructions but consider things like a flexible smoothing tool for working out air bubbles and a small craft knife to help you cut the paper. Clean the walls before you start and, if you can, lightly sand the wall to help the wallpaper stick.