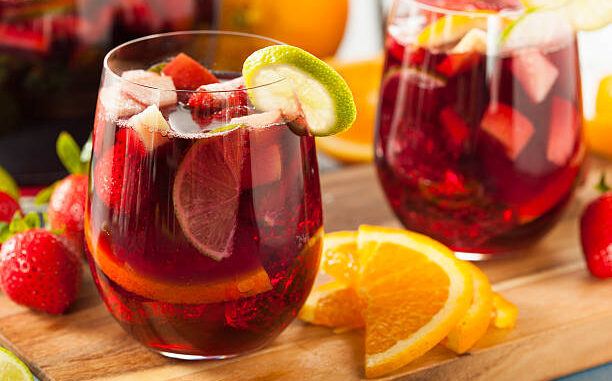 By Bennet Bodenstein
I recently sampled a very novel wine, the Art of the Earth Sangria, that  was also presenter in a very interesting bottle that was sealed with a crown cap but also had attached the very popular (in Europe) self locking white porcelain stopper which to me is absolutely the best stopper if a bottle of wine is only partially finished.  Personally, I wish the American wine industry would adopt this type of  bottle as they preserve the wine as well as do all of the "gadgets" that I have tried over the years. I currently use the vacuum sealing system if I do not finish the bottle of wine. I have a small hand pump that draws the air out of the bottle through a self sealing stopper. I prefer the vacuum system, not because it is the best but rather because I worked for several years as a high vacuum engineer and I guess I am prejudiced toward anything vacuum.
Art of the Earth Sangria (11.99). If you want a real Sangria, the only place to go was Spain. Now, it is possible to replicate a trip to Spain by just turning to Art of the Earth Bubbly Sangria. The fruit flavors have been added to this wine by using organically grown fruit juices thus eliminating the occasional "off flavors" that can result when the skins of the fruit react badly, which with a red wine, they often do. The Art of the Earth Sangria, is composed of the very Spanish Temporanillo and Grenache grapes and is the perfect accompaniment for our current warm weather but it can also brighten those cold winter evenings that are rapidly approaching. There is also a perfect melding of the fruit flavors in this wine, so that one does not overpower the other. Another added extra is a slight effervescence which adds even more delight to this wine. The only thing missing in this Spanish beauty is that it does not come with bulls to run with, however I suspect that they may be working on a way to virtually reproduce it.
Art of the Earth Organic Prosecco (14.99). If you are a tree huger, this wine will appeal to your conservationist point of view. However, even if you are not a conservationist, this is a very enjoyable wine that benefits from the clean and open aromas and flavors offered by organically grown fruit. The Art of the Earth Organic Prosecco has a fruit basket nature about it in that it accents the flavors and aromas of pear, green apple and summer flowers with a suggestion of pineapple in the background. There is also the familiar yeasty overtones and a crispness matched by few wines. This wine should not be reserved strictly for special occasions; but can and should be served with almost any meal or as an aperitif when entertaining.
Sonoma-Cutrer 2019 Russian River Valley Pinot Noir ($35). Meanwhile, back in California, Sonoma-Cutrer has done it again by producing a Pinot Noir that may just set a new standard for the variety. As a side note, California Pinot Noirs are notorious for "running away" from the winemaker and produce wines that are in the fifteen percent alcohol area and occasionally even higher. Unfortunately the higher alcohol content masks some of the attributes one seeks in that variety. Sonoma-Cutrer has produced a wine that remained under that magic fourteen percent level that I have to say, as an ardent pinot noir lover, approaches perfection. The color of this wine is a deep ruby which announces the aromas of fresh picked blackberries and of all things a hint of cola and vanilla. The flavor and the finish are, to say the least, expansive featuring black cherry, tobacco and fresh cooking spice. I was most impressed with the smoothness of this wine and the incredibly long time it remained on the palate. I can easily recommend this wine to any and all Pinot Noir lovers.