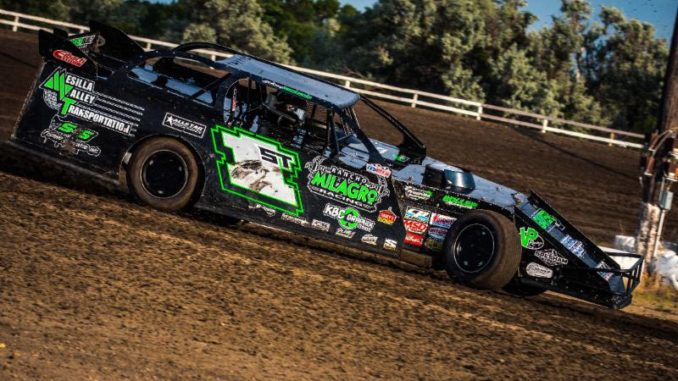 Johnny Scott looks to continue his USMTS title pursuit on Saturday at Lucas Oil Speedway's Slick Mist Show-Me Shootout Presented by Foley Equipment. (Tyler Rinken photo)
Johnny Scott admits he thinks about winning his first United States Modified Touring Series season championship and what it would mean. At the same time, he's trying not to think 
too
 much about it.
"If you start thinking about it a lot, it can get on your mind and start driving you crazy," Scott said. "It can mess you up."
Which is why Scott, the 28-year-old from Las Cruces, New Mexico, is attempting to maintain a simple mind-set for Saturday night's 9th annual Slick Mist Show-Me Shootout Presented by Foley Equipment at Lucas Oil Speedway.
Scott enters the weekend with a 167-point lead over two-time USMTS national champion Rodney Sanders. Scott has been close in the past and knows a critical time of the schedule has arrived.
"I think we have about 15 more points races to go, so hopefully we can keep doing what we've been doing and win this deal," Scott said. "I've been in this position a few times. I just take it one race at a time and just try to win that race.
"If I don't think I'm fast enough to win that night, I try to salvage at least a top five to try and have a good points night."
This weekend's swing, which is part of the Casey's Hunt for the Championship, begins Friday at Humboldt Speedway in Kansas. Scott said he's confident about his chances at both venues.
"Wheatland is one of the nicest facilities we go to all year and we seem to have pretty good luck when we go there," Scott said. "We've also run pretty decent at Humboldt. So I'm looking forward to the weekend."
Scott won the 2015 Show-Me Shootout at Lucas Oil Speedway, one of 38 career USMTS wins. He has visited victory lane seven times in 2018 in a new VanderBuilt Race Car designed by fellow Modified driver Zack VanderBeek.
Stormy Scott, Johnny's racing twin brother, debuted in a VanderBuilt late last season and liked it. Johnny Scott said he it's seemed "to fit my driving style" when he began campaigning one at the start of this season.
"You definitely have to be up on the wheel of those things," Johnny Scott said. "I wouldn't say it's the easiest car I've ever driven. But when the set-up is right, they're by far one of the best Modifieds out there."
Which has been key in a Modified world that Scott calls more competitive than it's been since he joined the USMTS circuit a few years ago.
"There are so many good drivers nowadays and everybody has nice, top-of-the-line equipment," he said. "It's hard to just out-drive anybody these days. There's a lot of factors that go into it. You have to have a good set-up, your mind has to be into it, confidence is a big more. It all goes together if you want to be successful."
Standing on the cusp of a USMTS national title is a long way from Scott's days of growing up on the ranch lands of his family in New Mexico. He said there's a plan to move the race headquarters from Cameron, Missouri, to Albuquerque after this race season to be closer to family and friends.
A former agriculture major at New Mexico State University, Johnny Scott said he probably would be a rancher is he wasn't a racer. He still has a passion for team calf roping and participates in competitions a few times a year when he gets back to his native state.
Calf roping presents a different type of physical demand and danger as racing, but he said it can pay more than wheeling a race car.
"For instance, my dad and one of his buddies roped in Las Vegas at the South Point three years and go fifth place and it paid $67,000 a man," Scott said. "There is a lot of money in it, but it's hard to win because there are so many competitors."
Kind of like USMTS racing. Now the former series Rookie of the Year hopes to bring home the national title when he goes back to New Mexico this winter.
"This is what I've been trying to do my whole racing career," he said. "If I can do that, it would definitely be a goal accomplished. It would be nice."
It's a big night of racing on Saturday at Lucas Oil Speedway with Ozark Golf Cars USRA B-Mods and Big O Tires Street Stocks also on the schedule with weekly points programs.
Two track provisional starting positions will be awarded for the USMTS feature. Zack VanderBeek of New Sharon, Iowa, won the last appearance by the USMTS series at the track in 2016 as last year's Show-Me Shootout was rained out.
Gates open at 4 p.m. with hot laps set for 6:30 and opening ceremonies at 7. Fans can pick up $2 discount-ticket coupons this week at Casey's General Stores locations in Bolivar, Hermitage, Osceola, Stockton, Warsaw, Weaubleau and Wheatland. USMTS driver Joe Duvall will be doing a meet and greet from 11:30 a.m.-1 p.m. Saturday at the Casey's in Wheatland.
Fans also are invited to browse the Drag Boat pit area next door where up to 40 professional barbecue teams will be competing in the 2nd annual Kansas City Barbecue Society-sanctioned Red White Blue & Que. The nation's top two-ranked teams – Gettin' Basted out of Branson, Missouri, and Boomerang BBQ of Lubbock, Texas – are among the entrants.
Admission prices:
Adults (ages 16 and over) $20
Seniors (62 and over)/Military $17
Youth (ages 6-15) $10
Kids (5 and under) FREE
Pit pass $40
For ticket information on all events at Lucas Oil Speedway in 2018, contact admission director Nichole McMillan at (417) 282-5984 or by email at
[email protected]
. Fans also can go 
online
 to purchase tickets for any event on the 2018 schedule.