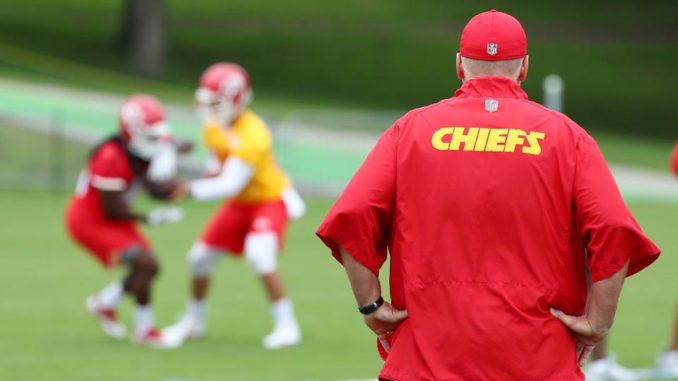 Aiming for playoffs: New faces, Veterans look forward to season
By Aaron J Bass
After a bumpy offseason resulting in the firing of General Manager John Dorsey, the
Kansas City Chiefs have released big-name players Jamaal Charles, Dontari Poe, and Jeremy
Maclin. The Chiefs are now looking to make another run at the NFL Playoffs and maybe even
secure another AFC West title.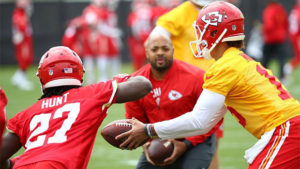 Chairman and CEO Clark Hunt stated, "We are very excited to introduce Brett Veach as the new GM of the Kansas City Chiefs. It was a difficult decision, but after a thorough evaluation of our football operation, I felt that it was in the best long-term interest of the Chiefs to make a change. I sincerely appreciate John's contribution to the success of the Chiefs over the last four and half years. I have a tremendous amount of respect for him. I will not say anything negative
about John or the job he did as the General Manager of the Chiefs."
Head Coach Andy Reid stated, "In the off season you have the chance to go back through
and look at the things you did well, and also the things you didn't do well. Some things you kick
out and some you work on to try to get better. We did that. We have added some stuff in, and will
master it the best we can. We still have training camp to figure that out.
I am happy with improvements they have made with this camp. Do we have work to do?
Absolutely! We have to get this training camp in and get the pads on. You have to do the work
there. For that to take place we have to have confidence in the guys that are here and we have to
keep working. We have a ways to go, to keep working."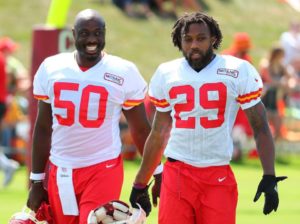 In an effort to replace the released players, the Chiefs signed former first-round pick C.J. Spiller (RB) and third-round pick Bennie Logan (DT) from free agency. Spiller's eight years of NFL experience equals the combined experience of all the other Chiefs running backs. Spiller played for the Buffalo Bills from 2009-14, where he was a dynamic threat as a kickoff return specialist. Injuries, however, and the acquisition of LeSean McCoy (RB) led to his departure from the team. Bennie Logan spent all his time in the NFL at Philadelphia, where he totaled a combined 120 solo tackles and 43 assisted tackles. Logan will be one of the several players tasked with replacing Poe on the D-Line.
Kansas City made some noise in the Draft as they moved up 17 spots (from Buffalo) to
draft former Texas Tech standout Patrick Mahomes III (QB) at tenth overall. This move came as
a shock to most. As Alex Smith is starting his final season at Kansas City, many did not expect
the Chiefs to take a QB in the first round, let alone trade up. Though Kansas City has a big
investment in Mahomes, the Chiefs organization has already stated that Mahomes will not be
expected to start any time soon, as they look to develop him through the West Coast system that
is Andy Reid's offense. Replacing lost offensive players and building on their defense, KC also
nabbed DE Tanoh Kpassagnon in the second round, RB Karemm Hunt (Toledo) in the third, WR
Jehu Chesson in the fourth, LB Ukeme Eligwe in the fifth, and S Leon McQuay III in the sixth.
Along with all those new faces, the Chiefs have several returning playmakers who will
more-than-likely take the fresh meat under their wings. The biggest names on that list are second
year wide receiver Tyreek Hill, former first-round pick Eric Berry, and always-flamboyant tight
end Travis Kelce.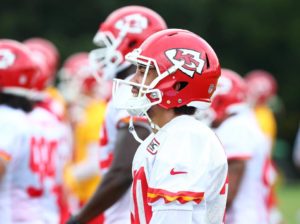 Current safety and defensive captain Eric Berry has the most experience of any player in the secondary. Eric Berry became a household name in 2014 when he sidelined his prolific career after a diagnosis of Hodgkins Lymphoma (a form of cancer that affects the immune system).
Since his return in 2015, Berry has achieved 138 tackles, which is second on the team behind
veteran linebacker Derrick Johnson.
Matching Berry's defense experience, veteran tight end Travis Kelce has made his voice
heard around the league, creating a name for himself through controversy. Kelce has done what
many athletes have not dared to do, occasionally yelling at referees, and has even thrown a "flag"
at an official. Okay, maybe it was a towel, but the symbolism is the same. Klece has petitioned
for the NFL to hold officials as accountable as they hold their players. Even though Kelce is in
the middle of controversy off the field, his on-the-field accomplishments are just as noteworthy.
Kelce was one of only two TEs to lead their teams in receiving yards. Kelce racked up an
astonishing 1,125 yards in the 2016 regular season. Kelce enters his fifth season having hit a new
career high in yards in the previous season. It will be interesting to see if he can keep up that
streak going into 2017.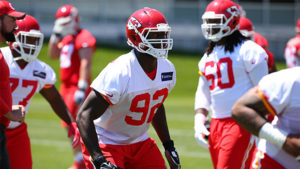 Kelce may lead the Chiefs in receiving yards, but no one is more exciting to watch than rookie WR Tyreek Hill. Hill last season made a name for himself as one of the most explosive players in the NFL, as he scored a TD in every offensive and special teams column. In his rookie campaign, Hill also showed his ambition to be fastest player in the NFL. He will more than likely have the highest speed rating in Madden 18. Yes, I know Madden is a game, but it is a game that takes real-world stats and performances and creates a rather realistic rating system. So it is going to be crazy to see Hill as the fastest player in both the game and in the NFL. However, all of that was last season, and this is a new one.
The preseason will give us and the coaches a first-hand look at what these latest additions
can do, and will also give us the opportunity to see whether or not the "old guys" still have it.
Once Week One comes around, it will be "all hands on deck," as Kansas City will travel to
Foxborough, where they will play the defending World Champion New England Patriots. The
Chiefs will have a tough road ahead following New England, as their 2017 opponents netted a
147-108-1 record in 2016, and 11 of the 16 had winning records.
The most-grueling part of said season for the Chiefs will undoubtedly be the first half.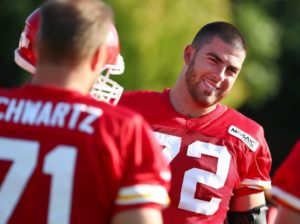 Before KC has their bye week in week 10, they will have to play powerhouses New England, Pittsburgh, Oakland, and Dallas, all teams who made the playoffs with 10+ wins. Along with those four, KC will have to travel to Houston to play the on-the-rise Texas team that also made the playoffs. Houston is probably one of the most-talented and youngest teams in the NFL, but the lack of QB has held them back. Texans fans and the organization hope that this tale comes to an end with rookie QB Deshaun Watson, who has turned heads since the Texans drafted him.
With nearly every team reloading, this year it is going to be a challenge for Kansas City to duplicate, let alone build, on their successful 2016 campaign. However, if the Chiefs can survive or even thrive in the first nine games, there is no doubt they can make a run at the ever-elusive Lombardi Trophy.
Photo Credit: Kansas City Chiefs