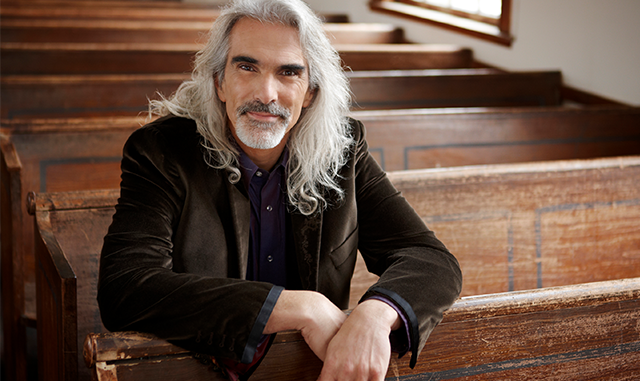 ~ Showboat Branson Belle presents Southern Gospel Cruises ~
The Silver Dollar City Attractions gear up to host over 100 performances for 12 straight days and nights of uplifting, inspiring and exhilarating high-energy music in Branson, Missouri during Silver Dollar City's Southern Gospel Picnic and the Showboat Branson Belle's Southern Gospel Cruises. One of America's biggest Southern Gospel events, Southern Gospel Picnic opens August 23, featuring a NEW event—America's Largest Hymn Sing.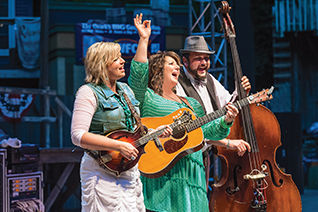 Southern Gospel Picnic offers over 70 foot-tapping and harmony-filled acts from award winners throughout the festival with a southern-inspired, picnic-style feast every day and mainstage performances in Echo Hollow Amphitheatre to cap each evening. The festival features Grammy and Dove award-winning artist and host of the Emmy-winning Gospel Music Showcase program, Guy Penrod; plus awards winners Ernie Haase & Signature Sound, The Booth Brothers, Jeff & Sheri Easter, The Collingsworth Family, The Hoppers, Triumphant Quartet, The Isaacs, and The Martins. Fan-favorites include Joseph Habedank, The Perrys, Karen Peck and New River and The Ball Brothers. Special worship services are offered on Sundays with Dr. Dennis Swanbergon Aug. 26 and The Hosea Bilyeu Family on Sep. 2 leading the services.
NEW for 2018, Southern Gospel Picnic presents America's Largest Hymn Sing on August 27, featuring Gerald Wolfe and Greater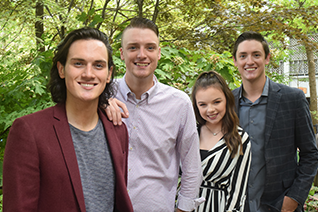 Vision, the Mark Trammel Quartet, The Whisnants and The Mylon Hayes Family.This special event brings 20 musicians and vocalists to Echo Hollow Amphitheatre for a thunderous evening of classic hymns. "The Hymn Sing is really something that Southern Gospel fans will not want to miss," says festival coordinator D.A. Callaway. "To have all of these wonderful, talented groups on the same stage, accompanied by a full band and the voices of over 4000 fans from across the country, is indescribable." Concert-goers are encouraged to sing along with lyrics displayed on a 12-foot by 14-foot screen. America's Largest Hymn Sing is free with park admission.
Guests are treated to a picnic-style meal each day at "The House of Chicken & Fixin's" with a variety of Silver Dollar City comfort foods available every day during the festival. Among many favorites is the theme park's famous double-battered fried chicken, along with oven-barbecued chicken and a spicy "firecracker" chicken, southern succotash, marshmallow cheesecake and blackberry cobbler.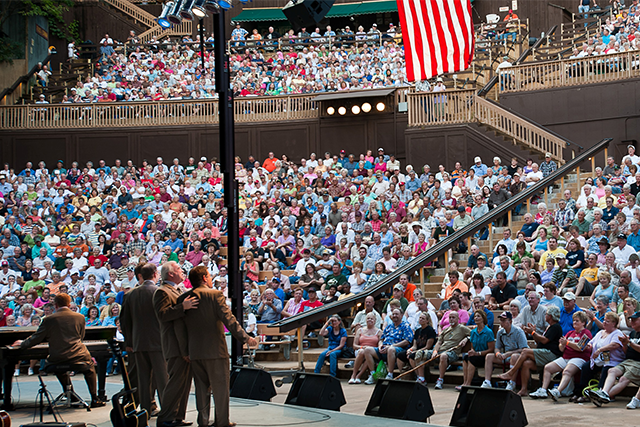 Silver Dollar City is open daily during Southern Gospel Picnic from 10 a.m. – 6 p.m. with extended hours on Saturdays and Labor Day Weekend. Information: 800-831-4FUN(386) and silverdollarcity.com.
Southern Gospel Cruises: The Showboat Branson Belle's Southern Gospel Cruises treat voyagers to a cruise on Table Rock Lake with live performances from a variety of top Gospel acts. Performances on the noon cruises include The Kingsmen, August 26; The Chuck Wagon Gang, August 27: The Freemans, August 28; Dixie Echoes, August 29; Jason Crabb, August 30; Gold City, August 31 & September 1; and comedian and musician Tim Lovelace, September 2. All cruises include a 3-course meal prepared in the Showboat's galley.
The Showboat Branson Belle cruises Table Rock Lake in Branson, Missouri through January 1. For more information on Showboat cruises, call 800-775-BOAT(2628) or visit showboatbransonbelle.com.