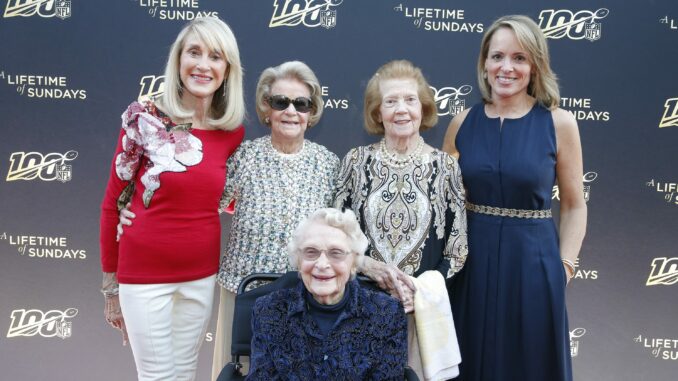 (L-R): Norma Hunt, Martha Ford (sunglasses), Virginia Halas McCaskey (seated), Patricia Rooney and Jane Skinner Goodell. RICK SCUTERI, AP
Our Missouri favorite of The Kansas City Chiefs Norma Hunt and the Fab Four will debut in A Lifetime of Sunday's airing on ESPN at 12pCT on August 25 and ABC at 2:30CT on September 1. It's going to be FANtastic!! You won't want to miss it! Watch the trailer here!
To recite their names is to step into the pages of an NFL history book: Halas, Rooney, Hunt, Ford. In the league's first 100 years, the men attached to those names helped build the most commanding enterprise in American sports.
Today, those names still belong to owners who sit atop four of the league's most iconic franchises, but they no longer belong to men. Four venerable women, all in their 80s and 90s, own those teams: Virginia Halas McCaskey of the Chicago Bears, Patricia Rooney of the Pittsburgh Steelers, Norma Hunt of the Kansas City Chiefs and Martha Ford of the Detroit Lions.
Nearly two years ago, Jane Skinner Goodell, wife of NFL Commissioner Roger Goodell and a former television newscaster, wondered if anyone was preserving the vast treasure of stories that those four — the league's "Founding Mothers," if you will – could share. She soon realized that no one was, so she decided to do it.
Her enlightening movie, "A Lifetime of Sundays," made in partnership with NFL Films, debuts on ESPN at 1 p.m. ET Sunday, Aug. 25, and on ABC at 3:30 p.m. ET Sunday, Sept. 1. USA TODAY Sports was exclusively given a review copy of the film.
"I've been lucky enough to spend time with all four of these wonderful women over the years, but the hardest part was to get them to say yes," Goodell said in an interview this week. "They come from the generation of 'we' — family, community, team – even as we are living in the generation of 'me.' They didn't want to talk about themselves. It took months for them to take the leap, but it was so important they did, not just for their stories but also for their wisdom and the gracious examples they are setting."
The film reveals a slice of life rarely seen about an NFL owner, much less four of them. It also subtly tells the story of a generation of American women who, while never thinking of themselves as feminists or career women, became exactly that.
When an early version of the film was screened at the annual NFL owners' meeting in March, Rooney told Goodell about something surprising that happened next.
"Pat had been going to league meetings for more than 50 years," Goodell said, "and she told me that was the first time people were coming up to her to speak to her as her own person, not as the 'wife of' or 'daughter-in-law of.' "
While the film follows each woman individually from her family life to team meetings to game day, it also occasionally captures the interaction between them. During a panel discussion at the league's 2018 annual meeting that appears in the film, Rooney praises the Philadelphia Eagles for their recent Super Bowl victory, explaining that the Steelers and Eagles used to be one – the 1943 Steagles.
McCaskey playfully interrupts. "You have enough trophies, Pat."
As the crowd roars with laughter, Rooney fires back with a smile.
"Thank you. There's always room for one more."
At a Bears-Lions game at Ford Field, the camera follows as Ford stops by to say hello to McCaskey in her suite.
"Hello, here we are again," Ford says as she gives McCaskey a hug. "I wish you well today, but not too well."
McCaskey, 96, is the oldest child of George Halas, the legendary Bears owner and coach who was one of the founders of the NFL. Because her life spans almost the entire length of the league's existence, her stories are not only enchanting, they are part of American cultural history.
As a toddler, she joined player Red Grange on a 1925 barnstorming tour to promote the Bears and the growing game of football. She played a very specific role.
"When Red Grange would get off the train, there were so many people waiting to see him, they decided I could be his camouflage," she says. "If he wore a hat and carried me off the train, people wouldn't recognize him. That got him through the crowd."
That's a long time ago, and she knows it. "I have been told that I have watched more professional football than anyone alive," she says in the film. "From the time I was born I have loved the game and after almost 100 years, I still do."
But longevity is not hers alone to claim. "I went to my first football game when I was six," Ford says. "I took over the Detroit Lionswhen I was 88."
Longevity begets streaks, including Hunt's as the only owner, and only woman, to have been to every Super Bowl, all 53 of them. She and her family always take a photo outside the stadium and another inside, just in case anyone doubts she was there. Fittingly, it was her late husband Lamar who coined the name of the game. He got the idea from gifts she had bought for their children: the extra-bouncy ball popular in the 1960s called a Super Ball.
Spending time with the four owners, dropping into their lives and hearing their stories, Goodell found remarkable similarities among the women.
"I learned a lot about commitment, hard work, staying engaged in life, being grateful for each day," she said. "They have such great perspectives on how to live fulfilling lives. It's pretty simple: family, commitment, community and laughter — definitely laughter."