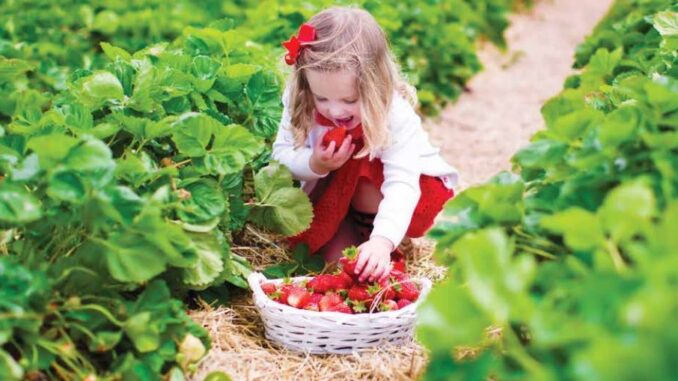 Summer brings with it a bounty of fresh foods. Why not get yours right from the source? Enjoy time with your family on the farm picking fresh berries.
A YUMMY HISTORY
Pick-your-own farms have also been called cut-your-own, u-pick and choose-your-own options over the years. Customers can select an item right off the tree or in the field, a particularly popular activity on orange, apple, berry, flower, pumpkin and Christmas tree farms. The trend emerged in the 1930s and '40s, when prices for some crops were so low that farmers were struggling to pay for harvest expenses. As agri-tourism began to flourish in the 1960s, pick-your-own farms emerged as a major contributor. Purchasing produce in this way can save money, while helping to ensure a farmer's livelihood.
FINDING A FARM
Local ag centers can usually provide information on area pick-your-own farms, and occasionally even provide helpful maps. They'll also help you chart which produce items are available during the time of year you'll be visiting. You can plan out multiple visits on a single day to create the perfect fresh-made meal, or schedule stops throughout the season to catch the latest crop at its peak. Friends and family members may have recommendations, too. These farms are also a great place to make a pit stop on a summer road trip.
WHAT YOU'LL LEARN
You'll obviously be getting the freshest, hardiest fruits and vegetables. But time spent on a farm also strengthens our connection to the food we eat, and to our country's deep agrarian roots. School tours are increasingly popular — in particular among fruit, pumpkin and Christmas tree farms. Children learn more about nature, and how their meals begin. You'll also come to respect how fragile the whole process can be, as you gently twist an apple — rather than sternly pulling — in order to preserve the limb's integrity.
Enjoy these pick your own farms in Missouri:
Missouri Berries – Strawberry and Blueberry Farm
John & Linda's Fruit and Berry Farm