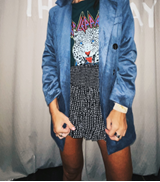 By Tiffany Ash
You've heard the saying, the only certainty in life is that things will change? The same is true in fashion and with the changing seasons comes changing style. As we move into October and the cooler months of the year, here's my style edit containing what you can expect to be some key pieces to take you through early winter.
Ok, this isn't a piece but rather a color …. PINK is in for fall. Pink accessories and pink clothing are all over the place from major fashion makers. One of the hottest trends is the millenial pink jumpsuit which I have seen worn with heels, sneakers, a leather jacket, or just on its own. Every major label has a version of the pink jumpsuit, but one of my favorites is from Urban Outfitters. Their version is a little over $100 but for a piece as versatile and on trend as this one, that might be a price worth paying to add some fun color and trend to your fall wardrobe.
Denim will always be in but how the labels change it up every season is what keeps us coming back. One of the freshest trends for denim this fall is a straight leg fit with a front hem slit. Spanx is even adding the slit to one of their holiday leather leggings. "The slit" is everywhere. Good American created a pair of front hem slit jeans that retail at $165. Add a square toe heel and this look is actually one of my fall favorites right now.
Lastly, if you add nothing else this fall, let it be an oversized blazer. I won't even name drop a label because you can find a fashion forward blazer just about any place at any price point. The blazer is the piece that can be worn with any combination of outfit you have chosen for the day. And I mean any combination. I wear mine with hoodies, t shirts, dresses, jeans, etc… It's a layering piece that you just cannot mess up. And let's be honest, layering is one of the best parts of fall.
…. Get a Blazer!
While there are many trends to follow this fall, these are the three I personally will be adding (or keeping) and the ones that are most worth the financial investment for you trend followers out there.