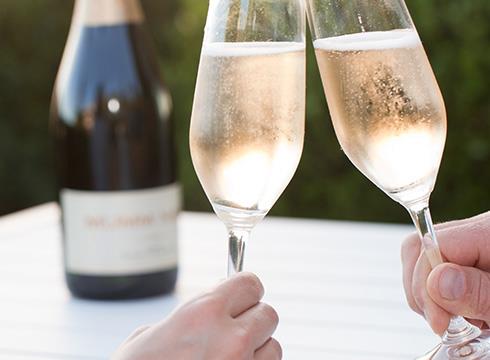 By Bennet Bodenstein
I hate falling in with tradition but this is the time of year when I must. The end of the year holidays all seem to want to be celebrated with sparkling wine so, I bow to tradition; well, partially.
Champagne, the great grandsire of modern day sparkling wines, was developed by a French Benedictine monk, Dom Pierre Perignon, in the early 1700's and has reigned supreme since then. Due to the labor intensive methods used to produce Champagne, it has always been costly. It did not take too long for other countries to establish their own form of sparkling wine but none, to this day, can compete or copy the elegance and stature of a true French Champagne.
As the new world became a center for wine production, an old and very famous producer of Champagne staked out some property in the Napa Valley to produce American sparkling wines and thus was born Mumm Napa. The wines of Mum Napa are not a competitor or imitation of French Champagne but an American version of the style that maintains the Mumm philosophy for excellence.
Mumm Napa Brut Prestige ($24). Made of from a blend of 45% Chardonnay, 45% Pinot Noir, 5% Pinot Gris and 5% Pinot Meunier this sparkler captures the true spirit of the fruit, while maintaining the structure and elegance required of a sparkling wine that will carry the Mumm Name. It is a wine with a crisp acid bite that is in perfect balance with the fruit, an important feature of any quality sparkling wine. The cherry element of the Pinot Noir is in perfect balance with the traditional favor of melon and citrus contributed by the Chardonnay. There is also the traditional flavor of toast along with a hint of vanilla, which carry on to a creamy finish. This is a truly fine wine and the perfect libation for meals and upcoming holiday events.
Mumm Napa Brute Rosé ($24). Rosé wines are no longer the step child of the wine industry and have become the publics new favorite; this wine tells you why. This is a wine of great flavor and character that displays a beautiful salmon-pink color that delights the eyes when it is poured. The Mumm Napa Brut Rosé is their time honored blend of 80% Pinot Noir and 20% Chardonnay and exhibits the aromas of black cherries combined with raspberries and strawberries, inviting the first sip. The fruit flavors of dark cherries, summer berries, peaches and a very noticeable toasted bread-like flavor that weaves in and out of the fruit and dances across the palate ending in a creamy blast of raspberries and a smile on every face.
Avissi Prosecco (187mL: $6, 750mL: $14) The Avissi Prosecco Italian version of sparkling wine that accents tropical fruit flavors and aromas. The flavor of pineapple and peaches predominate with a honey and almond background. There is also the familiar yeasty overtones and a crispness matched by few wines. If you have never tired a Prosecco, this one will make a believer out of you.
There are those however, who believe that a fine still white wine is the ideal way to usher in the holidays while still marinating a semblance of decorum. To those who conform to that description I would like to recommend the Charles Krug 2017 Carneros Chardonnay ($21). Because of all of the miserable examples of the Chardonnay in the marketplace today, I must admit to have become a bit jaded toward the variety. After sampling this wine all of that has changed. The Charles Krug 2017 Carneros Chardonnay is about as true to the variety as a Chardonnay can get. There are the subdued aromas and flavors of summer tropical fruits, ripe apple, and citrus. In the background there are flavors of oak, vanilla, and roasted nuts. This is a glorious Chardonnay that I believe will satisfy even the most critical of experts and perhaps return the variety to the lofty position that it truly deserves.