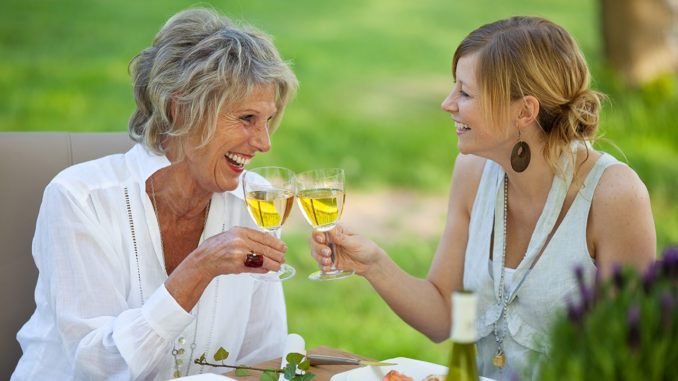 By: Bennet Bodenstein
Sunday, May 12 is the official celebration of Mothers Day a day that we honor mom and all that she has done for us during the years. If wine is part of the honoring, only the best will do and I would like to make some suggestions of wines that befit mom's status as your queen of queens.
Van Duzer 2018 Willamette Valley Pinot Noir Rosé ($20). The Van Duzer 2010 Willamette Valley Pinot Noir Rosé is a dry wine that captures all of the flavor and aroma nuances of the Pinot Noir grape and presents them in the free and open style of a rosé wine. The aroma is blessed with scents of wild flowers, strawberry, and licorice. The flavor is a riot of strawberries and watermelon that follows through to the finish that is very long and clean. This wine a pure delight and can accompany almost everything. If you miss this wine you will have missed one of the great joys of the wine world. The wine may be a bit hard to find in local stores but it can be obtained via the internet at http://www.vanduzer.com/.
Acrobat Rosé of Pinot Noir ($15). If the name alone doesn't peak the interest, nothing will. The Acrobat Rosé of Pinot Noir presents an inviting salmon pink color and the aroma of citrus, pomegranates, strawberries and a hint of violets. The flavor stresses summer berries accompanied by a positive and obvious citrus. This wine, as with any rosé wine, should be served slightly chilled, as too much time in the fridge will reduce the flavor and aroma. About fifteen to twenty minutes in the fridge will result in a perfectly chilled wine.
King Estate Willamette Valley Mountain Blocks Rosé ($24). The aroma of this wine can be said in two words, pure perfume. The aroma alternates between sun-warmed rose petals and fresh picked strawberries. Black cherry, raspberry, and strawberry flavors share the palate with a vibrant acidity. These same flavors continue on to the bid and obvious finish. It is a very interesting and delightful wine
Barefoot Cellars Bubbly Rosé ($10). There is little question that Barefoot wines are becoming among Americas favorite brands and this wine will help to confirm that. This delightful bubblers' pink color heralds the aromas of strawberry jam and concord grapes. The flavor picks up the strawberry, which is accented by a very positive background of Georgia peaches. Although this wine is sweet, it is not overly sweet. This is not really a wine; it is more of an experience and an experience that mom will surely enjoy.
Dark Horse Rosé ($9). The wine displays a lively, bright, and clear light pomegranate color and a complex aroma of pomegranate, strawberry, pineapple, cherry, fresh peaches and a spicy, slightly peppery taste on the palate. It is very well balanced with a fresh, extraordinarily long, and exceptionally fruity aftertaste. Seek out this wine; it's a charmer from beginning to end and is a wine that is almost guaranteed to produce smiles, a smile from mom and an accolade for your choice.
J Vineyards Brute Rosé ($35). The J Vineyards Brute Rosé is a blend of Pinot Noir and Chardonnay that displays a beautiful salmon-pink color and exhibits the aromas of black cherries combined with raspberries and strawberries, inviting the first sip. The fruit flavors of dark cherries, summer berries, peaches and a very noticeable toasted bread-like flavor that weaves in and out of the fruit and dances across the palate ending in a creamy blast of raspberries.
Apothic 2016 Rosé ($9). A pure delight of a wine made from the Spanish Tempranillo and the French Grenache. Best served chilled, this dry Rosé displays an inviting pink color and the very obvious flavors and aromas of strawberry and watermelon. The finish is, as it is with most good Rosés is long, memorable and luscious. If a dry rosé is the order of the day, this wine is a great choice.