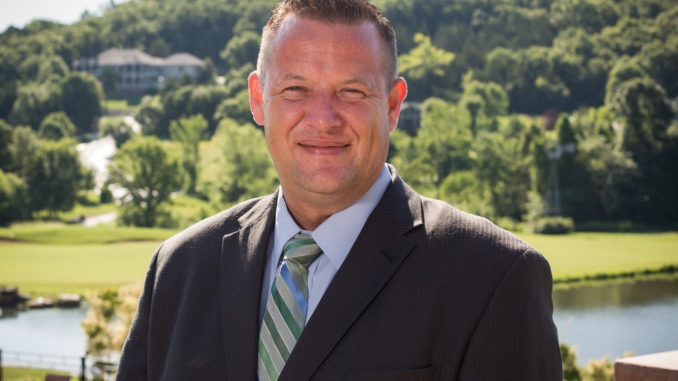 I had the pleasure of meeting Jasen one afternoon at the Trophy Room, Old Kinderhook, during our lunch/marketing meeting. It was obvious to me that he has great passion for everything he does. I spent about an hour with him and felt like Jasen and I were friends. Not to mention the Trophy Room has amazing and delicious food. It is my pleasure to introduce to you, Jasen Jones, my new Faces of Missouri and people to meet.
Jasen Jones, Old Kinderhook Business Development Manager and prior General Manager at The Lodge at Old Kinderhook has spent over twenty years in the hospitality industry as a leader working in numerous branded hotels including Marriott International, JW Marriott, Renaissance, Westin, Hilton, Crowne Plaza and Wyndham. Working with his employees he creates environments and conditions that will allow individuals to align their strengths to the company's vision, so guests receive a more personalized experience during their stay. Jasen started his career in 1997 as an intern at Marriott's Tan-Tar-A Resort then transferred to Renaissance St. Louis Airport Hotel in 2001. Jasen had the opportunity to open a Westin hotel in Las Vegas in 2003 then moved to Lake Tahoe in 2005 to transition Caesar's Casino to Mont Blue Casino. Throughout the twenty years working in hotels I had the pleasure to work in the following cities: Albany, NY, Boston, MA, Philadelphia, PA, Baltimore, MD, Hutchinson Island, FL, Knoxville, TN, Santa Monica, CA, Las Vegas, NV, Lake Tahoe, CA, and St. Louis, MO.
WHAT DO YOU CONSIDER YOUR GREATEST PROFESSIONAL ACHIEVEMENT?
4 Time Marriott's Bill Tiefel award for providing exemplary commitment to quality service and guest satisfaction. Also Opening The Westin Las Vegas Hotel in Las Vegas was a great experience!
Jasen grew up in New Madrid, MO and his first job was working in the cotton fields with his Dad. Jasen's family farmed over 1500 acres where he learned from his Dad what it took to be successful and the benefits of hard work truly pays off. I have to pay a special tribute to my late grandmother Mary Clark who worked as a hair dresser for over 50 years from her house as well as my late grandfather Tip Clark who owned a hardware store in Lilbourn, MO. Thanks to both of them they taught me how to deliver great customer service and how important it is to be kind to everyone. My mother Tammy Jones worked three jobs growing up so I had some great role models teaching me the basics of Hospitality. The influence my family had on me certainly directed me into the Hospitality industry, and I am so thankful for it today.
WHAT ARE SOME OF YOUR LOCAL FAVORITE PLACES?
Big Surf Waterpark, Backwater Jack's, Ozark Amphitheater, & Shawnee Bluff Winery
Jasen met his wife Paige while working at Tan-Tar-A Resort and has been happily married for 17 years. They have two beautiful daughters Zoe (11) & Tallulah (6). When Jasen is not working he loves to spend time with his family, playing golf, and boating on Lake of the Ozarks.
WHAT ARE YOUR FAMILY'S FAVORITE ACTIVITIES?
We love to go boating, hiking at Ha Ha Tonka Park, playing softball with my oldest daughter and swinging my youngest 6-year-old on our tire swing daily.
WHAT DO YOU LOVE MOST ABOUT LIVING AT THE LAKE OF THE OZARKS AREA?
I truly enjoy the changes of the season in Lake of the Ozarks. Summers are a blast on the Lake, and golf is second to none in the state of Missouri.
WHERE CAN SOMEONE FIND YOU WHEN YOU ARE NOT AT WORK?
You'll either find me on the Lake or Old Kinderhook golf course.
Jasen is currently Vice President of Camdenton Chamber Board of Directors, Big Brother mentor, and a member of Linn Creek Masonic Lodge.
DO YOU HAVE A FAVORITE LOCAL CHARITY?
Big Brother-Big Sister-Been mentor for this program
CADV
Kid's Harbor
So many wonderful charities at the Lake, but being a BIG I'd say Big Brother-Big Sister would rank at the top for me.
Jasen attended Shawnee Community College from 1993-1995 where he walked onto the basketball team and played for two years before transferring to University of St. Francis in Joliet, IL from 1995-1997. Jasen graduated college in 1997 and holds a Bachelor degree in Hotel Administration & Management from University of St. Francis in Joliet, IL.