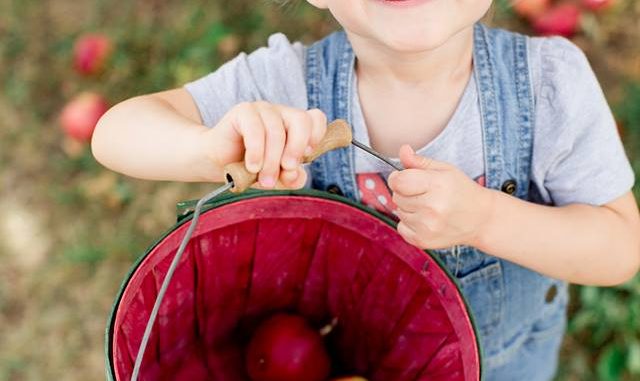 Fall is the perfect time to enjoy the outdoors in Missouri. And what a better way than to take your family out to some of Missouri's best Apple Orchards, Pumpkin Patches and Corn Mazes!
By: Missouri Magazine Staff
Alldredge Orchards   
10455 N Highway Platte City, MO 64079  816-330-3448
Activities: Pick your own apples, choose a pumpkin from the pumpkin patch, and have fun in their play area!  Visit the barnyard, where friendly animals are waiting for a treat, or visit the Orchard Cafe for a treat of your own! Be sure to come into the rustic barn store, where all the delights of the fall season await – apples, pumpkins, candles, huge mums, honey and more – and take a peek at their bees.
Dates/Hours: Open Saturdays and Sundays September and October  10 am – 5 pm
Please Note! Due to weather conditions this year, apple picking will not be available every weekend, and the status of u-pick can change suddenly!  The current status is posted on their Facebook page or give them a call; always check shortly before driving out!  Visit website for more info: www.alldredgeorchards.com
Photograph Credit: Lauren Clark Photography
Gardener's Orchard and Bakery
4455 West Farm Rd. 2 Brighton, MO 417-742-3093
Activities: Small gourmet bakery specializing in signature gourmet pastries and seasonal pies. Apple and Peach Orchard.
Dates/Hours: Visit website for more info: www.gardenersorchardandbakery.com

Schweizer Orchards
5455 SE State Route FF St. Joseph, MO 64507    816-232-3999
Activities: Nestled in the bluffs overlooking the Missouri River, Schweizer Orchards has produced and packed high quality River Bend Apples for over four generations. A family owned business, Schweizer Orchards continues this tradition with their retail market in St. Joseph, Missouri.
They offer more than a variety of edible delights, you will also be welcomed by staff with a warm, friendly smile and have the opportunity to enjoy the outdoors by picking your own fruit in season. We also have freshly picked fruit and produce available inside the market. The Schweizer Family has produced fine quality fruits for four generations and invites you and your family to come out and sample all the delicious specialties and unusual gift ideas.
Dates/Hours: Monday-Saturday: 9 am to 5:30 pm, Sunday 1 to 5 pm. Visit website for more info:  www.schweizerorchards.com
Fun Farm Pumpkin Patch
650 N. Jefferson St. Kearney, MO 64060   816-628-0028
Activities: The Fun Farm Pumpkin Patch is Kansas City's newest fall adventure destination. We have activities and games for kids of all ages, from the young to the young at heart. Your children can enjoy activities like our tricycle track, pumpkin cannon, barrel train, rubber duck races and more. They can explore playgrounds, enjoy our slides, and bounce to their hearts' content in our jumbo jumper.
Older children and adults may enjoy our corn maze, pumpkin patch, pumpkin slingshot, and hayrides. We are the fall destination for you family, with great games and activities for all to enjoy. Bring the whole herd and enjoy all of our fall family activities!
Dates/Hours: September 15th – October 31st.  Visit website for more info: www.funfarmpumpkinpatch.com
Pete's Pumpkin Patch
18385 South US Hwy 63 Rolla, Missouri 65401  573-724-PETE
Activities: We offer endless fun with our variety of activities for families of all sizes and ages… Check out a few of our attractions…Pete's goat tower, incredible super slide, hay tower, jacko-climber, corn pit, hay wagon ride, ride their choo choo train, bounce house and so much more.
Dates/Hours: 2017 Opening Day will be Saturday, September 30th. Open Saturday's from 10 am to 5 pm and Sunday's from 11 am to 6 pm. Visit website for more info: www.petespumpkinpatch.net 
Fischer Farms Pumpkin Patch
1905 Mokane Rd. Jefferson City, MO 65101  573-636-0450
Activities: Fischer family farm located in North Jefferson City, Missouri.  (Take JC Airport exit, go past Hoods (TNT), take a left onto Mokane Road (old bottom road by the JC Sandplant) go 1 1/2 miles to farm on the left.  They have a 10 acre corn maze, animals, (Clydesdale horses,  pigs,  calf, chickens, etc.) hayrides, fresh produce (when in season), 40+ acre pumpkin patch, squash, gourds, straw, mums, & corn stalks.
Dates/Hours: Visit website for more info: www.fischerfarms.wordpress.com
Pa Pa's Pumpkin Patch
4610 Forest Park Road, Sedalia, MO 65301  660-620-4282
Activities: Pa Pa's Pumpkin Patch has endless fun activities for your family to enjoy. Pumpkin patch, corn box, hayride, straw tunnel, tube slide, obstacle course, putting green, duck races, barrel train, bounce house and so much more.
Dates/Hours: Opens September 23rd Friday & Saturday 10 am to 6 pm. Sunday – Noon to 6 pm. Visit website for more info: www.papapumpkinpatch.com
Peters Market
32615 Highway 65 South Waverly, MO 64096   660-493-2368
Activities: Seasonal roadside market where the public can purchase Peters Orchards grown fruit!
Dates/Hours: Monday – Saturday 8 am to 5 pm. Sunday 12 pm to 5 pm. Visit website for more info: www.petersmkt.com
Herman's Farm Orchard
3663 N Hwy 94 St, Charles, MO 63301 636-925-9969
Activities: U-Pick Apples, Home Grown Tomatoes, U-Pick Heirloom Tomatoes, ​Canning Tomatoes, Watermelon
Hayrides, ​Mums, U-Pick ​Pumpkins. Field Trips: Bring the group out with proper supervision to enjoy our farm. The field trip includes a Hayride on a tractor-pulled wagon and educational farm tour, a bag for picking (depending on the time of the season-peaches, apples or a field trip size pumpkin) and access to our castle playground, pedal tractors and picnic tables. The cost is $5 per child and adults and children under 2 are free unless they want to pick also.
Birthday parties, Baby Showers, etc:
For $150.00 you get 2 hour table rental that seats approximately 20 people. Children's parties come with Hayride on a tractor-pulled wagon/farm tour and access to our castle playground with pedal-tractors.
Dates/Hours: Market Open 9 am to 7 pm Daily. U-Pick Hours 9 am to 5 pm Daily.  Visit website for more info: www.hermansfarm.weebly.com
Shryock Callaway Farms
2927 County Road 253  Columbia, MO 65202   573-592-0191
Activities: The life-sized corn maze is a fun adventure for all ages. A hayride around the farm is a great setting for groups to interact.  Enjoy the fun of an old-time hayride and roaring campfire! Every group will love this ideal social outing at Shryocks. Their tractor-drawn hayride wanders through the fields of our working family farm. End the hayride at a beckoning campfire! It's a wonderful activity to be enjoyed by all.  Big Red Barn has become a familiar landmark to visitors in the Midwest. Its unique design featuring dormer windows, a cupola, a big front porch, and traditional red and green color scheme is definitely an eye catcher on the prairie in northern Callaway County. The most popular attraction inside is the three-story gumball coaster which occupies the front wall and rafters of the barn. Visitors watch in amazement as their gumball travels up to the peak of the barn and then down a series of tracks and gadgets to reach the bottom. It is definitely one–of–a-kind and a must see! Pumpkins will be available for sale later in the fall season. Usually, they are ready for purchase beginning the last weekend in September.
Dates/Hours: Visit website for more info: www.callawayfarms.com