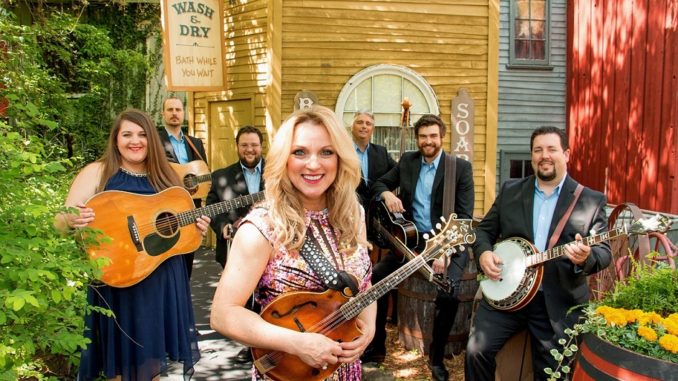 Silver Dollar City's Bluegrass & BBQ, awarded by the International Bluegrass Music Association (IBMA) for Distinguished Achievement and for presenting one of the world's top bluegrass events, brings the top names in bluegrass music for live stage performances May 3 – 28 at the Branson, Missouri theme park. The festival features over 60 acts, from award-winning favorites to rising stars, including a May 27 concert with 15-time Grammy winner Ricky Skaggs & Kentucky Thunder. Along with high-energy music and tight harmonies, the festival sizzles with a park-wide barbecue feast, featuring the House of BBQ.
"Gathering with folks from all across America in one of the country's best vacation destinations is something we always love," said Joe Mullins, 7-time IBMA award winner with his group The Radio Ramblers, and chairperson of the IBMA Board. "From up-and-coming talent to veterans like Ricky Skaggs and Rhonda Vincent, the variety of talent is immense, and with award-winning food. Silver Dollar City is THE place to be every May."
Coordinated by 5-time SPBGMA* Bluegrass Promoter of the Year D.A. Callaway, Bluegrass & BBQ presents award-winning artists including 8-time Female Vocalist of the Year Rhonda Vincent with the Rage, 7-time Vocal Group of the Year Doyle Lawson & Quicksilver, Flatt Lonesome, The Gibson Brothers, 5-time Instrumental Group of the Year and 10-time Fiddle Player of the Year Michael Cleveland & Flamekeeper, The Grascals and more. Fresh artists climbing the charts include The Snyder Family Band, Breaking Grass and The Trinity River Band.
Encouraging upcoming generations of musicians, Silver Dollar City presents the 17th annual Youth In Bluegrass Band Contest on May 26, drawing 20 competing bands from across the nation and showcasing the freshest new talent.
The spotlight is also on barbecue, as the park's largest presentation hall becomes The House of BBQ, where guests can enjoy bands performing on stage while feasting on 18-hour slow-smoked brisket, pulled pork, chicken and ribs. Sides include grilled Bacon Jalapeno Corn on the Cob and Mason jar desserts with Salted Caramel, Brownie and Apple Pie Layered Cheesecakes. An all-you-care-to-eat BBQ feast is featured on the Square Friday and Saturday afternoons with fall-off-the-bone smoked ribs, ham, tri-tip and chicken, plus the park's famous 18-hour smoked brisket, direct from large outdoor charcoal grills and the park's custom-made 20-foot smoker.
Bluegrass & BBQ runs May 3 – 28 at the Branson, Missouri theme park, Tuesdays – Sundays, plus Mondays May 21 and May 28. For information: 800-831-4FUN(386) or www.silverdollarcity.com.
* Society for the Preservation of Bluegrass Music of America