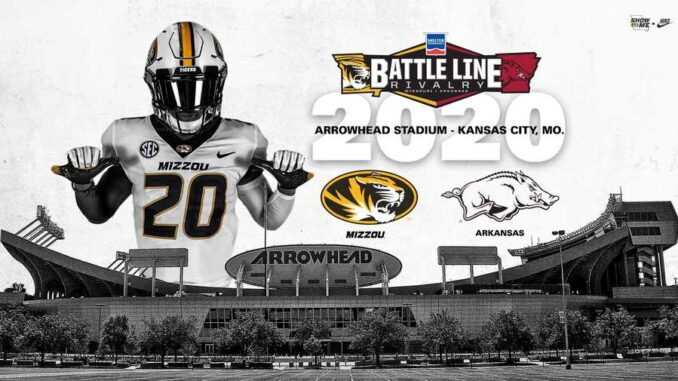 KANSAS CITY, Mo. – On Tuesday, Arrowhead Events and the University of Missouri announced an agreement that will see the university's annual Thanksgiving Week rivalry game against Arkansas take place at Arrowhead Stadium in 2020.
The annual Battle Line Rivalry presented by Shelter Insurance game, currently scheduled for Sat., Nov. 28, 2020 (date is subject to change), will conclude the Tigers' regular season and will mark the first game played by Mizzou in Kansas City since 2015. This matchup will mark the first time Arkansas will play at Arrowhead.
"We continue to focus on bringing major events to Arrowhead, and an SEC rivalry matchup between Missouri and Arkansas certainly fits that bill," Chiefs President Mark Donovan said. "We love playing host to the players, coaches, staff and fans of college football programs and celebrating some of the region's best football in one of the game's most iconic venues."
Mizzou is 6-2 all-time in eight games at Arrowhead Stadium, including a 20-16 win over BYU on Nov. 14, 2015 in MU's last outing there. The Tigers went 4-1 during a five-year stretch against rival Kansas from 2007-11, including the memorable 36-28 win in the 2007 "Armageddon at Arrowhead" game that pitted third-ranked Mizzou against the second-ranked Jayhawks. The Tigers also won a 2005 game at Arrowhead against Arkansas State, with the only other loss there coming in the 2008 Big 12 Championship Game to Oklahoma. Mizzou and the Chiefs have discussed a future opportunity for another game in Arrowhead against a mutually agreeable Power 5 opponent during the 2021-24 seasons.
Mizzou will enter the 2019 season coming off consecutive winning campaigns, and the Tigers will begin the year at Wyoming (Aug. 31), before a five-game home stand that begins Sept. 7 with West Virginia. Tickets are on sale for the 2019 schedule, which will feature seven home contests in all. Visit MUTigers.com for details, or contact the Mizzou Ticket Office at 1-800-CAT-PAWS (884-PAWS locally) with questions.