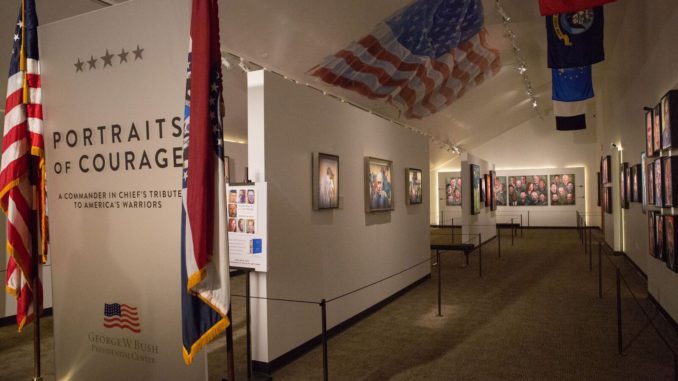 Powerful exhibition includes nearly 100 portraits hand painted by the President on display through July 5, 2018
 Johnny Morris' Wonders of Wildlife National Museum and Aquarium is proud to celebrate the opening of Portraits of Courage: A Commander in Chief's Tribute to America's Warriors, a powerful exhibition that highlights America's military veterans, on loan from the George W. Bush Institute for a limited engagement through July 5, 2018.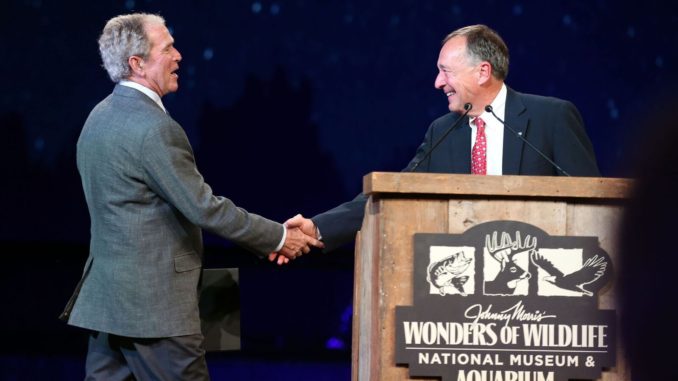 The opening marks the first major display of the collection ever exhibited outside the George W Bush Presidential Library and Museum in Dallas, Texas. This exhibition brings together 66 full-color portraits and a four-panel mural painted by President Bush of 98 service members and veterans who have served our nation with honor since 9/11, and who the President has come to know personally since leaving office. One of just four venues nationwide selected to host the paintings, Wonders of Wildlife serves as the exclusive Midwest stop on the tour.
"We are incredibly honored to showcase this deeply moving exhibition that casts an important light on some of our nation's greatest heroes and their sacrifices," said Johnny Morris, founder of Wonders of Wildlife and Bass Pro Shops, and a longtime advocate of the armed forces and their families. "We proudly join the noble effort of President George W Bush to remind all Americans about the human cost of defending liberty while inspiring all of us to do what we can to support veterans and their families."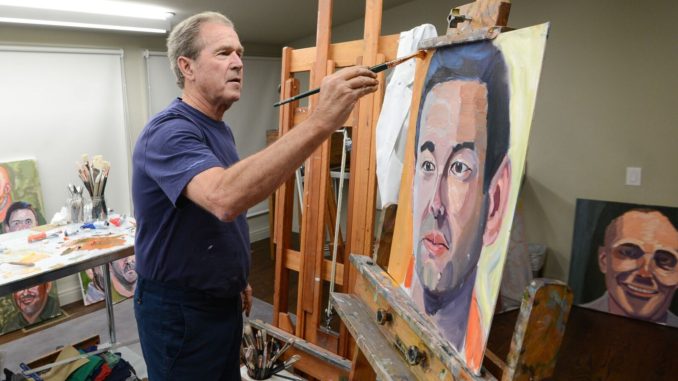 About the Collection
Each featured painting is accompanied by the inspiring story of the warrior depicted, written by President Bush. As the stories unfold, readers and visitors will encounter the faces and the hearts of those who answered the nation's call and learn of their bravery on the battlefield, their journey to recovery, and the continued leadership and contribution they make as civilians.
In addition to the collection of portraits, the exhibition includes information and resources that guide visitors on how to better support post-9/11 warriors in their communities. These resources are intended to help bridge the military-civilian divide.
The exhibition is displayed thanks to a personal donation from Morris in support of the George W. Bush Institute and its Military Service Initiative, which works to ensure that post-9/11 veterans and their families make successful transitions to civilian life with a focus on gaining meaningful employment and overcoming the invisible wounds of war.
President Bush and Morris have enjoyed a long friendship formed from their shared love of fishing. President Bush also attended the grand opening of Wonders of Wildlife in September 2017, joined by President Jimmy Carter as well as his father, President George H.W. Bush, who participated via satellite.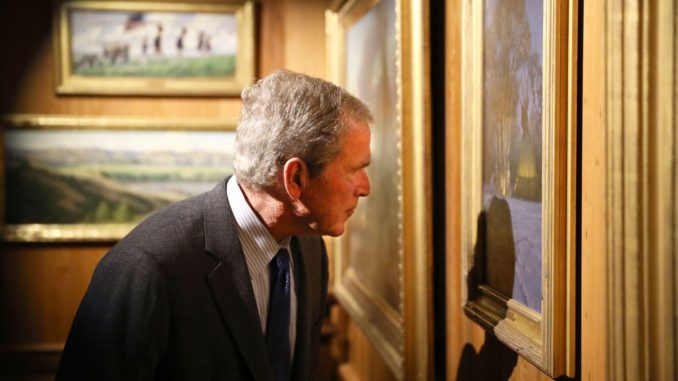 Five years ago, Morris was awarded the prestigious Order of Saint Maurice by the National Infantry Association in support of his outstanding contributions to the Army Infantry. His lifelong respect and gratitude to servicemen and women was strongly shaped by his father, a decorated World War II veteran who proudly served his country in the Battle of the Bulge.
Honoring Veterans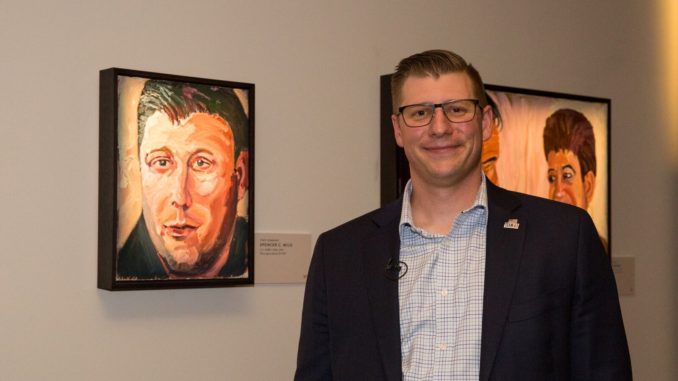 One of the veterans featured in the exhibition, Spencer Milo, joined Wonders of Wildlife officials and community leaders from his home in Colorado to mark the opening. Milo is a medically retired, post-9/11 U.S. Army combat veteran and Purple Heart recipient who served in both Iraq and Afghanistan. A passionate advocate and spokesman for veterans and veterans' issues, he also serves transitioning military members and veterans in his civilian career today.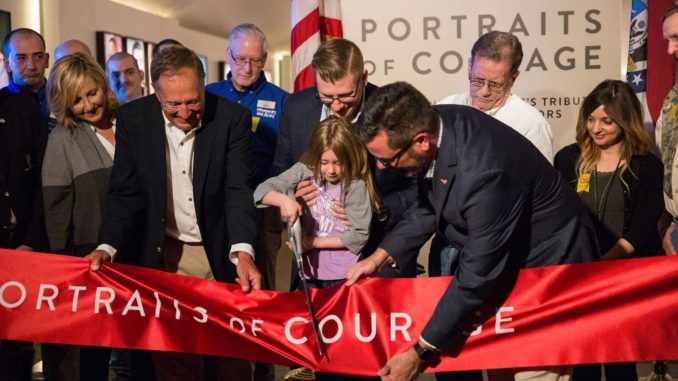 Wonders of Wildlife is also partnering with a number of Ozarks-based veterans and arts organizations to raise awareness for veterans issues. Key partners include:
·         College of the Ozarks, a national leader in honoring and saluting military servicemen and their families. Funded in part with proceeds from the annual Bass Pro Shops Legends of Golf at Big Cedar Lodge, the College has created a Vietnam War Memorial, Gold Star Families Memorial and a soon-to-open Korean War Memorial to be unveiled during the charity golf tournament next week.
·         Veterans Upward Bound, an Ozarks Technical College program designed to assist veterans in all aspects of the college admissions process and their academic success;
·         Springfield Regional Arts Council, which connects people and the arts by supporting some of the most prominent visual, performing, literary and film/media arts organizations within 27 Missouri counties.
The paintings featured in Portraits of Courage are also the subject of a hardcover book by the same name, now available for sale at Wonders of Wildlife. President Bush is donating 100 percent of his profits from the book to the George W. Bush Presidential Center, whose Military Service Initiative works to ensure that post-9/11 veterans and their families make successful transitions to civilian life with a focus on gaining meaningful employment and overcoming the invisible wounds of war.
Portraits of Courage is included with general admission to the Wildlife Galleries at Wonders of Wildlife. Museum members can experience unlimited visits to the exhibition through July 5, 2018 as part of their membership benefits. Additional details can be found atwww.wondersofwildlife.org.
"All Americans owe a tremendous debt of gratitude to our military veterans and their families. While we can never thank them enough for their sacrifices, we proudly honor and celebrate them every day," said Morris. "On behalf of our extended Bass Pro family of associates across the country – thank you for everything you do to protect our freedoms."
###
About Johnny Morris' Wonders of Wildlife National Museum and Aquarium
Wonders of Wildlife National Museum and Aquarium consists of an all-new 1.5-million-gallon Aquarium Adventure showcasing 35,000 live fish, mammals, reptiles, amphibians and birds, and immersive Wildlife Galleries that bring visitors eye-to-eye with the greatest collection of record-setting game animals ever assembled. Created by noted conservationist and Bass Pro Shops founder/CEO Johnny Morris, the 350,000-square-foot experience celebrates people who hunt, fish, and act as stewards of the land and water. Located next to Bass Pro Shops National Headquarters in Springfield, Missouri the campus is a centerpiece of America's Conservation Capital in Missouri's Ozark Mountains. In January, Wonders of Wildlife was voted America's number one best new attraction by USA TODAY. For more information, visit www.wondersofwildlife.org.
About the George W. Bush Institute
Housed within the George W. Bush Presidential Center, the George W. Bush Institute is an action-oriented, nonpartisan policy organization with the mission of developing leaders, advancing policy, and taking action to solve today's most pressing challenges. The work is achieved through three Impact Centers – Domestic Excellence, Global Leadership, and our Engagement Agenda – by which the Bush Institute engages the greater community with its important work.