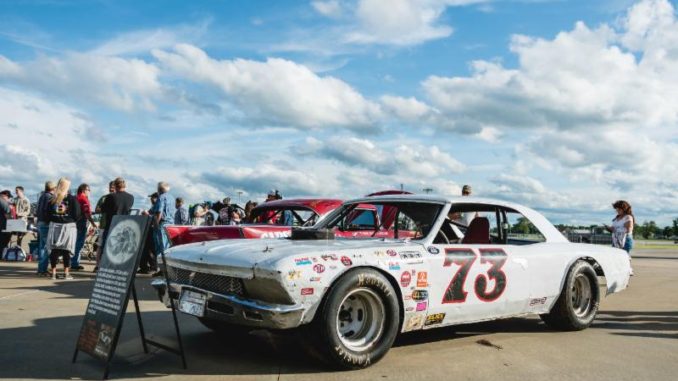 Car clubs, featuring either vintage race cars or hot rods, can show off with their own nights on the Lucas Oil Speedway midway again in 2019. (Kenny Shaw photo)
The upcoming racing season at Lucas Oil Speedway provides a great chance to show off sharp-looking vehicles off the track as well as on it.
Once again in 2019, area car clubs or groups that would like to organize a Saturday-night outing on the speedway's midway are encouraged to grab the calendar, pick out a date and enjoy being the center of attention.
"There are a lot of organizations with great-looking, classic cars, muscle cars and trucks in this part of the country," Lucas Oil Speedway General Manager Danny Lorton said. "Car-club nights always are some of our most-popular happenings on the midway and we're looking forward to more fun nights ahead in 2019.
"This is a chance for car owners to show off their vehicles to thousands of fans, along with enjoying a night at the races and the camaraderie that comes along with it."
Lorton said that individual car owners not in an organized club also can band together to show off their classic or muscle car, truck or even motorcycles.
The process to putting together a Lucas Oil Speedway "Car Club Night" is simple:
Clubs need to contact Lorton at the speedway office (417) 282-5984 or email him at [email protected] to inquire about a date.
Lucas Oil Speedway will publicize the club's appearance in pre-race press releases the week of the event.
Clubs and their members need to arrive at the speedway by 3 p.m. of race day as a group to set up on the midway, behind the main grandstands.
Grandstands will open at 4 p.m. for race fans to view the cars and mingle with club members until the racing program begins at 7:05 p.m.
Car club members and their guests can enjoy the night at the races as the Big Adventure RV Weekly Racing Series competes in four divisions – Warsaw Auto Marine & RV ULMA Late Models, Pitts Homes USRA Modifieds, Ozark Golf Cars USRA B-Mods and O'Reilly Auto Parts Street Stocks.
There is no admission charge for the driver and one passenger from each show car. The car club members – and their beautiful machine – get to enjoy a night with well-earned recognition.
Suites are available for rent with club members able to enjoy the races as a group from temperature-controlled comfort inside, or use the seats with prime viewing just outside to enjoy the races.
Action kicks off March 30 with an open test and tune. The Big Adventure RV Weekly Racing Series begins April 6 with action in all four of the weekly divisions – Pitts Homes USRA Modifieds, Ozark Golf Cars USRA B-Mods, Warsaw Auto Marine & RV ULMA Late Models and O'Reilly Auto Parts Street Stocks.