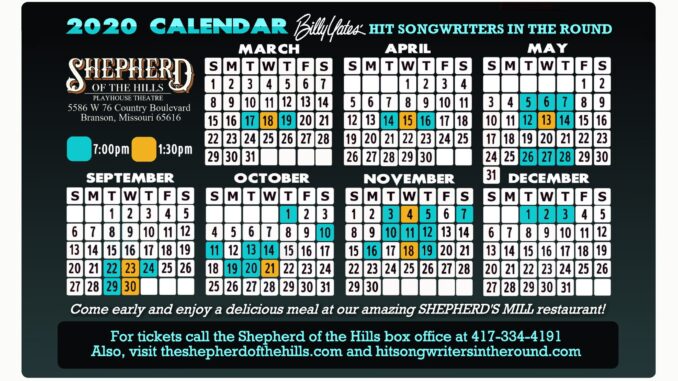 Billy Yates' Hit Songwriters in the Round set to kick off 2020 season at Shepherd of the Hills
Billy Yates' Hit Songwriters in the Round will kick off its third season in Branson, Missouri on March 17, 2020 at a brand-new home at the legendary Shepherd of the Hills Playhouse Theatre, located at 5586 W 76 Country Boulevard in Branson. The first three shows will feature two of Nashville's most gifted songwriters/artists, those being Trent Tomlinson and Mark McGuinn. Tomlinson is best known for his own hits as an artist, "One Wing in the Fire", "Drunker Than Me", and "Just Might Have Her Radio On". As a songwriter, Tomlinson has had songs recorded by George Strait, Sara Evans, Brett Young, and more. Mark McGuinn is best known for his own chart-topper, "Mrs. Steven Rudy", and has had songs recorded by artists such as Lonestar and George Jones.
This unscripted, unplugged, and unbelievable 90-minute show brings the best in performing songwriter experiences to the stage, where award-winning/Grammy-nominated singer/songwriter, Billy Yates, introduces the audience to the world of performing songwriters, as two other hit songwriters/artists from Nashville join Billy on stage each week to casually tell the stories behind the songs they play. This relaxed and unscripted show allows the audience to enjoy the spirit of what makes acoustic performances of songs, by the ones who wrote them, so great. Audiences can expect to feel the raw emotions and should be prepared to laugh, and possibly cry, as these master tunesmiths share their hearts and souls in this "like no other" experience in Branson, Missouri. Songwriters and artist/writers rotate weekly throughout the season, each performing 3 or more shows during their stay in Branson. The intimacy of this all acoustic show leaves audiences feeling as though they've made new friends with the stars on stage.
With only two seasons under its belt, Billy Yates' Hit Songwriters in the Round has become a true favorite among Branson show-goers. Out of 161 concerts and shows in Branson listed on TripAdvisor, the show has been ranked the number 2 show for the past year and was recently named "BEST COUNTRY SHOW", "BEST VARIETY/ALL-AROUND SHOW", "BEST MATINEE SHOW" and "BEST MALE VOCALIST" (Billy Yates) in the 2019 Best of Branson Awards.
Each show will include a meet and greet, and the audience will have a chance to personally "thank a songwriter" … the unseen heroes behind the music of our lives.
Tickets for Billy Yates' Hit Songwriters in the Round are available at
The Shepherd of the Hills box office at 417-334-4191 or online at TheShepherdOfTheHills.com.
For updated information, visit HitSongwritersInTheRound.com.
WRITERS/ARTISTS SCHEDULED TO APPEAR DURING THE 2020 SEASON ARE AS FOLLOWS:
March 17, 18, 19 – Trent Tomlinson & Mark McGuinn
April 14, 15, 16 – Bobby Tomberlin & Wil Nance
May 5, 6, 7 – Jim Rushing & Jerry Salley
May 12, 13, 14 – Scott Reeves & Alan Rhody
May 26, 27, 28 – Buddy Cannon & Marla Cannon Goodman
September 22, 23, 24 – Bill Whyte & Gerald Smith
September 29, 20, October 1 – Rafe Van Hoy & Wood Newton
October 10, 11, 13, 14 – Buddy Jewell & Jim McBride
October 19, 20, 21 – Bobby Tomberlin & Mark Narmore
November 3, 4, 5, 7 – Julie Roberts & Frank Myers
November 10, 11, 12 – Becky Hobbs & Dallas Wayne
November 16, 18, 19 – Rafe Van Hoy & Wood Newton
December 1, 2, 3 – Leona Williams & Max T. Barnes