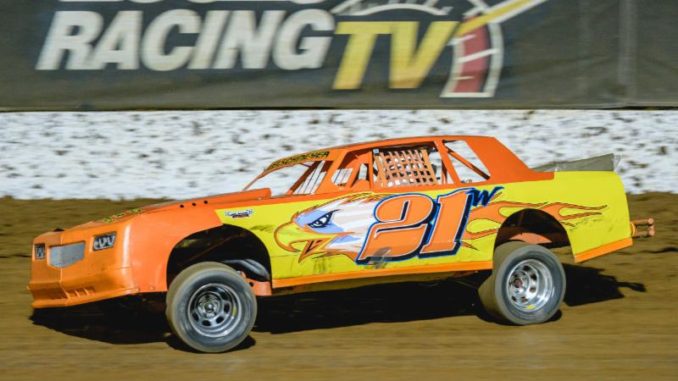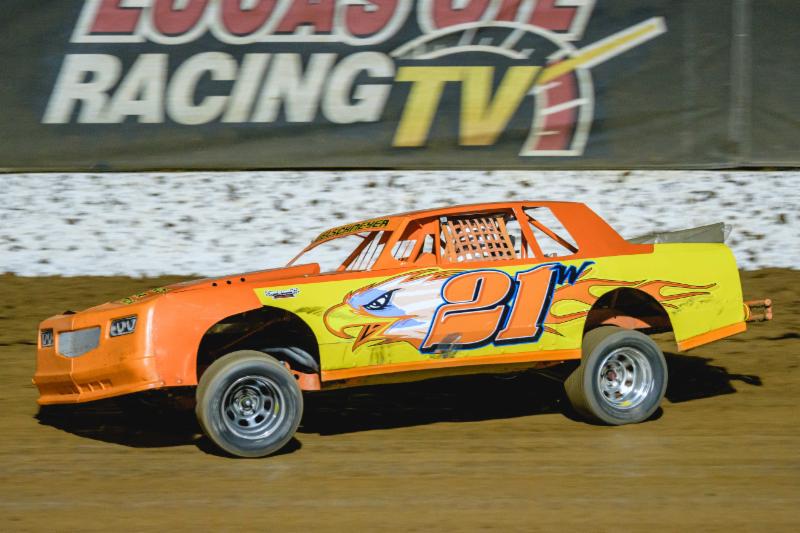 Ted Welschmeyer finished fifth in the Lucas Oil Speedway Big O Tires Street Stock division in 2017. (Kenny Shaw photo)
Even before a new racing season begins, veteran mid-Missouri Street Stock driver Ted Welschmeyer already is a winner.
Welschmeyer took home a first-place trophy from a car show held last weekend at Capital Mall in Jefferson City. Among 31 race cars on display, Welschmeyer and his No. 21W received the most donations from fans as funds were raised for the Missouri Veterans Honor Flight.
"Being a veteran myself, that hits close to home for me," said Welschmeyer, who is set to return as a regular in the Big O Tires Street Stocks division at Lucas Oil Speedway. The Big Adventure RV Weekly Racing Series begins on April 7.
Welschmeyer's car took in more than $400 in donations as the event raised $2,068 for the Honor Flight, which transports Missouri veterans to Washington, D.C. to visit memorials dedicated to honor their services and sacrifices.
"I appreciate everyone that came out and voted for all the cars," Welschmeyer said. "The vets are the biggest winners in this deal. It's great to support them."
Welschmeyer, from the small town of Tebbetts, Missouri, spent seven years in the United States Army on active duty and 18 more in the Army Reserves. He earned two bronze stars before retiring in 2014.
Racing was a passion before, during and after his time in the Army which included deployments in Iraq and Kuwait where Welschmeyer was a commander of the 428th Transportation Company.
Welschmeyer has won two track championships at LA Raceway in LaMonte, Missouri, and one at Callaway Raceway in Fulton. He finished fifth in 2017 in the Lucas Oil Speedway points chase despite scuffling with motor issues for more than half a season.
"We finally got our engine back at the end of the year last year and were able to finish strong," Welschmeyer said, noting a seventh-place finish out of nearly 100 entries in the season-ending Big Buck 50 Presented by Whitetail Trophy Hunt.
"When we showed up for the Big Buck 50, it was like having a different car," he said. "It was a much-faster car. So I think we're moving in the right direction.
"We've done some updating on the chassis this winter and hopefully it will be a little bit better. We've had some help from Brian Schutt on our chassis set-up and it's been working. I appreciate the help from everyone."
Welschmeyer said the stout run in the Big Buck 50 at Lucas Oil Speedway provided positive momentum that cannot be over-estimated headed into the offseason.
"That was huge. I'm much more confident  going into the 2018 season," he said. "Last year was a struggle. About halfway through, we started making some gains on the car in its speed and handling. We're going to hopefully keep it going forward."
The goal for the new season is to celebrate a feature win at Lucas Oil Speedway for the first time. If that happens, he figures the points-chase contention will take care of itself.
"I want to win there," he said. "It's tough competition, but I think we can do it."
Welschmeyer owns and operates Bronze Star Truck and Trailer in Jefferson City and self-sponsors his racing operation along with his wife, Victoria. Son Gary along with friend and fellow racer Mike Lucas give him some race-night help.
"We don't have a lot of help, but we have enough," Welschmeyer said. "We're ready to get the season started."
The Lucas Oil Speedway dirt track roars to life on March 31 with an open test and tune from 2-6 p.m. The season begins on April 7 with the Big Adventure RV Weekly Racing Series opener with action in the Pitts Homes USRA Modifieds, Warsaw Auto Marine & RV ULMA Late Models, Big O Tires Street Stocks and Ozark Golf Cars USRA B-Mods.
For ticket information for any event in 2018, including general admission or three-day reserved seats for the 26th annual Show-Me 100 Presented by 
ProtecttheHarvest.com
, contact Admissions Director Nichole McMillan at (417) 282-5984 or via email at 
[email protected]
.
Complete Lucas Oil Speedway event information, archived stories, ticket information and 
2018 schedule
 can be found by visiting 
LucasOilSpeedway.com
. Fans also can purchase general admission tickets for any 2018 event on the 
web
.
Lucas Oil Speedway is located at Highways 83 and 54 in Wheatland, Missouri. A campground with shower and bathroom facilities is also available. With its entrance located just outside the pit gate this sprawling scenic camping facility will continue to enhance the racing experience at the Diamond of Dirt Tracks.
Click 
LucasOilSpeedway.com
 for more information and detailed directions to the speedway or call the Track Hotline at (417) 282-5984.