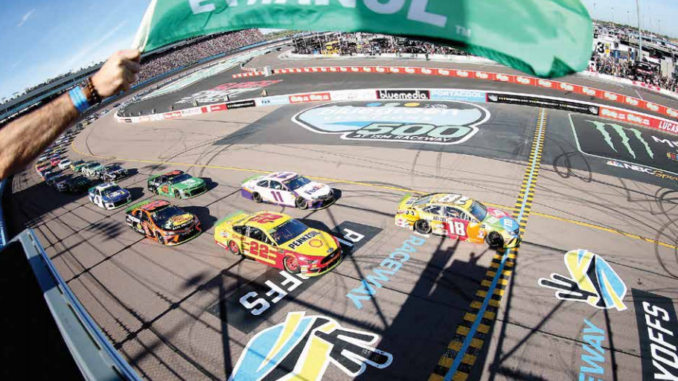 As race fans prepare for a season of highspeed pursuits and side-by-side action, the 2020 schedule is loaded with changes. For the first time since 2002, the premier series finale will be hosted by a new track — the 1-mile ISM Raceway in Phoenix.
It's an exciting year for the raceway as it recently completed a $178 million renovation to improve the fan experience.
Cup Series contenders will face a 10-race postseason before running the track during the finale in Arizona. Check out the other notable changes for this year, as reported by NASCAR.
• The regular-season finale will be held at the famous Daytona International Speedway. It will be interesting to see how the track, known for its dramatic finishes and close-quarter racing, will impact driver statistics going into the playoffs.
• During a first for the modern era of NASCAR, June 27 and June 28 will hold back-toback Cup Series races at the Pocono Raceway. The doubleheader will allow the season to end one week earlier on November 8.
• Former host of the regular-season finale, HomesteadMiami Speedway will hold a race earlier in the season, on March 22.
• The four final races for the regular season were hand-selected to test the skills of NASCAR'S top talent. The last tracks for a playoff push will be held in Michigan, Watkins Glen and Dover before the finale at Daytona.
• The west coast will invite NASCAR enthusiasts earlier for the 2020 season. The three-race tour will begin immediately after the opener at Daytona. The tour will consist of races at the Last Vegas Speedway and Auto Club Speedway, and wrap up at the ISM Raceway.
• Father's Day weekend, which is normally an off week, will host a Cup Series race at the Chicagoland Speedway. Mother's Day weekend will feature the Round of Eight finale at Martinsville Speedway, where newly installed lights will be on display.
• The opening round of the playoffs will end at the Bristol Motor Speedway on September 19. Races held on this track are highly anticipated and have typically been held in August.