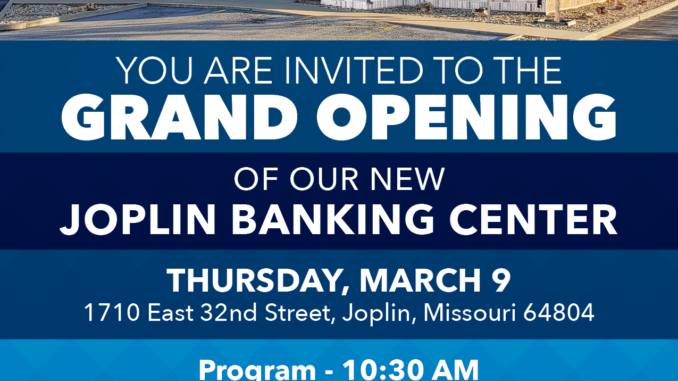 First Community Bank will host a grand opening celebration and ribbon cutting at 1710 East 32nd Street in Joplin on Thursday, March 9, at 10:30 a.m. with lunch being served from 11:00 a.m. – 1:00 p.m.
"With existing branches in Pineville, Goodman, and Neosho, our natural progression in Missouri was to expand our footprint into Joplin," said Will Cook, community president of the Missouri regions. "First Community Bank is excited to be a part of Joplin's growth and to provide true community banking to the many citizens and businesses."
Construction Services Group (Marion Company LLC) was the contractor for the project, and Tim Yelvington with RPPY Architects completed the remodel design of the approximately 2,400 square-foot complex. The newly remodeled space includes an area for new accounts and deposit activities as well as commercial and secondary mortgage lending, brokerage, and insurance. Additionally, the branch offers convenient drive-thru access and an ATM.
In addition to the new Joplin location, First Community Bank has locations at 3005 Gardner Edgewood Drive and 111 E. Main Street in Neosho, 110 E. Main Street in Goodman, and 21196 US 71 in Pineville.
The Joplin location opened on January 3, 2023, and is a one-stop financial center offering a variety of financial services to its customers. The bank's lobby is open from 8:30 a.m. to 5:00 p.m. Monday through Friday and from 8:30 a.m. to 12:00 p.m. on Saturday. The drive-thru is open from 8:00 a.m. to 5:30 p.m. Monday through Friday and from 8:30 a.m. to 12:00 p.m. on Saturday. First Community Bank offers competitive loan and deposit products and an impressive array of online and mobile banking services. Some of these include mobile banking and deposits, online bill pay, online/mobile account opening and custom eAlerts.
For more information about First Community Bank, call 870-612-3400 or visit www.firstcommunity.net.
About First Community Bank
First Community Bank, which is locally owned and managed, opened August 4, 1997, in Batesville, Arkansas, and currently operates in 34 locations across Arkansas and Missouri. First Community employs 565 professional bankers and reports assets of $2.43 billion as of December 31, 2022.