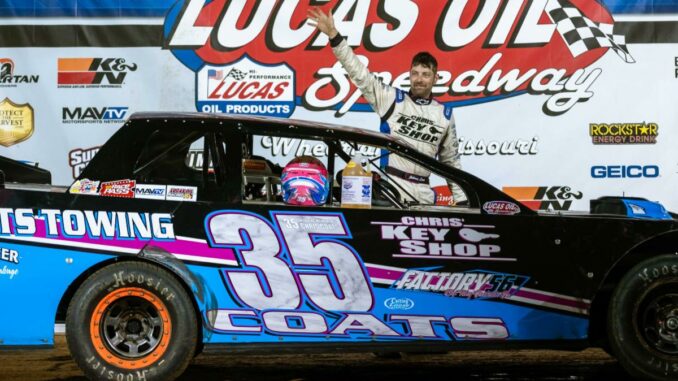 Joplin's John Coats earned two feature wins and finished second in the O'Reilly Auto Parts Street Stocks points race in 2019 at Lucas Oil Speedway. (Kenny Shaw photo)
After another strong season at Lucas Oil Speedway and with a new race car on the way, John Coats is eager for the winter months to pass quickly and for a new racing season to arrive.
"Yeah, I'm pretty excited about the season. It sure would be nice to win a championship at Lucas," Coats said. "We've been trying for a while."
The Joplin driver has long been among the most-consistent drivers in the O'Reilly Auto Parts Street Stocks division, with his runner-up finish to Toby Ott giving him a pair of second-place points finishes to go with a trio of third places in the points since 2013.
The 2019 season might have been Coats' best yet as he posted two victories and five top-five finishes in the Big Adventure RV Weekly Racing Series. But more than the wins, he recalls a stinging start to the season in damaging his chances in a season he eventually wound up 76 points behind track champ Toby Ott.
"Opening night we got the lead and led most of the race until we knocked down a right rear tire," Coats said.
From being a few laps from winning to winding up 18th, it left Coats digging out of a deep hole. He went on to post feature wins on April 27 and July 4, but never could track down Ott.
Coats said the biggest key to his success was the Tony Jackson Jr. Motorsports car he purchased near the end of the 2018 season. Jackson has become one of the leading builder of Street Stocks in the region over the last few years.
"Tony is on top of his game right now as far as cars and setups and good feedback, from him and the other drivers in his cars," Coats said. "It was good from the get-go. I don't do much changing unless Tony says to try this or try that."
Coats has a new TJR car on the way that he expects to have in his shop in a few weeks. He said he's wanted to have two cars at his disposal and this will give him that luxury.
The goal for the 2020 season is clear. Coats wants to capture his first Lucas Oil Speedway championship, while also chasing victories at other tracks during off weeks for the Street Stocks at Lucas.
"I like to race pretty much every weekend, if we can," he said.
Coats said his family, including soon-to-be 16-year-old son Leighton, provide him with help on races nights. Leighton also helps maintain the car in the shop.
"He's pretty hands-on," John Coats said. "He wants to race himself, but I told him he has to learn to work on them before he jumps in one and goes racing."
Team sponsors, along with TJR Motorsports, include Hatfield Racing Engines, Brown's Litter Service, John Meyer Salvage, Chris' Key Shop and Coats Towing.
Gift cards, season passes available: Season passes for 2020, along with gift cards which can be redeemed in any department of the speedway, are now available. Contact Admissions Director Nichole McMillan at (417) 282-5984 or email her at [email protected] for more information.