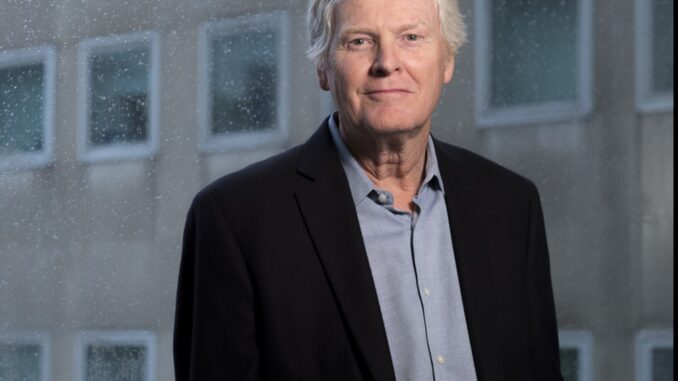 Dr. Michael W. Young's work for past 40 years has led to greater understanding of
sleep disorders, jet lag and general human health
A world-renowned sleep expert will give a free lecture March 23 at Kansas City's Linda Hall Library that also will be streamed virtually. Nobel Laureate Michael W. Young, Ph.D., has been studying circadian rhythms – otherwise known as biological clocks – for 40 years. His groundbreaking research has led to a greater understanding of sleep and mood disorders, jet lag and our general well-being. Dr. Young will discuss "Genes That Regulate Sleep and Circadian Rhythms" during a fascinating free program presented in partnership with William Jewell College.
Dr. Young, vice president for academic affairs, Richard and Jeanne Fisher professor and head of the Laboratory of Genetics at Rockefeller University research institute in New York, won the 2017 Nobel Prize in Physiology or Medicine for his pioneering studies on circadian rhythms. Dr. Young's paradigm-shifting discoveries helped explain how biological clocks work. That's important, because the biological clock regulates critical functions like hormone levels, sleep, body temperature and metabolism.
"Animals, including humans, function improperly if these clocks are disrupted, because all of our organs are designed to operate together in a rhythmic fashion," Dr. Young said. "So desynchronization that throws off our biological clocks can cause health issues. Improving our understanding of the biological machinery that keeps us in tune with our environment and sleep-wake cycles helps us take better care of ourselves."
Chronic misalignment between our lifestyles and the rhythms dictated by our inner timekeepers is associated with increased risk for various diseases. Similarly, any temporary mismatch between our external environment and internal biological clock can negatively impact our well-being.
Take jet lag, for example, which Dr. Young says can best be addressed by not sleeping until the local nighttime or eating until local mealtimes, no matter how tired or hungry you are. Otherwise, you perpetuate the state of desynchronization and will continue to feel unwell. Dr. Young also will address how overnight shift work can throw off normal circadian rhythms and why many prescribed medications are best taken at a particular time of day.
As a leading independent research library, the Linda Hall Library is committed to free public programming that includes expert lectures and adult education opportunities. The Library brings science to life in new and relevant ways through events like Dr. Young's March 23 presentation in Kansas City, which also will be available via live stream for an online audience.
"Dr. Young's research into circadian rhythms has broad implications for our health," said Eric Ward, vice president for public programs at the Linda Hall Library. "You won't want to miss hearing from this Nobel Laureate, whose vast knowledge in this area is not only fascinating, but also critical for our productivity and well-being in these challenging times."
Dr. Young, who shared the 2017 Nobel Prize in Physiology or Medicine with Jeffrey Hall and Michael Rosbash of Brandeis University, used genetics to identify gene mutations that disrupt the ability of a specific fruit fly to appropriately modulate its internal clock, and went on to define its biochemical mechanisms. The clock found in humans was later shown to be similar to that of the fruit fly, so that early work with the fruit fly has produced many insights into how our bodies stay in tune with the environment. His work has direct implications for understanding human sleep disorders, the mechanisms of jet lag and the challenges of working the night shift. Professor Young received his undergraduate degree in biology and his Ph.D. in genetics from The University of Texas at Austin.
Young's lecture is free and open to the public, though pre-registering is required and seating is limited. You may attend in person on Thursday, March 23, from 6:30-7:30 p.m. CDT (doors open at 5:45 p.m.) at the Linda Hall Library, 5109 Cherry Street in Kansas City, Missouri, by registering here. If you'd prefer to participate virtually, register here to watch the live stream.
About the Linda Hall Library
Since 1946, the Linda Hall Library has been amassing collections that have powered investigation, innovation, exploration and inspiration. Today, the Library is a leading independent research library widely known for the breadth and depth of its collections across 82 languages, its role as an international destination for scholarship and research, its support of teachers of the STEM curricula, and the vast resources it provides to learners of all ages interested in scientific exploration and discovery. Learn more at lindahall.org.