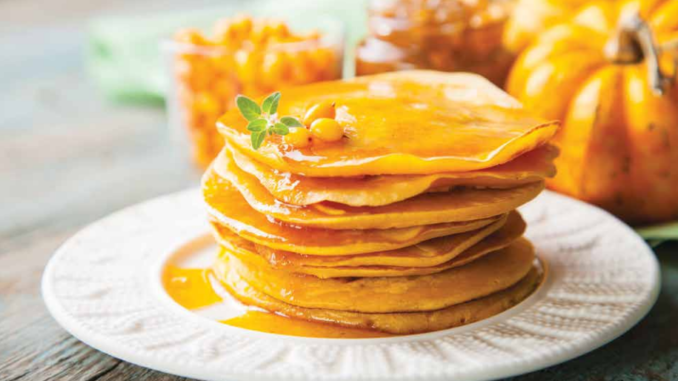 Pumpkins are a quintessential Halloween ingredient, but these recipes are so good, you may be tempted to have them year-round.
PUMPKIN CHILI
Ingredients
2 tablespoons olive oil
1 medium onion, chopped
1 medium yellow bell pepper, chopped
3 garlic cloves, minced
2 15-ounce cans black beans, rinsed and drained
1 15-ounce can solid-pack pumpkin
1 14.5-ounce can diced tomatoes, undrained
3 cups chicken broth
2 1/2 cups cubed cooked turkey
2 teaspoons dried parsley flakes
2 teaspoons chili powder
1 1/2 teaspoons ground cumin
1 1/2 teaspoons dried oregano
1/2 teaspoon salt
Directions
1. In a large skillet over medium-high heat, heat the oil. Add the onion and pepper and cook until tender. Add the garlic and cook one minute longer. 2. Transfer to a five-quart slow cooker and stir in the next 10 ingredients. Cook on low for 4-5 hours. Serve hot.
PUMPKIN PANCAKES
Ingredients
2 1/2 cups flour
1/4 cup sugar
1 tablespoon baking powder
2 teaspoons ground cinnamon
1 teaspoon salt
3/4 teaspoon ground cloves
3/4 teaspoon ground ginger
1/4 teaspoon ground allspice
2 cups milk
3 large eggs
1 15-ounce can pumpkin puree
Directions
1. Whisk the flour, sugar, baking powder, cinnamon, salt, cloves, ginger and allspice together in a large bowl. In another bowl, whisk the milk, eggs and pumpkin puree. Add the wet ingredients to the dry and stir until the ingredients are just mixed. Let rest for five minutes. 2. Heat a griddle or nonstick skillet over medium heat. Ladle a ½ cup of batter onto the skillet and cook until the pancakes are golden on the bottom and bubbly on top, about 2 minutes. Flip and cook until the second side is golden brown and the pancake is cooked through. 3. Serve with maple syrup and whipped cream.
PUMPKIN HARD CIDER CHEESE DIP
Ingredients
4 slices thick-cut bacon, chopped
2 tablespoons unsalted butter
2 tablespoons flour 1 clove garlic, minced
1 12-ounce bottle hard cider
1/2 cup pumpkin puree
1 teaspoon dijon mustard
1 teaspoon Worcestershire sauce
Salt, to taste
1/4 teaspoon pumpkin pie spice
Pinch of cayenne pepper
4 ounces cream cheese, cut into pieces
3 cups shredded cheddar cheese
Directions
1. Cook the bacon in a medium skillet over medium heat until brown and crisp. Transfer to a paper towel-lined plate to drain. 2. Melt the butter in a saucepan over medium heat. Whisk in the flour and garlic, stir until incorporated, about two minutes. Whisk in the cider, pumpkin, mustard, Worcestershire sauce, half a teaspoon of salt, pie spice and cayenne. Stir until smooth. Bring to a simmer and cook, stirring occasionally, about 3 minutes or until thickened. 3. Gradually whisk in the cream cheese and cheddar until melted and smooth. Transfer to a bowl and top with bacon.