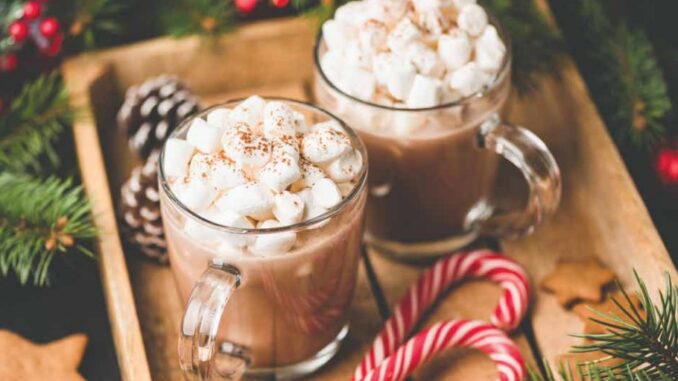 When the weather outside is frightful, a piping hot cup of cocoa is so delightful. Starting with the basics, let's learn how to make winter's favorite cup and then how to jazz it up.
CREAMY HOT COCA
Serves 4. Recipe is from AllRecipes.
Ingredients
3/4 cup white sugar
1/3 cup unsweetened cocoa powder
Pinch salt
1/3 cup boiling water
3 1/2 cups milk
3/4 teaspoon vanilla extract
1/2 cup half and half
Directions
1. Combine sugar, cocoa powder and salt in a saucepan. Add boiling water and whisk until smooth. Bring to a simmer and cook for 2 minutes. Stir constantly to prevent scorching.
2. Stir in 3 1/2 cups of milk and heat until very hot, but do not allow to boil. Remove from heat and add vanilla. Divide between four mugs and add cream to cool to drinking temperature.
UNICORN HOT CHOCOLATE
Recipe is from The Spruce Eats.
Ingredients
3 cups whole milk
2 tablespoons sugar
2 teaspoons pure vanilla extract 8 ounces white chocolate, chopped Red or pink food coloring Blue frosting, sprinkles, marshmallows and whipped cream, for garnish
Directions
1. Combine whole milk, sugar and vanilla in a small saucepan. Cook on low heat until simmering. Do not allow to boil.
2. Add in the chopped white chocolate and whisk frequently until the chocolate is melted and the mixture is smooth.
3. Add food coloring, one drop at a time, until you reach your desired color.
4. Dip the rim of your mugs into the blue frosting and then into sprinkles. Pour the hot chocolate until the mugs and top with whipped cream, marshmallows and sprinkles.
SUGAR COOKIE HOT CHOCOLATE
Makes four servings. Recipe is from Half-Baked Harvest.
Ingredients
4 1/2 cups whole milk
2/3 cup sweetened condensed milk
1/4 cup cocoa powder
6 ounces semi-sweet or dark chocolate, chopped
1 tablespoon vanilla extract
1/4 teaspoon almond extract Whipped cream, marshmallow, sugar cookies or coarse sugar, for toppings
Directions
1. Add the milks, cocoa, chocolate, vanilla and almond extract to a large pot. Heat at medium-low to scalding but not boiling. Be sure to stir often.
2. Once the hot chocolate is steaming, ladle into mugs and top with whipped cream and garnishes.