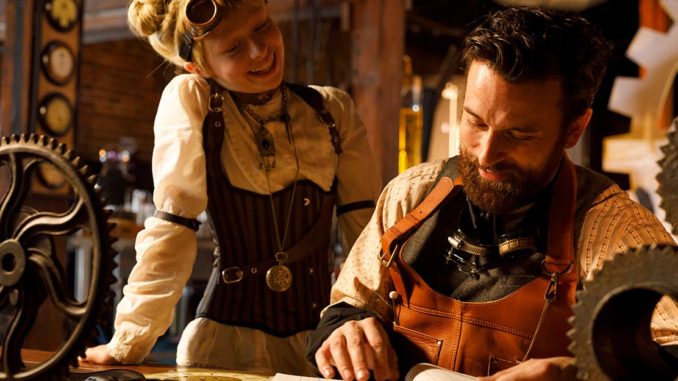 Imagine what a teacher can do for a classroom with an extra $1,000 in funding.  Well, ten highly-nominated teachers from Missouri & Arkansas are setting out to show us in Silver Dollar City's 2018 "Dream Big, Do Good" initiative.
Ten teachers, nominated by students, parents or others in their communities, who exemplify inspiring others and propelling education forward, will share a total of $10,000 as winners of Silver Dollar City's "Dream Big, Do Good" campaign, a 3-month effort in celebration of our educators that included free theme park tickets for teachers through the month of June. 
The "Dream Big, Do Good" campaign is in conjunction with the park's new world record-setting roller coaster Time Traveler. Inspired by revolutionary thinkers of past, present and future, Time Traveler is an innovative ride that encourages others to dream without boundaries and realize the impossible is possible.
"When we build something of capital-significance, we truly try to have an accompanying effort that gives kids something to learn right along with having fun," said Lisa Rau, Publicity with Silver Dollar City Attractions. "With Outlaw Run, we celebrated law enforcement, bringing to life the mantra 'The Good Guys Always Win.' Then, with Fireman's Landing, we celebrated volunteer firefighters with 'Neighbors Helping Neighbors.' These park-wide efforts greatly pull together our employees while supporting those who make a difference in our communities, schools and churches," Rau said.
Drum roll! The ten winning teachers of the 2018 "Dream Big, Do Good" contest:
·         Roger Brallier, 6th-8th grades, Hollister Middle School, Hollister, MO
·         Tonya Claybrook, 4th-5th grades, Highlandville Elementary, Spokane, MO
·         Sophie Chambers, PK-8th grades, Dewey Elementary, Chillicothe, MO
·         Tabitha Eutsler, 3rd grade, Jeffries Elementary, Springfield, MO
·         Tori McGain, K-5th grades, Ozark West Elementary, Ozark, MO
·         Rachel McNeill, 4th grade, Ray Miller Elementary, Kirksville, MO
·         Kim Patterson, K-12th grades, Kickapoo High School, Springfield, MO
·         Laura Schulteis, K-5th grades, Robberson Elementary, Springfield, MO
·         Leslee Tell, 10th – 12th grades, Conway Area Career Center, Conway, AR
·         Savanna Wewers. 6th grade, Paris Middle School, Paris, MO
Additionally, a Heroes-focused "Dream Big, Do Good" campaign is underway now (silverdollarcity.com/dreambigdogood) to recognize extraordinary people in our communities. Winners will receive prize packages to visit Branson and Silver Dollar City with friends & family.