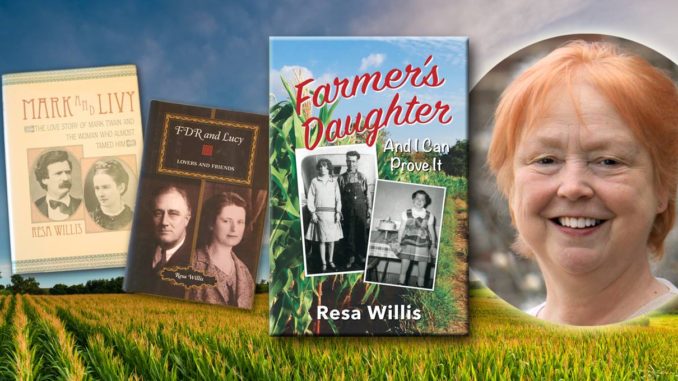 Author Resa Willis will read from and discuss her new memoir, "Farmer's Daughter And I Can Prove It," from 5:00 to 7:00 p.m. Friday, September 21, at Dale Hollow Winery, 314 E. First St., Stover, MO (65078).
A humorous reflection on growing up in the 1950s and '60s on an Iowa farm, "Farmer's Daughter" satirizes Willis' 40th high school reunion and reminisces about life lessons rooted in rural life: hard work, education, family, community and the old joke, sex.
A literary researcher, biographer and teacher, Willis also will talk about the process of memoir writing. There will be a Q&A, and copies of the book will be available for purchase and signing at the event, which is free and open to the public. Light refreshments will be served.
For more information, contact Resa Willis at [email protected] or 417-742-3740.
Also find her at facebook.com/ResaWillisAuthor
###
Resa Willis Author Background
Resa Willis is a Professor Emeritus of English at Drury University in Springfield, Mo.
She is the author of the acclaimed biography "Mark and Livy, the Love Story of Mark Twain and the Woman Who Almost Tamed Him," based on the nearly 40-year marriage of Mark Twain and Olivia Langdon Clemens (Athenium, 1992; Routledge, 2003). The book was nominated for a PEN Award in biography and is optioned for a film. Willis is also the author of "FDR and Lucy: Lovers and Friends," which explores the 31-year intimate relationship between President Franklin Roosevelt and Lucy Mercer Rutherfurd (Routledge, 2004). Originally published in hardcover, both biographies have been reis- sued in paperback and e-book formats, available at Amazon.com.
The recently released hardcover edition of "Farmer's Daughter And I Can Prove It" is available at Amazon.com, bn.com and Acclaimpress.com($19.95).
A popular speaker, Dr. Willis has lectured throughout the U.S. and in England.