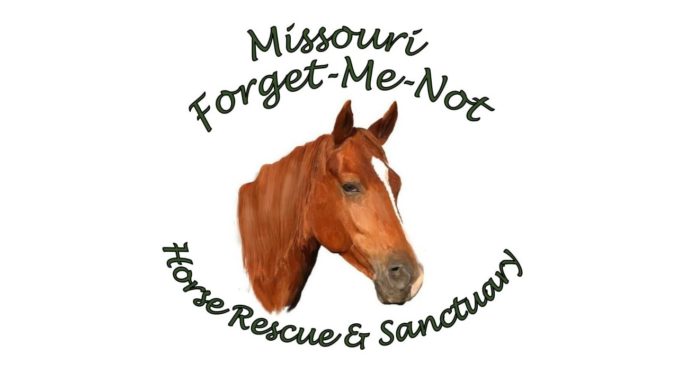 More than 1,000 horses adopted across the country during the fifth annual #HelpAHorse contest
MISSOURI FORGET-ME-NOT-HORSE RESCUE AND SANCTUARY has been awarded a $5,000 prize from the ASPCA® (The American Society for the Prevention of Cruelty to Animals®) as part of its national Help a Horse Day contest. The nationwide competition for rescues, shelters, animal control agencies and sanctuaries that adopt out equines is designed to raise awareness about the year- round lifesaving work they do to find homes for horses. MFMN was awarded a prize for Runner Up in Division I (large organizations) based on their performance in the contest. Division winners were scored based on their number of adoptions and the dollar value of donations received during the contest period, along with the quality of their adoption video and campaign. More than 100 groups across the country  participated in the contest, with 19 groups winning 23 prizes for their efforts during the contest, which ran from April 26 to June 30.
MFMN kicked off their adoption campaign with the 1st Annual MFMN Adoption Jamboree, which was a 3 day event held on April 27-29, 2018 at Rolling Hills Ranch, just south of Camdenton, in conjunction with Help A Horse Day. Twenty-three adopted horses were showcased at the event and each horse's adopter told a story about the joys of adopting a Rescue horse. Donna Ogle, V.P of MFMN and Chairperson for the event stated that MFMN's campaign message was, "We want to SHOW YOU how much fun it can be to own an adopted horse, and we encourage you to consider adoption when looking for a horse for yourself or your family. Adopted horses can change people's lives for the better, and adopting a horse, that has been put at-risk through no fault of its own, is a very rewarding experience. MFMN has wonderful horses that are ready for adoption".
Chad Johnson, professional horse trainer, exhibited the horses available for adoption, and potential adopters were able to talk to the Chad about each horse. He also held a free clinic for people interested in adopting a horse. A total of 29 horses were adopted during the contest period.
One of the adopted horses introduced at the event is a great great grandson of Secretariat. When MFMN took him in from a family that could no longer care for him, they found a tattoo number on his lip. Further research revealed his racing career in Louisiana and subsequent retirement. Haylee Bohn adopted Cyclone's Prayer last January. Since then she has been training him and he is now a part of the Easy Rider's Drill Team, the Springfield Pony Club, and the JJeventing Pro Eventing Team. Cyclone and Haylee performed as part of the Easy Rider's Drill Team at the Kentucky Horse Park in July during Bryerfest. They will also be riding in various eventing shows and Pony Club events around the Midwest. This is what can happen when a Horse Rescue, like MFMN takes in a "throw-away" horse, and gives them a second chance with a loving adoptive family.
MFMN also conducted a Matching Campaign Challenge in June, in which they raised over $48,000 including a $20,000 matching fund donation from a generous anonymous supporter of the Sanctuary. Over Memorial Day weekend, Kelly's Port in Osage Beach, MO, put on a "Ponies at the Pump" promotion at their marina on the Lake of the Ozarks, to help raise funds for MFMN for the contest, and MFMN held several other fundraisers during the contest period raising more than $75,000 in total. MFMN shelters more than 130 horses at its Sanctuary in Linn Creek and affiliated foster homes in the local area. The annual budget of nearly $200,000 goes directly to provide shelter, feed, farrier care and veterinary care for the horses. MFMN is staffed entirely by volunteers, and no one receives a salary.
"The ASPCA Help a Horse Day contest is a wonderful opportunity for MFMN to raise awareness about the horses we have available for adoption and place them in good homes," said Connie Hendrix, Founder and Executive Director of the Missouri Forget- Me-Not Horse Rescue and Sanctuary. "We are thrilled to receive this award from the ASPCA to support our commitment to providing care for horses in need and we are
grateful to our local community for joining us in this challenge and lending their support during the contest to help us find loving homes for horses."
Motivated by the results of ASPCA equine research suggesting there could be approximately 2.3 million adults in the U.S. with both the resources and desire to adopt a horse in need, Help a Horse Day 2018 focused on finding more good homes for horses.
"The primary goal of Help a Horse Day is to elevate equine welfare. This year we challenged groups to focus their efforts on adoption and we were blown away by the incredible progress they made towards finding homes for the horses in their care," said Dr. Emily Weiss, vice president of ASPCA Equine Welfare. "We are pleased to award this prize to Missouri Forget-Me-Not Horse Rescue and Sanctuary for their outstanding achievements during the contest, which contributed to more than 1,000 horses finding new homes."
Help a Horse Day is celebrated annually on April 26 – a date chosen for its significance in the ASPCA's long history of horse protection. In 1866, ASPCA founder Henry Bergh stopped a cart driver from beating his horse, resulting in the first successful arrest for horse mistreatment on April 26 of that year. Now in its fifth year, Help a Horse Day has been a meaningful way for hundreds of equine rescues and sanctuaries to garner community support for their lifesaving work. Since 2014, the ASPCA has awarded equine groups more than $400,000 in grant funding through the Help a Horse Day contest.
For more information about the Missouri Forget-Me-Not Horse Rescue and Sanctuary please visit their website at 
www.missouriforgetmenot.org
.