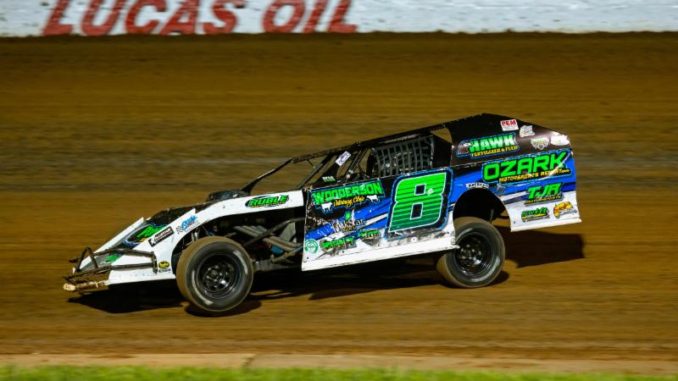 With the checkered flag of his freshman year at Skyline High School about to wave, 15-year-old Dillon McCowan has no plans of taking a summer off from education. His racing education, that is. McCowan, from Urbana, has turned heads in the early going of the 2019 season at Lucas Oil Speedway. He's posted three straight top-10 finishes in the ultra-competitive Ozark Golf Cars USRA Modified division, running near the front for a good chunk of one main event.
"I'm glad we've been inside the top 10 and just thankful for the opportunity to run at Lucas," McCowan said earlier this week. "We ran two or three races there at the end of last season, but this is our first year really racing there. I'm learning a lot."
McCowan, the Lucas Oil Speedway Spotlight Driver of the Week, will be back in action on Saturday when the Big Adventure RV Weekly Racing Series resumes with action in all four divisions. In honor of Mother's Day Weekend, all moms will be admitted free, courtesy of NMI/VMG Marketing Group. One of several teen drivers in the B-Mod division, McCowan got his racing start in dirt bikes at the age of five before moving to go-kart racing at seven. He entered Mini-Stock and Midwest Mod Racing at 12 and got into a B-Mod for the first time in 2018 at several area tracks.
"My Grandpa (A.D. McCowan) owned race cars," Dillon said of the spark to his early interest in the sport. "I just loved it and I always wanted to do it. My Grandpa comes to the races all the time, everywhere we go. I actually drove for him. He got me my first car. "My Dad (Charlie) and buddy Ryan Lewis help out quite a bit on the car. And my little brother, Devin, he's 13, also helps. He just likes to hang out at the track and help out."
The move to B-Mods was eye-opening. Dillon McCowan said "literally everything" was an adjustment for him, including "motors, competition, new tracks I've been to. Just everything."
The competition pool is deep, including some of the best B-Mod drivers in the nation. Three recent USRA B-Mod National Champions – Kris Jackson, JC Morton and Andy Bryant – are Lucas Oil Speedway regulars. He's earning respect of those veterans on and off the track.
Jackson called McCowan "and outstanding young man. I expect him to be the next big up-and-comer."
"I really look up to those guys," McCowan said. "Getting to run with them has helped me so much. It's improved my driving a ton, just getting to race with them. Getting to race side by side and they all race you pretty clean.
"Kris Jackson has really helped me a lot. He has been so good to me and I'm truly grateful."
In fact, the McCowan team bought Kris Jackson's old car that won more than 30 feature races in 2018. Another key is the power plant is a Jim Ruble motor. McCowan seems to have the necessary focus. He said other than a little hunting and fishing, he's happy to spend his spare time focusing on racing and it looking forward to seeing how the rest of the 2019 season turns out.
"We ant to try to get some top-fives and maybe even progress to a win, hopefully," McCowan said, then adding that the win maybe "is a ways off. But mostly, we would like some top-fives."
Sponsors of the No. 8 car include Swift Springs, Hawk Fertilizer & Feed LLC, Pomeroy Services, Oak Star Bank, Wooderson Veterinary Clinic, Specialty Risk Insurance, Ozark Motorsports Report, Hawk Angus Farms, FastShafts by Axle Exchange, Schaeffer's Oil, TJR Motorsports, Modern Images and One9 Motorsports Foundation.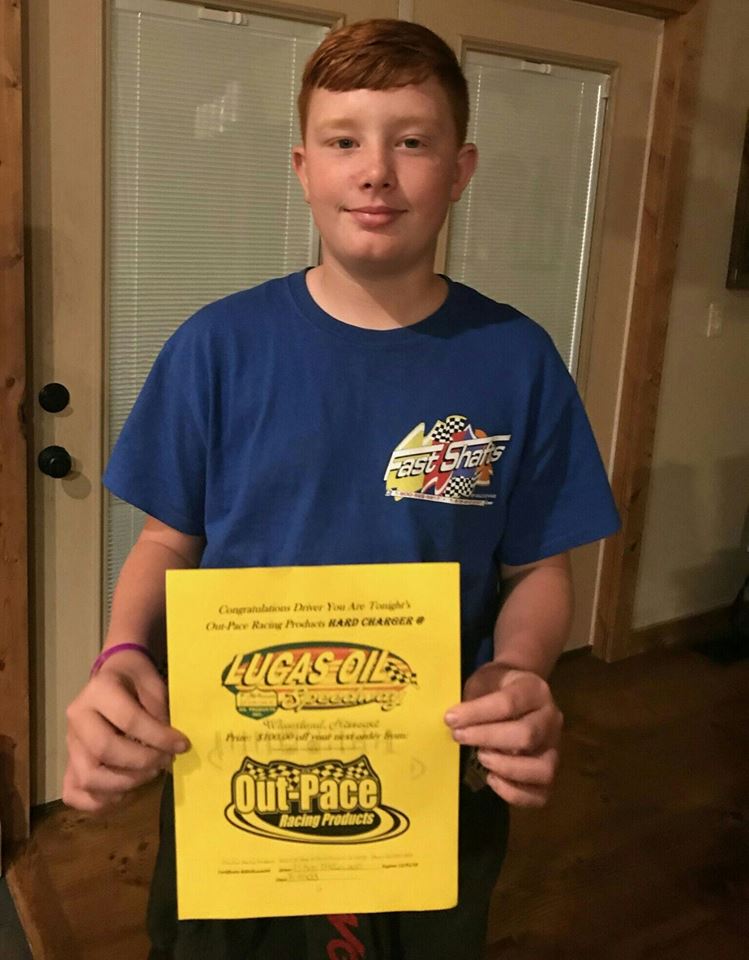 On Saturday, NMI/VMG Marketing Group and Wild Animal Safari team up to present Round 4 of the Weekly Racing Series with the Warsaw Auto Marine & RV ULMA Late Models, Ozark Golf Cars USRA B-Mods, Warsaw Auto Marine & RV ULMA Late Models and O'Reilly Auto Parts Street Stocks also on the program. The Late Models will run a 25-lap, $1,000-to-win feature.
All moms will be admitted FREE, courtesy of NMI/VMG Marketing Group. Gates open at 4 p.m. with hot laps at 6:30 and racing at 7:05.
Ticket prices:
(All Mothers FREE)
Adults (16 and over) $12
Seniors (62 and over)/Military $9
Youth (ages 6-15) $5
Kids (5 and under) FREE
Family pass $30
Pit pass $30

Complete Lucas Oil Speedway event information, archived race recaps, previews and driver features, along with ticket information and 2019 schedule can be found by visiting LucasOilSpeedway.com.