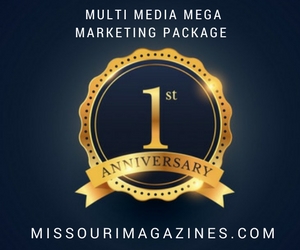 As we celebrate our 1st Anniversary we want to show our appreciation and give back to the businesses in Missouri by offering the Best Buy of 2018. Full page ad in Missouri Magazine (digital publication), 300 x 250 online ad on missourimagazines.com, 1 mention per month in our Missouri Magazine Happenings weekly e-newsletter, 1 social media mention per month (Facebook, Instagram and Twitter).  All Ads linked to your website or Facebook page.
$100 per month ($1200 per year)
We reach 120,000 online readers weekly, 8000 email subscribers weekly through our "Missouri Magazine Happenings" e-newsletter, our followers through our social media platforms and contests reaching a growing audience across Missouri. Missouri Magazine will be a great publication to be a part of and gain additional exposure.
Free listing in our Business Directory on missourimagazines.com
Call or email us today to reserve your ad!
Contact Us   ♦   [email protected]   ♦   573-284-5406
*Discounted package requires a one-year advertising agreement. Limited spaces available. First Come, First Serve. First month pre-paid and the following months will be invoiced and due on the 1st of each month. Advertisers can choose to pay in full for the year. Camera ready ads must be received by the 15th of each month. Deadline for special is April 23rd to be included in the May 2018 issue.