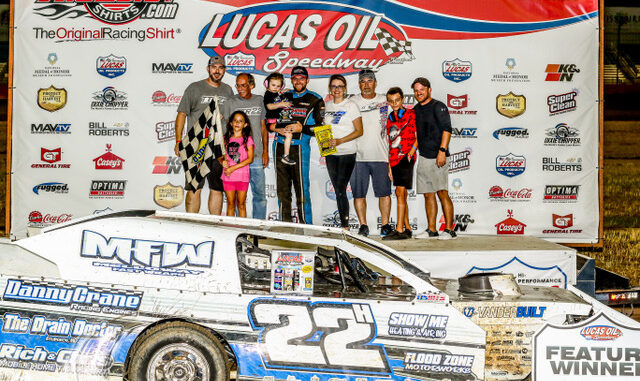 Dustin Hodges of Centralia celebrated his first-career Lucas Oil Speedway feature victory earlier this season. (GS Stanek Racing Photography)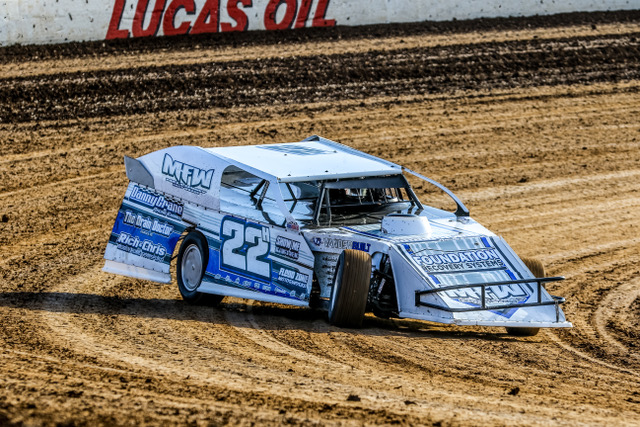 Dustin Hodges had competed at Lucas Oil Speedway occasionally over his racing career, but decided prior to the 2022 to commit to the haul from Centralia on a regular basis for the Cedar Creek Beef Jerky USRA Modified division.
"We finally came to a point and said, 'it's time to learn that track.' Man, that place is a little bit of a different animal to most any other track," Hodges said. "The car needs a little something different there so … we tried to commit the time to make the laps and find out what it takes to make the car happy, to get around that place fast."
Hodges has indeed been fast in his No. 22 Vanderbuilt chassis, picking up his first Lucas Oil Speedway feature victory on July 9. He has 10 top-five feature finishes and is second in points, 49 behind Dillon McCowan, entering Saturday's 25-lap, $1,000-to-win main event on Fan Appreciation Night Presented by KIX-105.7 Townsquare Media.
The 33-year-old Hodges said that feature win "was pretty awesome."
"We've been racing there a number of years," he added. "Of course, we've only been there hit and miss. To finally get a win … that's been the one track we raced at we haven't been able to get a win. So that was nice. It really meant a lot to finally get the monkey off our back and get it done there."
Hodges said he got his start in Modified racing 13 years ago after competing in motocross as a youngster.
"It got to a point where I wasn't going to be able to do that anything," Hodges said. "I got an opportunity to jump in a Modified for a guy. He figured I was fearless in motocross and wanted to put me in a seat belt with a roll cage and see how I'd do. It kind of took off from there."
So he competed in a Modified at Callaway Speedway in Fulton, near his hometown, in those early years and was inspired by Danny Crane, a top-flight Modified competitor who now, ironically, is Hodges' engine builder.
"After that I bought my own car and we moved to a B-Mod and ran that for about four or five years," Hodges said. "Then I felt it was time to move up to the (USRA) Modified."
Asked if the motocross background translates to car racing, he said it does in some ways such as throttle control.
"That and the competitive part were comparable," he said. "But as far as learning set-ups and all that stuff, it was a different animal."
Hodges said he became friends with Zack VanderBeek, a national-touring Modified competitor from Iowa, and that has really benefited his program.
"I watch and I learn from Zack," he said of the USMTS driver. "He's been a blessing, being patient with me and allowing me to learn a lot of set-up stuff. He's really sped the learning curve for me."
Joining VanderBeek on the USMTS circuit would be an ultimate dream, but Hodges said the finances simply are not there to make that happen.
"I maintain a job and have a family, a wife and a two-year-old," he said. "If I could pick up that one sponsor that it takes to go on the road, I'd love to make it happen and see what we could do."
Meanwhile, Hodges said his goals the rest of the way are to win as many races as he can. He has six overall, including the one at Wheatland.
"It would be nice to go ahead and win the points championship at Callaway," he said of the Friday-night venue. Racing for a title at Lucas Oil Speedway is not realistic because he's going to have to miss a race or two late in the schedule due to vacation commitments.
"I would like to finish top-10 in USRA (national) points. That would be pretty neat," he said. "Unfortunately, we're gonna miss a few races near the end of the season. But if we could still finish top 10, that would be pretty cool."
Hodges' crew includes his uncle John Doerr and friend Kyle Harrison. Team sponsors are Danny Crane Race Engines, Foundation Recovery Systems, Mid-America Carpenters Union, Melloway Fast Traps, Iron Gate Real Estate, The Drain Doctor, Rich and Chris Mobile Home Transport, Danny Means Drywall, Show-Me Heating & Air and Flood Zone Motorworks.
"I'm just a local guy trying to make it work in a very expensive sport," Hodges said.
Food and drink specials on Saturday night will include $1 nachos and cheese, $2 hot dogs and $2 soft drinks or waters. The Ozark Golf Cars USRA B-Mods, O'Reilly Auto Parts USRA Stock Cars, Hermitage Lumber Late Models and Show-Me Vintage Racers also will be in action.
The SMVR cars will be on display on the Dirt Track midway for fans to view up close prior to the action. Gates open at 4 p.m. with hot laps at 6:30 and racing at 7:05.
Drivers can pick up free tickets: Upon check-in at the pit office, drivers in attendance this Saturday can receive 50 free general admission tickets for the Aug. 27 Rempfer Memorial Season Championship Night. Drivers with the most tickets used on Aug. 27 will win one free season pit pass for 2023.
Drag boats and 3-for-1 ticket special: Fans planning a visit to Lucas Oil Speedway for the upcoming weekend can take advantage of a 3-for-1 ticket special for action on Lake Lucas and the dirt track.
Action begins on Saturday morning and afternoon with the Kentucky Drag Boat Association's Show-Me Shootout coming to Lake Lucas. Qualifying rounds are set for both pro and sportsman divisions, leading into the elimination rounds on Sunday.
Those purchasing a Saturday drag boat ticket will be admitted free to that night's Big Adventure RV Weekly Racing Series program, plus Sunday's KDBA finale.
Kids' Power Wheel Races return: Kids' Power Wheel races are scheduled during intermission Saturday night on the front straightaway. Youngsters ages 3-9 can enter their own battery-powered Power Wheel cars by signing up for the Frogs Jr. Fan Club on the south end of the Midway prior to the races.
One Kids Power Wheel class will be the 6-12 volt cars and another will be for the 24-36 volt class. No power or speed enhancement modifications will be allowed.
Band on drag boat midway Friday night: Also on Friday night, the Kennie Dee Band will play at the drag boat midway from 8-11 p.m. by the drag boat midway bar tent. The band plays classic rock and country music.
No outside coolers will be allowed on the midway during the band performance.
Tentative Saturday Event Schedule-Subject to change without notice
Saturday Grandstand Admission:
(3-for-1 special – FREE admission to Saturday night dirt track and Sunday drag boats with Saturday drag boat ticket)
Advance Discount Tickets online only (16 and up) – $27
Adults GA/Pit Pass Combo (16 and up) – $30
Seniors (62 and up)/Military GA/Pit Pass Combo (62 and up) – $27
Youth GA/Pit Pass Combo (age 6 to 15) – $10
Kids GA/Pit Pass Combo (age 5 and under) FREE
Family Pass GA/Pit Pass Combo – $70 (Includes admission for two Adults and Up to three Kids Ages 6-15)
*All tickets include access to the Drag Boat pit area.
*All Saturday and 2-Day tickets include entry to the Dirt Track Event on Saturday.
Saturday dirt track admission:
Advance Discount Tickets online only (16 and up) – $12
Adults (16 and up) – $15
Seniors (62 and up)/Military – $12
Youth (6-15) – $5
Kids (5 and under) FREE
Family Pass – $35 (Click Here for more information)
Pit Pass – $30
Sunday-only Drag Boat grandstand admission
Ages 6 and up GA/Pit Pass combo – $10
Kids GA-Pit Pass Combo (ages 5 and under) – FREE
*All tickets include access to the drag boat pit area
To purchase tickets for any event on Lucas Oil Speedway's schedule, or to inquire about camping information, contact Admissions Director Nichole McMillan at (417) 295-6043 or via email at [email protected].