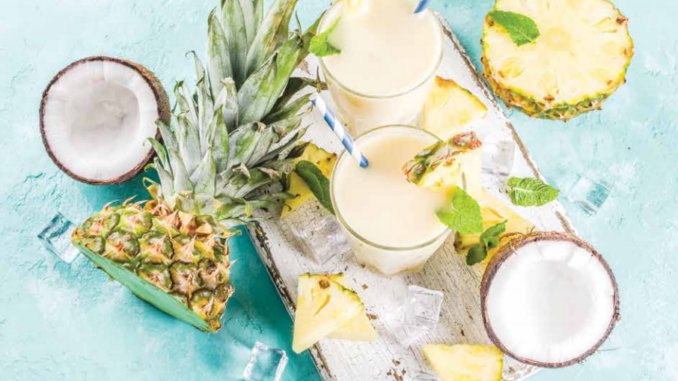 The classic song about a cocktail is "Escape (The Piña Colada Song)" was released in 1979 by the British-born Rupert Holmes off the album "Partner in Crime."
WHAT'S IT ABOUT?

In three versus, the song talks about a man who spots a personal ad in the newspaper that piques his interest. He's bored in his current relationship, but interested in the woman who likes piña coladas and getting caught in the rain. The song ends with him meeting the writer in a bar, and it turns out she's his girlfriend.

Originally, the song started with "If you like Humphrey Bogart;" piña coladas was a last-minute improvisation by Holmes. "Well, this woman wants an escape, like she wants to go on vacation to the islands. When you go on vacation to the islands, when you sit on the beach and someone asks
you if you'd like a drink, you never order a Budweiser. You don't have a beer," Holmes told Songwise. "You're on vacation. You want a drink in a hollowed-out pineapple with the flags of all nations and a parasol." He'd never even had a piña colada at the time, he said.

WHAT'S IN THE DRINK?

The piña colada is usually a sweet drink with pineapple (piña, Spanish for pineapple) and strained (lada) over ice, usually then blended. It is believed to have originated in Puerto Rico, which proclaimed it the official drink in 1978. Similar drinks include the Blue Hawaiian, which includes blue Curaçao; the State Island Ferry, with equal parts Malibu rum and pineapple juice served over ice; and the Kahlua colada, where coffee liqueur is substituted for the rum.

MAKE YOUR OWN

Recipe is from Taste of Home.
2 1/4 cups unsweetened pineapple
juice
1 15-ounce can cream of coconut
1 1/2 cups light rum
6 cups crushed ice
Pineapple wedges, for garnish
In a 2-quart pitcher, combine pineapple juice, cream of coconut and rum.
For each serving, add a generous cup of rum mixture and 1 cup ice to a blender. Process, covered, until smooth. Pour into a chilled glass and garnish the rim with a cut pineapple wedge.