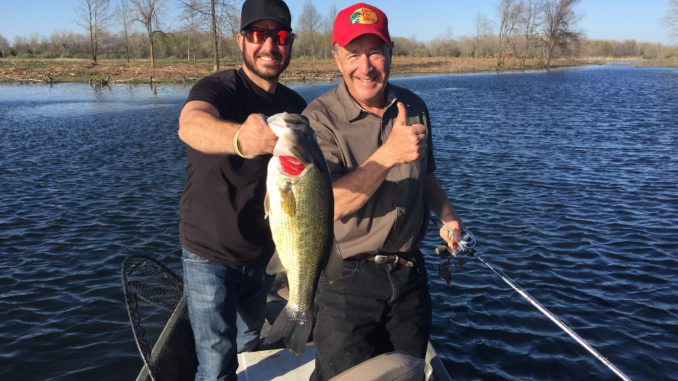 BASS PRO SHOPS TO CONTINUE PARTNERSHIP WITH MARTIN TRUEX JR. AT JOE GIBBS RACING
Longtime Truex partner maintains primary sponsorship for 2017 Cup Series Champion
Bass Pro Shops, North America's premier outdoor and conservation company, today announced it will continue its long partnership with Martin Truex Jr., joining the 2017 NASCAR Cup Series champion in his transition to Joe Gibbs Racing in 2019. Bass Pro has signed a multi-year agreement to serve as the primary sponsor of Truex's No. 19 Toyota Camry.
As primary sponsor, Bass Pro will be prominently featured on the hood of the No. 19 Camry for 24 races in the 2019 NASCAR season, starting with the season-opening DAYTONA 500 on Sunday, February 17, 2019. This relationship continues a strong partnership that has helped raise broad awareness for significant conservation initiatives and the great outdoors.
"We're fired up to keep rolling with Martin in 2019. His spirit and passion for hunting and fishing makes him a great ambassador for Bass Pro and the outdoors," said Bass Pro Shops founder, conservationist and avid racing fan Johnny Morris. "Martin is a true champion in racing as well as in life, and I'm honored to call him my friend and fishing buddy of more than 15 years."
Partners on and off the track
Morris and Truex have built a longstanding friendship and successful partnership since Truex's NASCAR career began in 2001 when Bass Pro Shops served as his first sponsor. Since that time, Bass Pro Shops and TRACKER Boats served as primary sponsor for Truex during two XFINITY Series championships in 2004 and 2005 as well as his first three seasons in NASCAR's Cup Series. Most recently, Bass Pro proudly sponsored Truex during his 2017 championship season and title defense in 2018. Truex and Morris both share a love of the great outdoors and work together to advance key conservation causes by leveraging NASCAR's national platform and audience.
"I'm pumped to have Bass Pro with us again," said Truex. "Johnny Morris has supported me throughout my career. I can't thank him and the entire Bass Pro Shops organization enough for their support. I look forward to continuing our success together for many years to come."
# # #
About Bass Pro Shops®
Bass Pro Shops is North America's premier outdoor and conservation company. Founded in 1972 when avid young angler Johnny Morris began selling tackle out of his father's liquor store in Springfield, Missouri, today the company provides customers with unmatched offerings spanning premier destination retail, outdoor equipment manufacturing, world-class resort destinations and more. In 2017 Bass Pro Shops acquired Cabela's to create a "best-of-the-best" experience with superior products, dynamic locations and outstanding customer service. Bass Pro Shops also operates White River Marine Group, offering an unsurpassed collection of industry-leading boat brands, and Big Cedar Lodge, America's Premier Wilderness Resort. Under the visionary conservation leadership of Johnny Morris, Bass Pro Shops is a national leader in protecting habitat and introducing families to the outdoors and has been named by Forbes as "one of America's Best Employers."
About Joe Gibbs Racing
Joe Gibbs Racing (JGR) is one of the premier organizations in NASCAR with four Monster Energy NASCAR Cup Series teams, three NASCAR Xfinity Series teams and a driver development program. Its 2019 driver lineup will consist of Denny Hamlin, Kyle Busch, Erik Jones, and Martin Truex Jr. in the Monster Energy NASCAR Cup Series. Meanwhile, Christopher Bell and Brandon Jones will each run fulltime in the NASCAR Xfinity Series, joining Kyle Busch, Denny Hamlin, and Jeffrey Earnhardt, all of whom will run partial schedules. In addition, Riley Herbst and Ty Gibbs are currently in JGR's driver development program. Based in Huntersville, N.C., and owned by Joe Gibbs — a three-time Super Bowl winner as head coach of the Washington Redskins and a member of the Pro Football Hall of Fame — JGR has competed in NASCAR since 1992, winning four Cup Series championships, and five Xfinity Series owner's championships along with more than 300 NASCAR races, including four Brickyard 400s and two Daytona 500s.