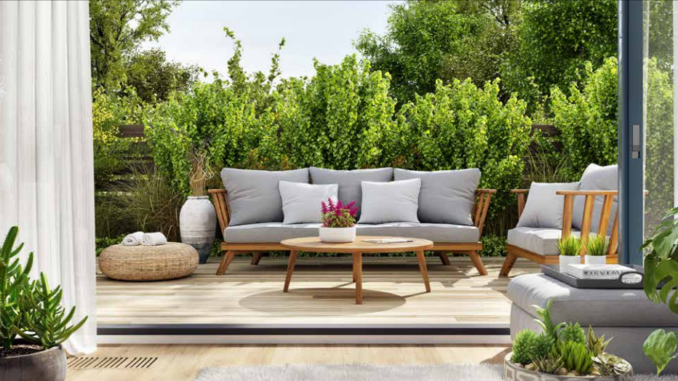 You've heard of bringing the outdoors in, but you can also bring the indoors
out by setting up an outdoor living space. Whether it's for entertaining large crowds, or just getting together with family, an outdoor living space can be a great addition to your backyard.

EVALUATE YOUR SPACE

Look at how big of a space you have to work with and determine how much you'll need to modify the space. If you need to take out shrubs or flower beds, that's probably a job you can do yourself. If you're removing trees or structures, however, it would be a good idea to check with your local authorities, or, better yet, call a professional who can take care of the whole thing for you.

PICK YOUR FOCAL POINT

Decide on a focal point for your outdoor space. Will it be the cooking area?
Set your sights on a grilling space and outdoor kitchen. Entertaining? Plan
for lots of seating space and maybe a bar or a fire pit. Family time? Think of
a cozy conversation set with a coffee table and plenty of room for games.
Avoid having more than one focal point; just like inside your home, you
don't want to clutter the space.

CHOOSE YOUR FIXTURES

Your fixtures will form the foundation of your outdoor living space, so
choose wisely. You want fixtures that will hold up well to the outdoor elements in your area, be it flooding rain or harsh winter weather. The best way to do this is to visit a local home or patio store to choose products and fixtures that will best fit your way of life and your budget.

UTILITIES

Your new outdoor space, especially if it includes a kitchen, may need utilities run to it. This is not the time to DIY it, especially with dangerous
explosives like natural gas. Call professionals to run your lines and install
equipment like grills and fire pits. A professional can properly run the lines
so that it stays out of the way of other construction on the property and is
safe. Furthermore, they can properly set up permits and do the paperwork
that allows you to pay for the gas, water and power you use.