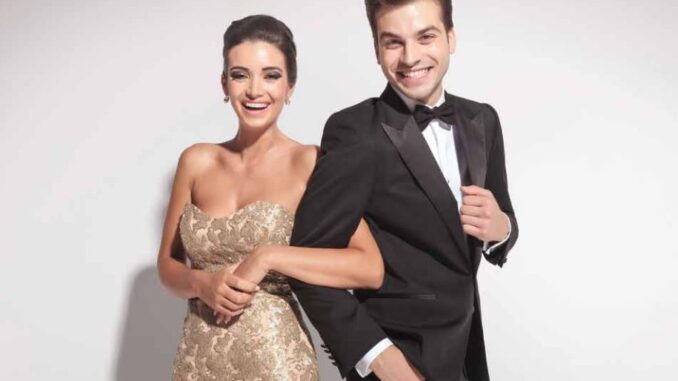 Nobody wants to look like their parents did at prom — that is, unless their particular form of retro style is back in fashion.
That's why it's best to start following the latest trends in prom attire, well before you head off to the local dress store. Here's a look at a few of the hottest looks for 2022.
ONE SHOULDER
Whether a simple strap or a long sleeve, the one-shoulder dress is always the ultimate in glam — but a little edgy, too.
VINTAGE
Somethings never go out of style, while other things — like the newfound fascination with roaring '20s style — are related to the age we're in. Fringes, and high-leg slits were all the rage then, and now.
METALLIC
Metallic colors are still hot, despite having been trendy for a few years now. Stay shimmery in silver, gold, gunmetal or rose gold.
BALL GOWNS
These are perfect for anyone who doesn't feel comfortable in a more fully fitted dress, and they still provide an ageless, princess-style silhouette.
EMBELLISHED TOPS
These are especially cool if you are having another virtual prom, since the shoulder area of your outfit or dress will be the most visible to classmates and friends when you're on the phone or in front of a laptop. Sparkles, glitter, sequins, beads and lace are back; for a sumptuous look, try 3D floral blooms.
CONTRASTING COLORS
The combination of pinks and reds has been dominating the red carpet of a while, definitely rebutting the longhead argument that these colors clash. Mandy Moore, Zoe Kazan and Taraji P. Henson can't be wrong.
ANIMAL PRINTS
One of 2022's hottest fashion choices never really went away. The difference these days is you don't have to stick with classic cheetah or leopard designs. Mix and match zebra, tiger or even snakeskin looks for an eye-catching twist on a long-time favorite.
OMBRE
These long flowing gowns are the height of timeless fashion, with new color wrinkles and intriguing fabric options to keep things fresh. Get creative with dark tops and lighter skirts, tie dyes or sequins.
RETRO
Raiding your mom's closet has never made more sense, since '80s-style ruffled skirts, bright silky fabrics, puffy sleeves and even bows are back. If you're not ready to jump in with both feet, try a dress in the era's bold neon hues. You'll still be on trend.
Check out some of our favorite boutiques to find your perfect prom dresses.  
Calla Lily Formals & Prom Dresses