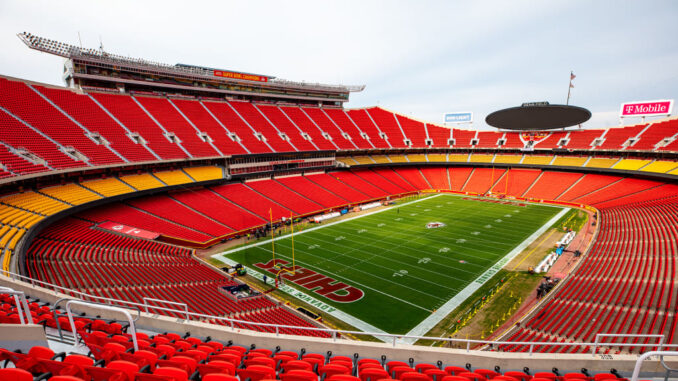 The Kansas City Chiefs will begin selling tickets to potential home games for the 2022 Playoffs presented by Hy-Vee beginning next week.
Single-game tickets for a potential AFC Wild Card home game will go on sale to the public at 11 a.m. on Monday, December 12. Single-game Divisional and Championship game tickets will go on sale at a later date pending playoff standings. All tickets will be sold online at www.chiefs.com/tickets/.
In continuation of the club's long-standing policy that honors the commitment of the residents of Jackson County, Missouri, Jackson County taxpayers will have a presale opportunity to purchase single-game postseason tickets from 8 to 9:30 a.m. on Monday, December 12. The Jackson County taxpayer presale will take place online only and purchasers must use a credit card with a billing zip code within Jackson County to participate.
Chiefs Season Ticket Members have been provided an opportunity to opt-in to their playoff tickets on a pay-as-we-play basis, with accounts only being charged once each home postseason game is confirmed. Season Ticket Members will have an exclusive opportunity to purchase additional single-game tickets beginning at 10 a.m. on Monday, December 12. Information on how to participate will be communicated directly to Season Ticket Members via email.
Non-Season Ticket Members interested in securing tickets for all potential home playoff games can do so through a new season ticket purchase, available at www.chiefs.com/tickets/. A deposit for 2023 Season Ticket Membership will secure exclusive STM pricing for the 2022 postseason on a pay-as-we-play basis.
All ticket delivery will be mobile only and the ticket office will not be open for any walk-up sales for postseason tickets.
2022 NFL Postseason Game Schedule
Super Wild Card Weekend – Saturday, Jan. 14 – Monday, Jan. 16, 2023
Divisional Weekend – Saturday, Jan. 21 – Sunday, Jan. 22, 2023
AFC/NFC Championship Games – Sunday, Jan. 29, 2023