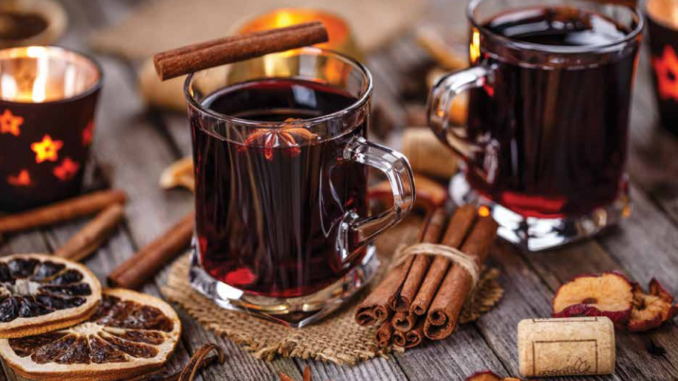 Nothing evokes holiday cheer quite like festive beverages. They warm the body, soothe the soul and add a splash of tradition to holiday celebrations. Here's a look at some classic holiday drinks, their histories, and simple recipes to bring these flavors to your holiday table.
EGGNOG: A HOLIDAY CLASSIC
Eggnog, a rich, creamy drink typically spiced with nutmeg, has roots in medieval England. Originally a beverage for the aristocracy, it gained popularity in America due to the abundance of farm products.
Recipe: Combine four egg yolks with 1/3 cup of sugar. Stir in two cups of milk, one cup of heavy cream and a pinch of nutmeg. For those who enjoy a spiked version, add 3/4 cup of dark rum or bourbon.
MULLED WINE: WARM AND SPICED
Mulled wine, or spiced warm wine, has origins in Rome. The Romans heated wine to warm up during cold winters and later, the practice spread across their empire.
Recipe: Combine one bottle of red wine, the zest of one orange, eight cloves, two cinnamon sticks, and three-star anise in a pot. Add 1/4 cup of sugar or honey and simmer gently for 20 minutes.
HOT CHOCOLATE: SWEET COMFORT
Hot chocolate traces back to the Mayans and Aztecs who drank a version made from ground cacao beans. Spanish explorers brought it to Europe, where it evolved into the sweet drink enjoyed today.
Recipe: Heat two cups of milk with 3.5 ounces of quality dark chocolate, and 1-2 tablespoons of sugar. Stir until smooth and top with whipped cream if desired.
WASSAIL: A TOAST TO HEALTH
Wassail, a hot, mulled punch, has origins in medieval England. The name comes from the Anglo-Saxon phrase 'waes hael', meaning 'be well'.
Recipe: In a large pot, combine four cups of apple cider, one cup of orange juice, four whole cloves, two cinnamon sticks and one sliced and cored apple. Simmer for at least an hour before serving.
HOT BUTTERED RUM: RICH INDULGENCE
Hot buttered rum, a warm cocktail made with rum, butter, hot water or cider, a sweetener, and various spices, originated in colonial America, where rum was plentiful.
Recipe: Mix two tablespoons of brown sugar, one tablespoon of unsalted butter, a pinch each of nutmeg, cinnamon, and cloves in a mug. Pour in two ounces of dark rum and top with boiling water. Stir until well mixed.
CHAMPAGNE COCKTAILS: BUBBLY CELEBRATIONS
No celebration is complete without a little sparkle. Champagne cocktails add a sophisticated touch to holiday celebrations.
Recipe: For a classic Champagne cocktail, place one sugar cube at the bottom of a champagne flute, add two dashes of bitters, fill the glass with Champagne, and garnish with a twist of lemon.
RAISING A GLASS TO HISTORY
These traditional holiday beverages offer more than just flavors; they bring a piece of history to the most festive holiday celebrations. So, this holiday season, while savoring these festive drinks with friends and family, raise a glass to the rich traditions that have brought them to holiday tables around the world.