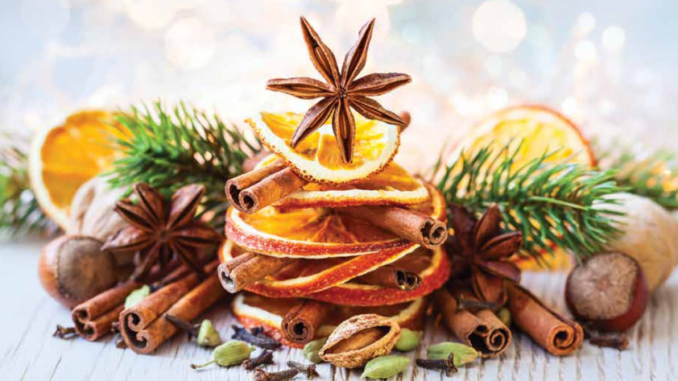 Exploring Traditional Holiday Spices and Their Uses The holiday season has a distinctive aromatic signature, an amalgamation of scents that instantly spark nostalgia and warmth. Key to these comforting aromas are traditional holiday spices.
CINNAMON: THE SWEET AND SPICY STAPLE
Cinnamon, a versatile spice, is a holiday favorite. It's harvested from the bark of cinnamon trees and is revered for its sweet yet slightly spicy flavor. It's a quintessential ingredient in holiday treats like cinnamon rolls, spiced cookies, and apple pie. Additionally, cinnamon sticks make aromatic additions to hot beverages, adding a festive touch to holiday drink stations.
NUTMEG: THE FRAGRANT POWERHOUSE
Nutmeg, derived from the seed of the Myristica fragrans tree, is another powerful holiday spice. Its warm, nutty, and slightly sweet flavor makes it a staple in dishes like eggnog, gingerbread cookies, and various pies. Its fragrance, particularly when freshly grated, can infuse homes with a delightful holiday aroma.
CLOVES: THE TINY TITANS
Cloves, despite their small size, pack a powerful punch. This spice, the dried bud of the Syzygium aromaticum tree, lends a warm and slightly bitter flavor to holiday recipes. It's often used in holiday hams, mulled wine, and pumpkin pie. Cloves also play a starring role in crafting holiday pomanders – oranges studded with cloves, offering both decoration and a natural air freshener. STAR ANISE: THE STAR OF SPICES Star anise, with its beautiful star shape and potent flavor, is a popular holiday spice. This spice, harvested from the Illicium verum tree, offers a warm, slightly sweet taste with a hint of licorice. It's a key ingredient in mulled wines and spiced ciders and adds a festive flair to holiday decorations when used in wreaths and centerpieces.
ALLSPICE: THE ALL-IN-ONE
Allspice, despite its name, is not a mix of spices but comes from the dried berries of the Pimenta dioica tree. It gets its name from its complex flavor profile, reminiscent of cinnamon, nutmeg, and cloves. Allspice is a favored addition to holiday cakes, cookies, and savory dishes, offering a warm, slightly peppery note.
CARDAMOM: THE EXOTIC ADDITION
Cardamom, known for its unique spicy-sweet flavor and aromatic seeds, is a cherished addition to holiday recipes. Originating from the Elettaria cardamomum plant, it's often used in Scandinavian holiday breads, cookies, and mulled drinks, adding an exotic and intriguing note.
HOLIDAY SPICES AND HEALTH
Beyond their flavors, these holiday spices also offer various health benefits. Cinnamon is known for its potential blood sugar regulating properties, nutmeg for its digestive benefits, cloves for their antimicrobial qualities, star anise for its antioxidant content, allspice for its potential anti-inflammatory effects, and cardamom for its possible heart health benefits for some people. As the holiday season approaches, the kitchen becomes a stage for these traditional spices to shine. They lend their unique flavors and fragrances to holiday dishes, contributing to the magic and nostalgia that make this season truly special each year.