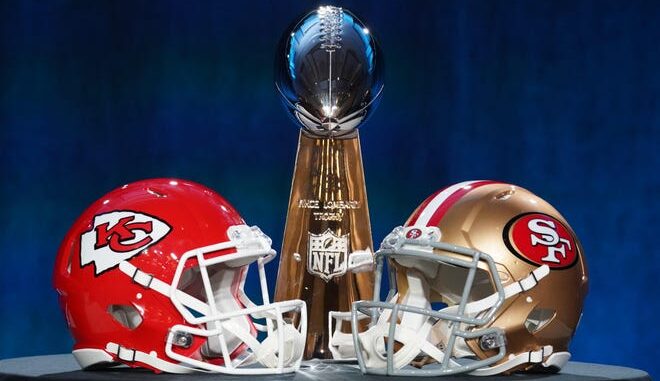 The stage is set for Feb. 2, 2020 — Super Bowl LIV. The Kansas City Chiefs will compete with the San Francisco 49ers for the Lombardi Trophy in Miami.
This game is a rematch from Sept. 23, 2018, when the Chiefs won at Arrowhead with a score of 38-27. The Niners lost their starting quarterback, Jimmy Garoppolo, prematurely due to an ACL injury during the matchup.
HOW THE NINERS CAN WIN
The most significant challenge the Niners will face is how to contain the Chiefs' quarterback, Patrick Mahomes. The reigning NFL MVP is explosive, both through the air and on the ground. During the AFC Championship Game, he tip-toed down the sideline for a 27-yard touchdown, after dodging numerous defensive players of the Tennessee Titans. Fortunately for the 49ers, their stacked defense is on fire after shutting down the Green Bay Packers and Super Bowl champion Aaron Rodgers. The NFC Champions were relentless against the quarterback, causing two fumbles and an interception and holding the superstar to only 65 yards before halftime. While the defense dominated their time with the ball, the offensive team took advantage of the opportunities provided by their D. The Niners would go up 27-0 before finishing the game with a 37–20 lead. A notable strategy was the decision to hammer the line of scrimmage with running plays and an unexpected urgency from the undrafted Raheem Mostert. He was cut by six teams before joining the San Francisco team and set a league record for most rushing yards (220) during this championship game.
HOW THE CHIEFS CAN WIN
While the Chiefs weren't underdogs against the Tennessee Titans in the AFC Championship Game, they were tasked with managing the league's best rusher, Derrick Henry. After holding him to only 69 yards, the defense is now up against the Niners' stable, who rushed for a total of 287 yards in their championship matchup. The same defense must pursue the run and consider the risks of play-action calls. If the Niners fail to put pressure on Mahomes, we can expect a massive passing game. The quarterback is coming off two victories after coming back from being down in points. During the Divisional Round against the Houston Texans, the Chiefs overcame a 24-0 deficit before taking a four-point lead in a single quarter. The offense is incredibly quick to expose defenses and make big plays. Another area that everyone will be watching is the coaching strategy from Andy Reid.