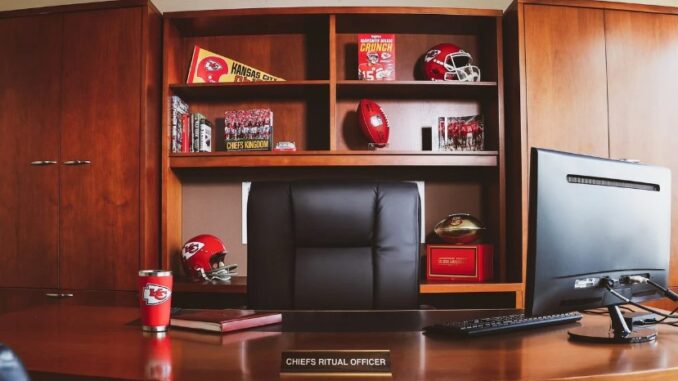 At the Kansas City Chiefs, we are fans of our fans. We know that the energy and noise they bring week-in and week-out – at home and on the road – is part of our edge, part of our advantage. If anyone can make a difference on the field or off, Chiefs Kingdom can.
That's why we are proud to unveil today details for our 2022 playoff campaign.
This postseason, we are celebrating our unrivaled fans and their unmatched energy in multiple ways. First, we're offering one fan an opportunity to join the franchise as the Chiefs Ritual Officer for a day, complete with some once-in-a-lifetime benefits. We are also launching a first-of-its kind player/local club fashion collaboration with All-Pro and Pro Bowl tight end Travis Kelce and his Tru Kolors line. Finally, we will be releasing an anthem video narrated by actor, comedian, author, producer, director and noted Chiefs/Patrick Mahomes fan Henry Winkler that will highlight our fans and how their rituals – whether they are a little "much" or not – helped make this season and our playoff appearance a reality.
More information about the Chiefs Ritual Officer and the Tru Kolors x Chiefs collaboration can be found below, including quotes from Kansas City Chiefs EVP/CMO Lara Krug and Chiefs Tight End Travis Kelce. We've also provided a link HERE that includes image assets for the campaign, the merchandise collaboration and a 30-second edit of the campaign video that can be shared. Please let us know if you have any questions or would like additional information about the campaign for coverage.
Chiefs Ritual Officer
Sports rituals and superstitions are deeply ingrained behaviors for coaches, players and fans – whether they actually believe they work or not.
The Chiefs are embracing this and are on the hunt for one of Chiefs Kingdom's own to join the team for an official one-day role as the Chiefs Ritual Officer. The ideal candidate will (a.) be a die-hard Chiefs fan, (b.) know the importance of – and have – one or more well-timed, strategic rituals for their Chiefs fandom, and (c.) be energetic and loud.
Interested fans have been encouraged to submit their application – or the application of someone they want to nominate – online at www.chiefs.com/playoffs by Friday, January 13. Submissions will be reviewed by a panel of five judges selected by the club and the Chiefs Ritual Officer will be announced at the club's AFC Divisional game. The recipient of the one-day position will receive the following package:
142 home game tickets across the 2022 playoffs and the 2023 season (a nod to the club's Guinness World Record for loudest crowd roar at a sports stadium at 142.2 dB)
Official signing day at The University of Kansas Health System Training Complex
Private tour of GEHA Field at Arrowhead Stadium
Two (2) pregame field passes to the club's first home postseason game of 2022
Chance to deliver the game coin to officials prior the club's first postseason game at GEHA Field at Arrowhead Stadium this year
Tru Kolors x Chiefs Capsule
Just in time for the 2022 playoff run, Travis Kelce's clothing brand, Tru Kolors, is teaming up with the Chiefs to release a first-of-its kind collection for Tru Chiefs fans. Inspired by the fans who bring the energy week-in and week-out, the Tru Kolors x Chiefs capsule brings nostalgia with bold graphics and a unique vintage 90s energy. It is the first time ever that a local NFL club has collaborated with one of their player's brands for a merch drop.
Fans can start shopping the Tru Kolors x Chiefs collection beginning today at www.trukolors.com or www.nflshop.com. The collection is limited and will only be available while supplies last.
Quote from Kansas City Chiefs Executive Vice President and Chief Marketing Officer Lara Krug:
"Chiefs Kingdom is distinctive in its fandom, its traditions, its love for the team, and in the way it unites people. Part of what defines Chiefs fans is the level of ownership that they take in their team, and we see that every week at the stadium, on social media and in interactions around the city, region and beyond. We're always looking to connect with and celebrate our fans in new and different ways and we think the Chiefs Ritual Officer search truly embraces the uniqueness of Chiefs Kingdom and the fans who make it special. We're thrilled that Travis and Tru Kolors were open to partnering with the club for an exclusive merch collaboration this postseason and are excited that they're delivering their energy and style to our fans through this partnership."
Quote from Kansas City Chiefs All-Pro and Pro Bowl Tight End and Tru Kolors Founder Travis Kelce:
"When I was asked to design the exclusive playoffs merch collab for the Chiefs with my clothing brand, Tru Kolors, I was genuinely excited. I love fashion, football, and the unwavering energy of Chiefs Kingdom, so having the opportunity to design a capsule for this playoff season is a major moment. I'm a kid of the 90's and I am still inspired by the greats of that era. It's an influential design element of Tru Kolors and my personal style, so we leaned into that aesthetic for both the hoodie and the crewneck utilizing super premium fabric.
"The fact this is the first of its kind athlete x NFL local club design collab, means a lot to me and to Tru Kolors. We designed this for the Tru Chiefs fan.
"Now let's bring this home, Chiefs Kingdom."