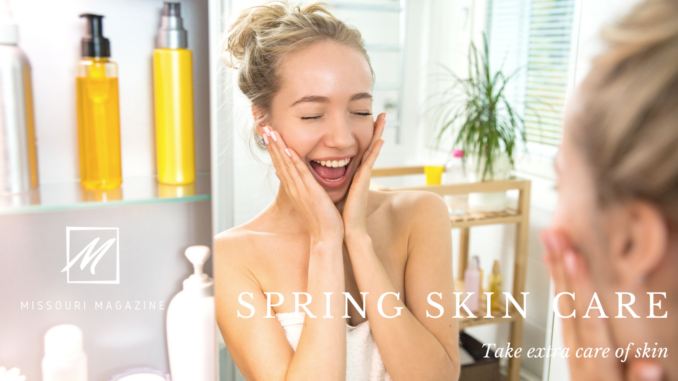 Warmer weather means more sun and that means you will have to take extra care of your skin. Here are some tips how to take better care of your skin during the spring and summer months.
EXFOLIATE
Cold weather can really do a number on your skin and dry it out. Use a gentle exfoliating scrub to get rid of the dry, dead winter skin. You should exfoliate your face as well. Local pharmacies and grocery stores will sell body and face exfoliants for you to use.
Remember, you will need to buy separate exfoliant for your body and face. You'll want to use a more gentle exfoliant for your face than you would use for your body. You can also find face masks that will help get all the dead skin off your face without having to use a scrub that could cause tiny skin tears.
SUNSCREEN IS SELF CARE
The sun's warm rays can be very harmful to your skin. As the temperature begins to rise, people want to be outside and enjoying the sun. You should always be careful exposing your skin to sun without sunscreen. It's crucial to apply a good sunscreen during the spring and summer months. Apply sunscreen with at least a good SPF 50 to both your face and your body.
MOISTURIZE, MOISTURIZE, MOISTURIZE
Cold weather dries your skin out and your skin may have soaked up the heaviest of moisturizers you may have. During spring and summer, you'll want to switch it up to a light moisturizer that won't leave your skin feeling greasy.
Find one that makes your skin feel hydrated and healthy. Find a hyaluronic acid- or water-based formula. Your skin seems to hold more water during the summer and spring months, so you won't need as much moisturizing protection as you would during cold months.
EAT MORE FRUITS AND VEGETABLES
Applying sunscreen and moisturizer are great ways to liven your skin up during the warmer weather, but there are also dietary things you can do to help your skin. Eating nutrient rich food packed with vitamins and minerals such as fruits and vegetables also work wonders for your skin.
Fruits and vegetables such as blackberries, guavas, kiwi fruits, cucumbers, oranges and strawberries are just a few examples of the kinds of fruits and vegetables to aid in skin care. Drinking a lot of water not only hydrates your body but it also hydrates your skin as well.
Visit these Missouri Spa's for a spa day: