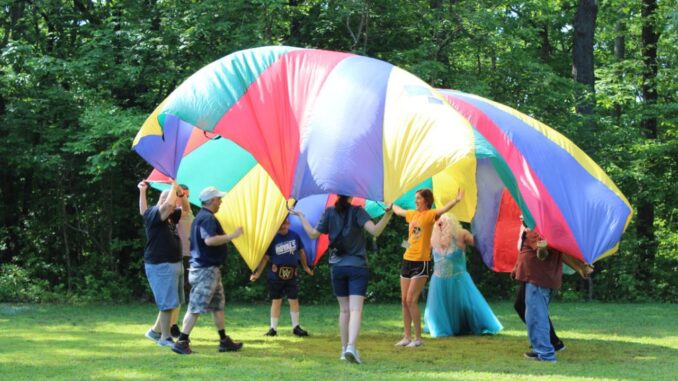 Wonderland Camp at the Lake of the Ozarks typically hosts more than 1,000 campers each year. They were voted Missouri Magazine's Best Camp for the second year in a row. This non-profit organization touches the lives of so many children, families and all the volunteers who work at that camp each and every year.
The Wonderland Camp Mission
The mission of Wonderland Camp is to provide a fun, inclusive and safe camp experience for children, teenagers and adults who have disabilities; to offer a respite from daily caregiving for their family members and caregivers; and to provide and nurture a personal development experience for volunteers and staff.
How One Man's Dream Became a Labor of Love for Many
Charles J. Miller had a dream. It all started the summer of 1969 during a conversation with the Executive Director of the Woodhaven Learning Center, a school for children with disabilities children in Columbia, Missouri.
His dream was of a residential summer camp on property he and his brother-in-law, Harry Brown, owned, located on the Lake of the Ozarks, a camp for everyone whatever the ability level. Their goal was to create a place for people and campers with disabilities to experience the exhilaration of outdoor play. A camp designed to match their special medical needs and provide them with the maximum safety with freedom to enjoy nature.
Campers
At Wonderland Camp, campers will participate in various different activities such as swimming, boating, fishing, arts and crafts, recreation, nature, music and different games. Evening activities include dances, karaoke, pool parties, carnivals and various other events.
In the evening campers enjoy talent shows, karaoke, carnival, scavenger hunt, swim party, dances and so much more. Camper registration will start in February for interested families.
Wonderland Camp is hiring for 2022
Wonderland Camp is a summer overnight camp for kids, teens, and adults with disabilities in Rocky Mount, MO on the Lake of the Ozarks. Apply today at wonderlandcamp.org. You'll make a difference and love this job!
Making an impact
Each year the Wonderland Camp makes a difference in the lives of so many children. They could not do what they do without their fundraisers and donations. Learn more how to be part of this amazing camp for children with disabilities.
For more information on camp operations and programs, contact Wonderland's Director of Fund Development and Communications, Mike Clayton, at [email protected], or visit wonderlandcamp.org.