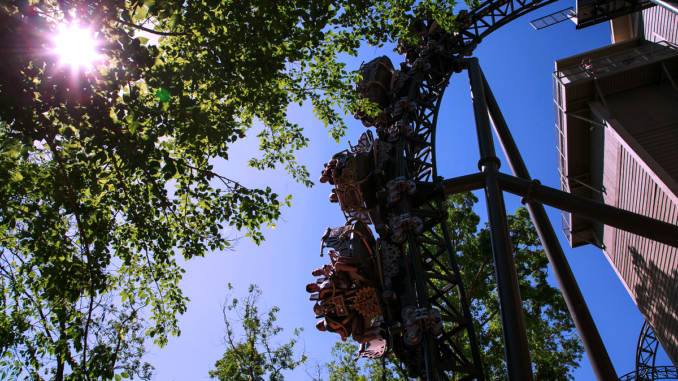 Night Rides on Time Traveler Top Summer-End Celebration Activities
July 21 – August 5
Thrill lovers can take the world's fastest, steepest and tallest spinning drop in the dark on the new $26 million ride Time Traveler during Silver Dollar City's Moonlight Madness, an end-of-summer celebration with extended time to ride, play and dance into the night. Over 40 rides and attractions will be open from 9:30 am to 10 pm July 21 to August 5, with more than 12 hours a day to play.
Night-ride thrills take on new dimensions with Time Traveler, as guests can drop 10 stories at 90 degrees, traveling over 50 miles per hour before flying through three inversions with two launches, with spin – all in the dark.Riders can also soar into the sunset on The Giant Barn Swing, take a pitch-black ride on the world's only double-barrel-rolling wood coaster Outlaw Run and take five inversions under the stars on WildFire, along with all the park's rides and attractions.  
Nightly Street Dances on the Square feature new emcees and performers Prince Ivan leading dance favorites like the Macarena and the Chicken Dance. Daytime shows include NBC-featured juggler Chris Ruggieriowith a one-man variety show July 21 – 28, and award-winning magician and comedian Taylor Hughes performing illusion and comedy July 29 – August 5. A special fireworks show caps the "Hits from the Hollow" show at Echo Hollow Amphitheatre each evening.
The nighttime fun goes all the way to midnight on the final two Saturday nights, with special one-time evening performances from '80s tribute band Members Only on July 28, and '90s cover group The Mixtapes on August 4.
Moonlight Madness runs daily July 21 – August 5 at the Branson, Missouri theme park.
WHITE WATER: Nighttime rides are also featured at nearby White Water as it presents Night Water, featured on Fridays and Saturdays through August 4. The water park extends park hours to 10 p.m. for cool water fun on hot summer nights, with fireworks lighting up the sky at park closing every Saturday.
Information and ticket options are at www.silverdollarcity.com or 800-831-4FUN(386)